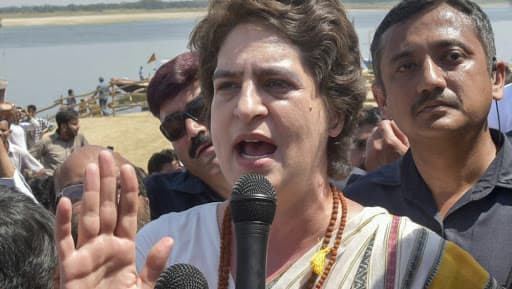 New Delhi, September 21: Congress leader Priyanka Gandhi Vadra trained guns at the Centre-ruling Bharatiya Janata Party (BJP) for thwarting the protests' march staged by the farmers to the national capital. The Gandhi scion asked the Centre to explain why it is stifling the voice of the agrarian class after promising to fulfill their long-pending demands before the elections. Farmers' Protest in Delhi: Over 500 Farmers From UP March Towards Kisan Ghat With 16 Demands.
Gandhi's scathing remarks on Twitter came shortly after the farmers, protesting under the aegis of Bhartiya Kisan Sangathan, were stopped at the National Highway near Ghazipur and prevented by the Delhi Police from entering the city.
"What is the reason which is preventing the government from allowing farmers to come to Delhi and protest? In its manifesto, the BJP had made spree of promises for the betterment of farmers," she said.
"But when the farmers of Uttar Pradesh want their pending sugarcane dues paid, rate of diesel lowered and loans to be waived, then why is the BJP not allow them to speak," questioned Gandhi, who is also the Congress' general secretary in-charge of eastern UP.
Read Priyanka Gandhi's Tweet Here:
क्या कारण है कि किसानों को दिल्ली आकर अपनी माँग उठाने से रोक दिया जाता है? भाजपा सरकार अपने प्रचार में तो किसानों की भलाई बताती फिरती है?

फिर जब उप्र का किसान कहता है कि उन्हें गन्ने का बकाया चाहिए, कर्जमाफी और बिजली के दाम में कटौती चाहिए तो उन्हें बोलने क्यों नहीं दिया जाता?

— Priyanka Gandhi Vadra (@priyankagandhi) September 21, 2019
The protesting farmers, whose exact numbers could not be ascertained but was pegged at 500 by Delhi Police, decided to march to the national capital after the talks between 11 representatives of the Bharatiya Kisan Union and the Agricultural Ministry remained inconclusive last night.
The agitating farmers' union has demanded the government to release all pending dues of the sugarcane farmers at the earliest, reduce diesel prices and implement the recommendations of the Swaminathan Commission.