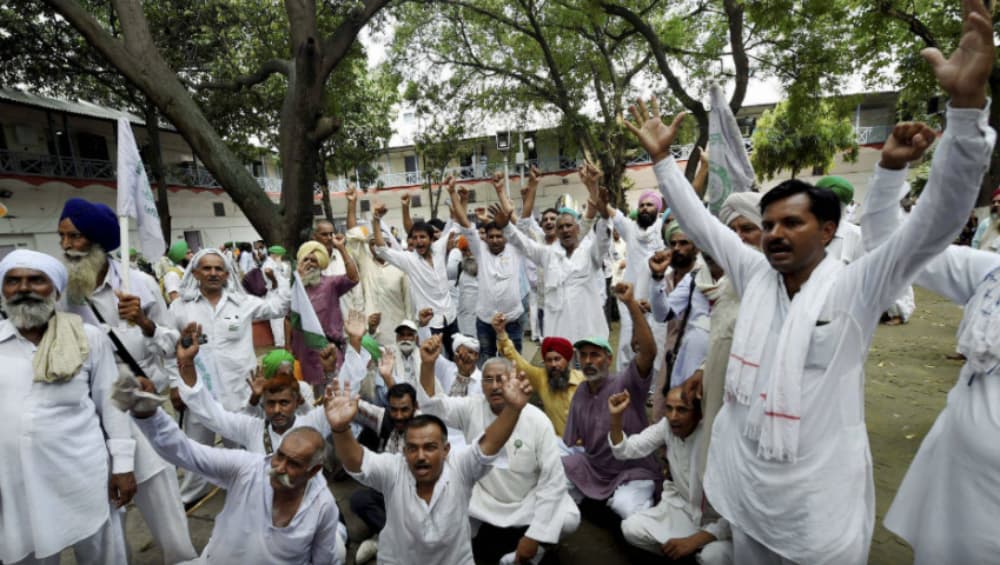 New Delhi, September 20: Hundreds of farmers from several parts of  western Uttar Pradesh began their protest on Friday from Ghaziabad and Noida to Delhi against the anti-farmer policies of the Bharatiya Janata Party (BJP) government. Reports inform that a large group of farmers will march to Kisan Ghat in Delhi as a mark of protest to draw attention to money from sugarcane sales owed to them by the UP government. According to a report by TOI, nearly 500 farmers are a part of the protest, 200 of them from Saharanpur alone. The long-pending demands of the farmers include loan waiver and fair prices for their crops. Reports inform that the agitating farmers' will reach Delhi on September 21 via Noida and will put forth their demands in front of the Modi government.
Reports inform that the Rashtriya Kisan Yatra, under the banner of the Rashtriya Kisan Sangathan (RKS), started the protest from Saharanpur on September 17. The farmers have been protesting with 16 demands, which include increasing the minimum support prices of crops, reduction in diesel and electricity charges and pending sugarcane dues of the farmers. Kisan Long March in Mumbai: Dabbawalas, Mumbaikars Provide Food to Protesting Farmers. 
The farmers, who have come from Ghaziabad, Muzaffarnagar, Shamli and Baghpat, plan to march to Delhi via Noida gate on Friday noon. On Thursday,  the farmers, with their tractors and trolleys, marched towards Noida's Transport Nagar, causing traffic snarls in Ghaziabad and Noida.
In the wake of the situation, Police said they are trying to convince the farmers to return peacefully. "We have no problem if they march peacefully to Delhi. The problem arises when they try to take their tractor-trolley along or camp on the road. Delhi police doesn't allow tractors," said Vineet Jaiswal, SP (City), Noida.