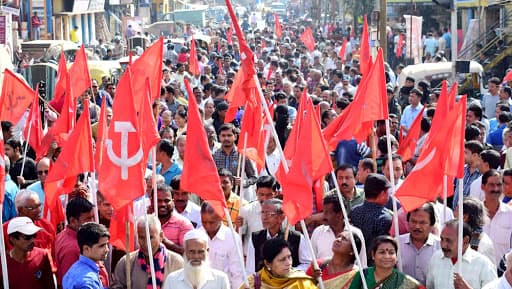 Kolkata, March 19: With Congress announcing to go solo in the state of West Bengal for the upcoming Lok Sabha Elections 2019, it left the Left Front in that state miffed. Now the Left Front Committee has released a final list to field 38 candidates for the polls, instead of 25, which it released some days ago. Also, surprisingly, four seats – Maldala Uttar, Maldaha Dakshin, Jangirpur and Baharampur.
As per the latest list released by the Left Front, new candidates have been announced from – Darjeeling (Saman Pathak), Krishnanagar (Dr Shantanu Jha), Barrackpur (Gargi Chatterjee), Dum Dum (Nepaldeb Bhattacharya), Mathurapur (Dr Sharat Haldar), Kolkata Uttar (Kaninika Bose), Howrah (Sumitra Adhikary), Sreerampur (Tirthankar Roy), Ghatal (Tapan Ganguly), Talmuk (SK Ibrahim Ali), Kanthi (Paritosh Pattanayak), Jhargram (Deblina Hembram), Bankura (Amiya Patra), Birbhum (Dr Rezaul Karim), Bolpur (Dr Ramchandra Dome) and Asansol (Gouranga Chatterjee). Lok Sabha Elections 2019: Left Front Committee Releases First List of 25 Candidates for West Bengal. 
Check the Tweet Here:
Left parties announced candidates for 38 constituencies out of 42 in West Bengal. Seats that Congress had won in 2014 Lok Sabha elections have been left vacant for now. pic.twitter.com/ohXt015LgO

— ANI (@ANI) March 19, 2019
Left Front Committee's Complete List of Candidates for West Bengal

PC No. 
Constituency 
Candidate
Party
1.
Coochbehar (SC)
Govinda Roy
AIFB
2.
Alipurduars (ST)
Mili Oraon
AIFB
3.
Jalpaiguri (SC)
Bhagirath Roy
CPI(M)
4.
Darjeeling
Saman Pathak
CPI(M)
5.
Raiganj
Mohammad Salim
CPI(M)
6.
Balurghat
Ranen Barman
RSP
7.
Maldaha Uttar
8.
Maldaha Dakshin
9.
Jangirpur
10.
Baharampur
11.
Murshidabad
Badaruddoza Khan
CPI(M)
12.
Krishnanagar
Dr Shantanu Jha
CPI(M)
13.
Ranaghat (SC)
Rama Biswas
CPI(M)
14.
Bangaon (SC)
Alokesh Das
CPI(M)
15.
Barrackpur
Gargi Chatterjee
CPI(M)
16.
Dum Dum
Nepaldeb Bhattacharya
CPI(M)
17.
Barasat
Haripada Biswas
AIFB
18.
Basirhat
Pallab Sengupta
CPI
19.
Jaynagar (SC)
Subhas Naskar
RSP
20.
Mathurapur (SC)
Dr Sarat Haldar
CPI(M)
21.
Diamond Harbour
Dr Fuad Halim
CPI(M)
22.
Jadavpur
Bikash Ranjan Bhattacharya
CPI(M)
23.
Kolkata Dakshin
Nandini Mukherjee
CPI(M)
24.
Kolkata Uttar
Kaninika Bose (Ghosh)
CPI(M)
25.
Howrah
Sumitra Adhikary
CPI(M)
26.
Uluberia
Maksuda Khatun
CPI(M)
27.
Sreerampur
Tirthankar Roy
CPI(M)
28.
Hooghly
Pradip Saha
CPI(M)
29.
Arambag (SC)
Shakti Mohan Malik
CPI(M)
30.
Talmuk
SK Ibrahim Ali
CPI(M)
31.
Kanthi
Paritosh Pattanayak
CPI(M)
32.
Ghatal
Tapan Ganguly
CPI
33.
Jhargram (ST)
Deblina Hembram
CPI(M)
34.
Medinipur
Biplab Bhatta
CPI
35.
Purulia
Bir Singh Mahato
AIFB
36.
Bankura
Amiya Patra
CPI(M)
37.
Bishnupur (SC)
Sunil Khan
CPI(M)
38.
Bardhaman Purba (SC)
Iswar Chandra Das
CPI(M)
39.
Bardhaman - Durgapur
Abhas Roy Chowdhary
CPI(M)
40.
Asansol
Gouranga Chatterjee
CPI(M)
41.
Bolpur (SC)
Dr Ram Chandra Dome
CPI(M)
42.
Birbhum
Dr Rezaul Karim
CPI(M)
As per the Election Commission's announcement on March 10, there would be seven phases of polls in the state, with ample security deployed to ensure peaceful elections. The polls would be conducted on April's 11, 18, 23, 29 and May's 6, 12, 19 in the state. The results of the Lok Sabha elections would be announced on May 23.