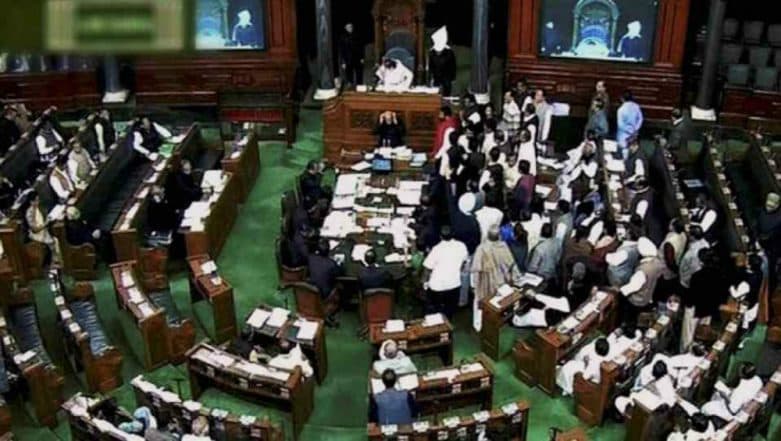 New Delhi, August 7: Apart from passing the landmark Bills like repealing of Article 370 and Triple Talaq, the Parliament this year, created a record for passing the maximum number of Bills. In the last 67 years, this the for the first time that a record number of Bills have been passed in one session. The monsoon session of Parliament began on June 17. According to a report by News 18, in the first Budget session after the newly elected Modi government took charge, Lok Sabha worked for 281 hours, which is 135 per cent of the scheduled hours. Monsoon Session 2019: Parliament Convenes Today For 1st Time After PM Modi's Re-Election. 
The report further informs that the numbers is higher than any other session in the past 20 years. In Lok Sabha, a total of 36 Bills were passed. Out of the total Bills, in seven cases, there was recorded voting of 21% during the discussion. The record voting takes it up that what was recorded in the 16th Lok Sabha, which was 8 per cent of the Bills.
This is the first Parliament session of the 17th Lok Sabha, after the Bharatiya Janata Party-led National Democratic Alliance won a clear majority in the 2019 Lok Sabha elections in May this year.
This year, 38 Bills were introduced in the Parliament of which, 28 were passed by both Houses, which is the highest for any session in the last 10 years. The commendable part is none of the Bills introduced in this session were referred to any committee. The report further adds that a total of 36 per cent of questions were answered orally in the Lok Sabha, which is again the highest in the last 20 years.
The Bharatiya Janata Party (BJP) has 303 members in the 543-member Lok Sabha and the NDA, of which it has 353. Lok Sabha speaker Om Birla also put out a tweet after the House was adjourned congratulation the members on the achievement.