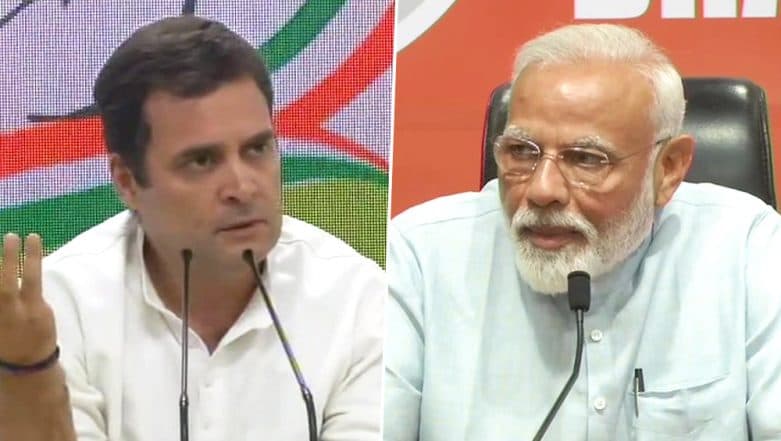 New Delhi, May 17: The high-voltage campaigning for the final phase of Lok Sabha Elections 2019 ended with the much-awaited battle of press conferences with Prime Minister Narendra Modi holding his first press conference in five years and Congress President Rahul Gandhi addressing one simultaneously. In his first press conference in the country after becoming the Prime Minister in 2014, Modi began with saying that India, indeed, is the biggest democracy. Bharatiya Janata Party (BJP) President Amit Shah began the press conference with talking about the number of rallies addressed by the Prime Minister as well as the efforts put in by volunteers during election campaigning. He insisted that the BJP had concentrated on the seats it didn't win in 2014, adding that the party was confident of performing well on 80 more seats this year. In the BJP press conference, while Amit Shah took all questions on Modi's behalf, the Congress PC had Rahul Gandhi answering all queries. PM Narendra Modi Addresses 1st Press Conference in 5 Years, Amit Shah Answers All Questions on His Behalf.
After Shah, PM Modi took over and took digs at the UPA, reiterating that General Elections, Indian Premier League (IPL) matches, Ramzan and Navratri took place in India simultaneously this year. He also said that this "was the first election where inflation and corruption were not an issue". "It will happen after a long time in the country, our Government will come to power with an absolute majority for second consecutive time," Modi added saying that not a single scheduled programme had to be cancelled. Rahul Gandhi Asks Live Questions To PM Narendra Modi In Simultaneous Press Conference, Says 'He Has Money, We Have Truth'.
On the other hand, Gandhi, in his press conference, said, "The role of the EC has been biased in this elections, Modi Ji can say whatever he wants to say while we're stopped from saying the same thing. Seems that the elections schedule was made for Modi Ji's campaigning. BJP and Narendra Modi have lots of money while we have truth."
"Now that the Prime Minister is doing a live press conference, I want to ask him 'why didn't you debate with me on Rafale? I had challenged you for a debate, tell the press why didn't you debate'," Gandhi questioned.
On a question on Bhopal BJP candidate Pragya Singh Thakur's 'Nathuram Godse is patriot' remark, Amit Shah said, "Party has served her a show cause notice and asked her to reply within 10 days. After she files a reply, party's disciplinary committee will take appropriate actions."
Watch: Narendra Modi And Rahul Gandhi's Simultaneous Press Conferences
LIVE: Shri @AmitShah is addressing a press conference in the presence of PM Shri @narendramodi at BJP HQ. #DeshKaGauravModi https://t.co/PyeR1mudj9

— BJP (@BJP4India) May 17, 2019
LIVE: Congress President @RahulGandhi addresses media after his last rally for 2019 Lok Sabha elections. https://t.co/cwEOl9xis3

— Congress (@INCIndia) May 17, 2019
Shah was also asked about violence in West Bengal, to which he hit back questioning as to why there were no questions to West Bengal Chief Minister Mamata Banerjee on the violence in the state. "We are fighting elections in all states, but why violence in just West Bengal? 80 BJP workers have been killed in the state," Shah said.
Meanwhile, Rahul Gandhi, on a question about Congress party's aim in Uttar Pradesh, said, "I respect the fact that BSP-SP decided to fight the elections together in UP. From the Congress party perspective, I have to push the Congress ideology in UP. I made it very clear to Jyotiraditya and Priyanka that priority number one is to make sure BJP losses. Priority number two is to push Congress ideology, priority number three is to win the Vidhan Sabha election. But ideological they are on the same page like us, I don't see Mayawati Ji, Mulayam Singh Ji, Mamata Ji, Chandrababu Ji supporting Narendra Modi government."
Voting for the final phase of Lok Sabha Elections 2019 will take place on May 19. The counting of votes for the seven-phase polls will take place on May 23 and the results will be declared on the same day.