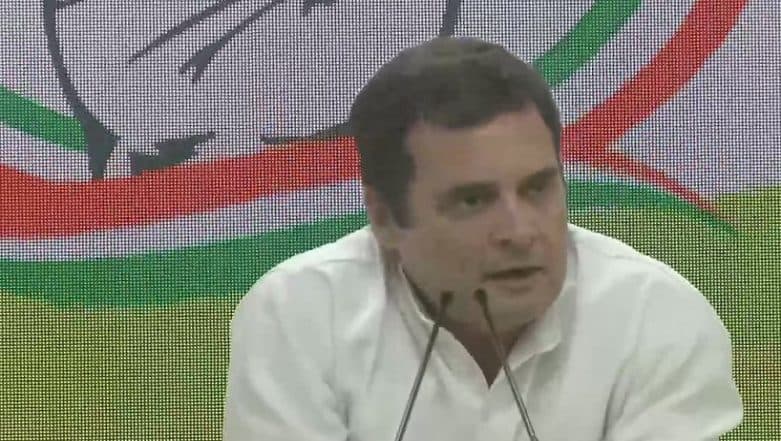 New Delhi, May 17: Moments before the campaigning of the last phase of Lok Sabha elections ends, Congress President Rahul Gandhi on Friday held a press conference in New Delhi. In the media briefing, Gandhi lashed out at Prime Minister Narendra Modi over various election issues including Rafale Deal. He questioned the PM for not holding a debate on the multi-billion defence deal. The Congress President said that the BJP has money, but the Congress has the truth. He added that in 2019 parliamentary polls only truth will win.
He also took a dig at PM Modi for his 'apolitical interview'. Gandhi hit out at media persons for not asking questions from PM Modi related to important issues which the country is currently facing. The Congress President took a jibe at the PM over his interview to News Nation interview in which he claimed that he suggested the Indian Air Forces (IAF) that clouds and rain can help fighter jets evade Pakistani radar during Balakot air strikes.
Rahul Gandhi's Press Conference:
LIVE: Congress President @RahulGandhi addresses media after his last rally for 2019 Lok Sabha elections. https://t.co/cwEOl9xis3

— Congress (@INCIndia) May 17, 2019
Gandhi added that the PM Modi led Bharatiya Janata Party (BJP) government ignored the important issue which country is facing. He also added that he would not respond to PM Modi for his derogatory remarks on his family.
Meanwhile, PM Modi and BJP chief Amit Shah are also attending a press conference ahead of phase seven of the Lok Sabha Elections. It is for the first time that PM Modi addressed any press conference after becoming the Prime Minister.
A total of 60 constituencies are going for polls across seven states and one union territory. The campaigning for this phase will end at 5 pm today. The parliamentary polls in the country are taking place in seven phases from April 11 to May 19. The counting of votes will take place on May 23.