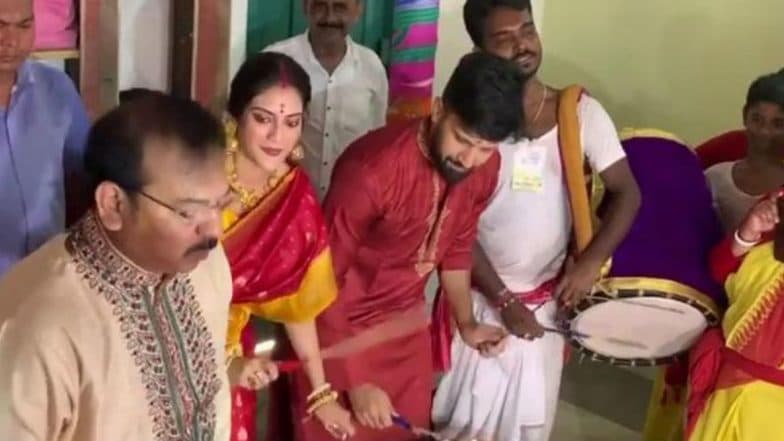 Kolkata, October 7: After pictures and videos of Trinamool Congress (TMC) MP Nusrat Jahan attending Durga Puja festivities went viral, a cleric from Uttar Pradesh said that the actor-turned-politician was no longer a Muslim. Clad in a red saree with her husband Nikhil Jain, Nusrat Jahan offered prayers at Suruchi Sangha Pandal in Kolkata on the auspicious occasion of Maha Ashtami on Sunday. Nusrat Jahan on Marriage With Nikhil Jain: 'We Gifted Each Other Our Entire Lives'.
"Islam does not allow its followers to pray before any other God other than the almighty Allah. Nusrat Jahan has performed puja which is totally anti-Islamic. She is not practising Islam. She even married a non-Muslim. Since she does not believe in Islam, she should change her name. Why is she insulting Islam?" Mufti Asad Kasmi, vice-president of Itehaad Ulema-e-Hind, told reporters. TMC MPs Nusrat Jahan, Mimi Chakraborty Match Steps With Bengali Actress Subhashree Ganguly As They Pay Tribute to Maa Durga.
"Islam does not need any person who bears an Islamic name but actually defames Islam," he added. Nusrat Jahan, who represents West Bengal's Basirhat seat in Lok Sabha, offered prayers at Suruchi Sangha Pandal. After the prayers, she played 'dhaak' (a traditional Bengali dhol) along with her husband. She said that she offered prayers to Goddess Durga to promote religious harmony.
Asked about her decision to perform puja despite being a Muslim, the TMC lawmaker responded: "I think I have my own way of portraying harmony towards all religions. Born and brought up in Bengal, I feel I am doing right by following culture and tradition. Here, we celebrate all the religious festivities." Her husband backed her views.