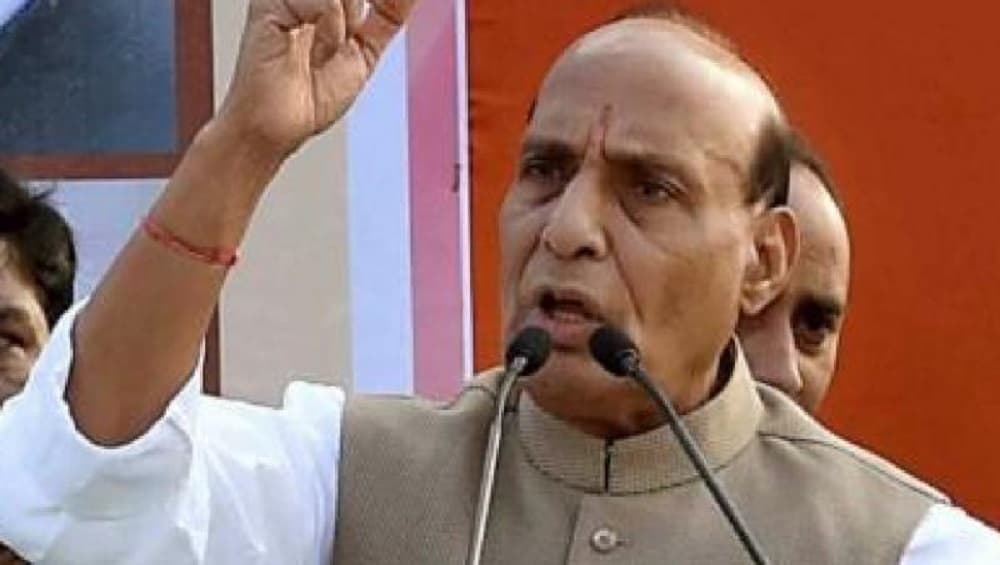 New Delhi, September 15: Echoing the comments made by several leaders from the ruling Bharatiya Janata Party (BJP), India's Defence Minister Rajnath Singh on Saturday said that Pakistan will soon get "fragmented into multiple units" and blamed Pakistan for playing the politics of religion. Speaking at an event in Surat, Gujarat, Rajnath lashed out at Pakistan for supporting terror and alleged that "India and Pakistan were partinioned on the basis of religion" because of the mindset of people who created Pakistan and said that it would "disintegrate soon". Singh also lambasted Pakistan for talking on human rights of people in Kashmir affected by India when Pakistan "isn't able to provide security to the minorities in its country". Rajnath Singh reiterated that "the minorities in India were, are and will always be safe." Pakistan's GSP Status Should be Revoked, Demands Europe India Business Chamber in Letter to EU Commissioner For Trade.
Mentioning the 1971 war against East Pakistan which resulted in the creation of separate state of Bangladesh, Rajnath Singh added that nobody would need to "break Pakistan" as it would break get "broken into pieces" itself. RSS Leader Questions Perception That Muslims Feel Unsafe in India, Asks Why Other Minorities Don't Feel Threatened.
Rajnath Singh extrolled India's high values and ideals in relation to religious tolerance and said that people of all religion and values find a place in India, unlike Pakistan. He added that India does not believe in the politics of religion, caste or creed but on the values of justice and humanity. Muslim Rashtriya Manch: The RSS Body Which Is a Bridge Between Muslims and Sangh.
Watch the Video Below
#WATCH Defence Minister Rajnath Singh: India was divided into two parts on the basis of religion- India & Pakistan were formed. Pakistan was again partitioned in 1971. If this politics continues, no power can stop Pakistan from being broken into pieces. pic.twitter.com/EsnNnYaq6d

— ANI (@ANI) September 14, 2019
Rajnath said that even after the partition of India, Pakistan once again got divided in 1971, after the creation of Bangladesh. He also said that the minorities in Pakistan such as the Balochs, Pashtuns and those from Sindh were treated unfairly. India's Defence Minister asserted that it is only a matter of time before "Pakistan is disintegrated" and that there is no need for anyone to "break Pakistan."