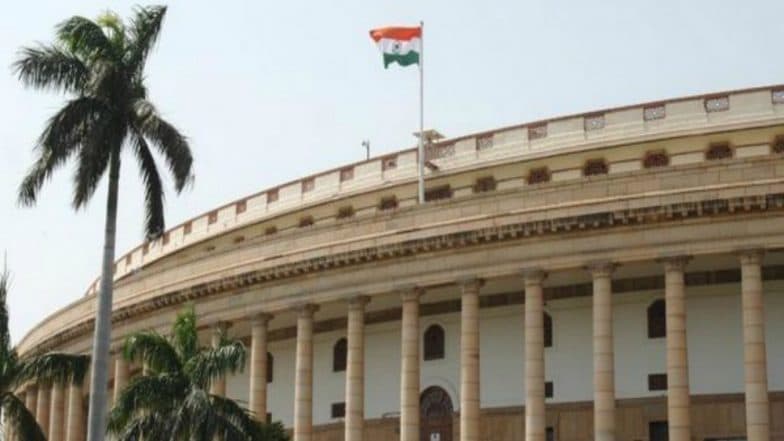 New Delhi, February 12: The debate over Rafale deal rocked Parliament on Tuesday after reports surfaced that Anil Ambani met French defence officials just a few days before Prime Minister Narendra Modi's visit to France to announce the deal. After the Modi government rejected Congress MPs demand of setting up a Joint Parliamentary Committee to probe alleged irregularities in the deal, they staged a walkout from the Lok Sabha.
Meanwhile, the Comptroller and Auditor General (CAG) report on the Rafale deal will be tabled in this budget session. The report will be divided into two sections and comprises a review of 11 deals signed by the Indian Air Force (IAF). Along with this, the audit of the Rafale deal is the part of the second section of the same report. It also mentioned all the estimations in terms of percentage. Rafale Deal: CAG Report on Pricing Not Examined by PAC, Modi Govt Tells Supreme Court; Requests to Correct Verdict.
On Tuesday reports surfaced that Anil Ambani visited then French Defence Minister Jean-Yves Le Drian's office in Paris and had a meeting with his top advisors just around 10 days before PM Narendra Modi's visit to the European country to finalise the Rafale Deal. According to a report published in The Indian Express, The meeting was attended by Le Drian's special advisor Jean-Claude Mallet; his industry advisor, Christophe Salomon; and his technical advisor for industrial affairs, Geoffrey Bouquot. Rafale Deal Row: Narendra Modi Government Dropped Anti-Corruption Clause Before Signing Deal, Says Report.
Ambani was also part of the PM's delegation during his visit to France where the deal was announced by in a joint statement issued by the two countries. The Congress and other opposition parties are attacking the Modi government for giving the offset clause worth Rs 30,000 crore to Ambani's Reliance Naval and engineering Limited instead of state-owned Hindustan Aeronautics Limited (HAL). Supreme Court Verdict on Rafale Deal: BJP Seeks Apology From Rahul Gandhi, Congress Presses For JPC Probe; Here's Who Said What.
Earlier in the day, Congress president Rahul Gandhi slammed PM Modi over The Indian Express report. Gandhi alleged that PM Modi acted as a middleman for Anil Ambani in the Rafale Deal. He also trashed the CAG report saying that it is a worthless report. He added, "would term it as a 'Chowkidar Auditor General Report'. It is Narendra Modi's report, written for the Chowkidar, on behalf of the Chowkidar, for the Chowkidar by the Chowkidar."
Last week, former Union minister and senior Congress leader Kapil Sibal alleged a conflict of interest and added the CAG Rajiv Mehrishi who was the finance secretary when the deal was signed would try to save the central government.