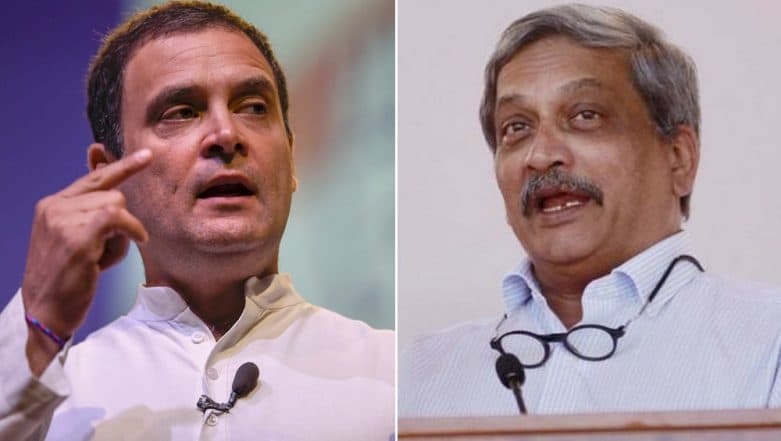 Panaji, January 29: Congress President Rahul Gandhi on Tuesday visited Goa Chief Minister Manohar Parrikar in the state. Gandhi paid a 'courtesy visit' to Parrikar at the CM Office in Goa Vidhan Sabha in Panaji. According to reports, in a 15-minute interaction with the Goa CM, Gandhi inquired about Parrikar's health and gave him best wishes for a speedy recovery. It is yet to be known whether the Congress chief also raised the Rafale deal issue in his meeting with Parrikar.
Gandhi has been on a 'private visit' to Goa with his mother and UPA Chairperson Sonia Gandhi. Rachna Fernandes, a local resident, who clicked a selfie with Rahul Gandhi at a restaurant in Goa, said on a social media platform, that she was "awed by his charm and modesty". Rahul Gandhi Enjoys Lunch with Mother Sonia in Goa without Security, Takes Selfie with Tourist.
Rahul Gandhi's Tweet on Meeting Parrikar
This morning I visited Goa CM, Manohar Parrikar, to wish him a speedy recovery. It was a personal visit.

Later this afternoon I will address Polling Booth Committee Members from all over Kerala, in Kochi. The meeting will be LIVE on my Facebook page.https://t.co/NraAer1ksf

— Rahul Gandhi (@RahulGandhi) January 29, 2019
Rahul Gandhi's meeting with Manohar Parrikar comes days after his party accused the Goa CM of keeping Rafale deal files with him "in his bedroom". The Congress had earlier this month released a purported audio clip of Goa cabinet minister Vishwajit Rane, in which he was heard saying that Parrikar was holding Prime Minister Narendra Modi-led government to ransom over Rafale fighter jet deal with France.
Citing the audio recording, Congress spokesperson Randeep Surjewala had said that Manohar Parrikar has all documents related to the Rafale deal in his bedroom and was blackmailing the Modi government.
Rane, on the other hand, had termed the audio clip "doctored" and had told BJP president Amit Shah to ask the state government to order an inquiry into the matter.
On Monday, Gandhi took to Twitter yet again and asked why no inquiry had been ordered into the audio clip. "30 days since the Goa Audio Tapes on RAFALE were released. No FIR or enquiry ordered. No action against the Minister either! It's obvious that the tapes are authentic & that Goa CM, Parrikar, is in possession of explosive RAFALE secrets, that give him power over the PM," Gandhi tweeted.