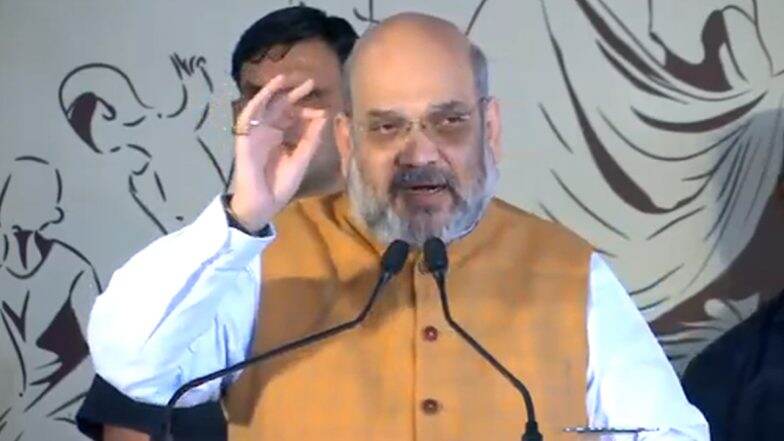 Bhiwani,  October 9: Bharatiya Janata Party (BJP) president Amit Shah, on campaign trail in Haryana, jabbed former Congress president Rahul Gandhi who is off on a personal visit to Cambodia. Shah said the foreign tour of the top Congress leader, timed just before the crucial assembly polls in Haryana and Maharashtra, reflects the lack of seriousness of the grand old party. Rahul Gandhi to Gear Up Congress Campaign in Maharashtra and Haryana From Oct 10-19.
"At the time of assembly elections in Haryana and Maharashtra, Rahul Gandhi has gone off on a holiday," Shah, the Union Home Minister, said while addressing a poll rally in Haryana's Bhiwani on Wednesday.
The Gandhi scion left the nation on Saturday morning for Cambodia via an Air Vistara flight. While reports had earlier claimed that he has embarked upon a visit to Bangkok -- a prominent vacation destination in Southeast Asia -- the Congress later clarified that he has went to Cambodia for vipassana.
Update by ANI:
Union Home Minister Amit Shah: The Congress party has opposed the surgical strikes, air strike, Triple Talaq Bill and abrogation of Article 370 from J&K. I want to ask Rahul Gandhi, what has his party done for the state? https://t.co/hbApKF9dgn

— ANI (@ANI) October 9, 2019
Gandhi is expected to return to India by tomorrow, as he is scheduled to answer multiple summons by the court.  He is scheduled to appear before Surat Court on October 10 in connection with a case over his comment "why do all thieves have Modi in their names".
On October 11, the senior Congress leader is asked to appear before an Ahmedabad Court in connection with criminal defamation suit against him by the Ahmedabad District Cooperative Bank.