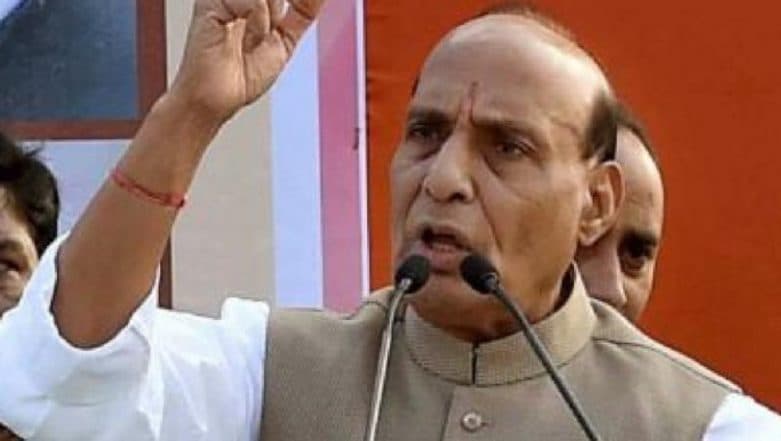 Lucknow, May 13: With the last leg of Lok Sabha Elections 2019 still remaining, Union Minister and senior BJP leader Rajnath Singh attacked Congress for lowering the political discourse of the country. Adding on, he said that never before has the chief of the main opposition party - Rahul Gandhi - hurled abuses like 'Chowkidar chor hai' at the prime minister - Narendra Modi.
Expressing his opinion on the political condition of the country, Singh - while attacking Gandhi - he said, as PTI quotes, "Never before has the prime minister been called names by a president of a national party. 'Chowkidar chor hai' slogan was given by Gandhi. This was wrong as prime minister is a prime minister after all." Priyanka Gandhi Mocks PM Narendra Modi on 'Radar Me Nahi Aayenge' Row, Claims He Is Under People's Radar.
Reminded about sloganeering against Indira Gandhi and Rajiv Gandhi, Singh said, "It must be a slogan by an ordinary party worker and never by a party president of any national party." However, the BJP stalwart sidestepped questions on the accusations by the Congress that it was Modi who lowered the political discourse.
The BJP candidate from Lucknow claimed that it would retain power with a comfortable majority and could increase its 2014 tally of 282. He even stated that BJP will get a majority on its own in this Lok Sabha Elections.