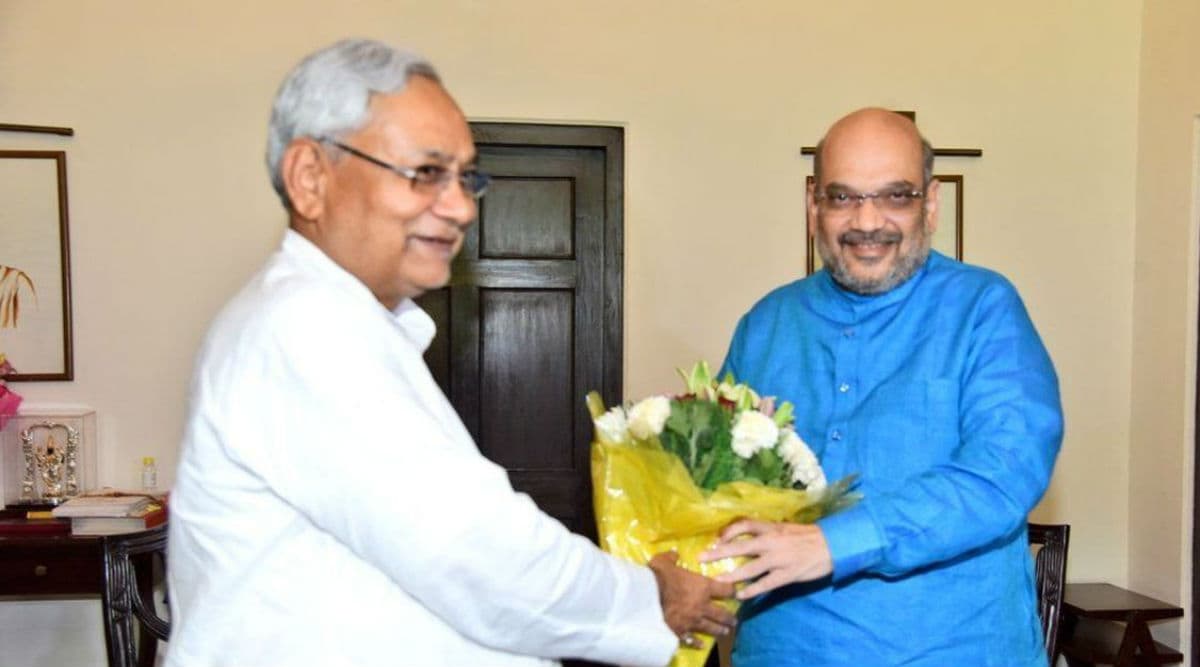 New Delhi, October 17: Union Home Minister and Bharatiya Janata Party President (BJP) Amit Shah has said his party will contest the next assembly elections in Bihar in an alliance with Chief Minister Nitish Kumar's Janata Dal (United), putting all speculations to rest. Amit Shah also said that the JDU-BJP combine will fight the 2020 Bihar assembly elections under the leadership of Nitish Kumar. The two parties are in a coalition government in Bihar. BJP Leaders Including Dy CM Skip Sushil Kumar Modi Skip Dussehra Event Attended by Bihar CM Nitish Kumar.
"The Janata Dal (United) and the BJP will go to polls together and we will fight polls under the leadership of Nitish Ji. This is absolutely clear," Shah said in an interview to News18 on Wednesday. Describing the JDU-BJP alliance as "atal" (inevitable), Shah added that at the national level, the two parties are working under the leadership of Prime Minister Narendra Modi and in Bihar, they will do so under the leadership of Kumar. Nitish Kumar Loses Cool at Journalist on Being Quizzed Over Bihar Floods, Hits Back Saying 'What About America?'.
Bihar's Deputy Chief Minister and BJP leader Sushil Kumar Modi has already said that the two parties will contest under Nitish Kumar's leadership. But Shah's statement carries more weight and has come as a big relief for all those working to keep the JDU-BJP alliance intact, especially after relentless attacks on Nitish Kumar by Union Minister Giriraj Singh who is being pitted as a chief ministerial candidate by a section of BJP leaders.
Asked about report of rifts between JD(U) and BJP leaders, Shah said: "In a coalition, there are always tiffs and they should be considered a parameter of a healthy coalition. Bas mat-bhed man-bhed mein nahi badalna chahiye (only thing is that these differences in opinion shouldn't turn into a change of hearts)."
The relationship between the two coalition partners soared when the JD(U) was offered a single ministerial berth in the Modi Cabinet 2.0 and refused to join the BJP-led National Democratic Alliance government at the Centre. Upset Nitish Kumar then expanded the state cabinet, bringing in more JD(U) leaders. Recently, senior BJP leaders including Sushil Modi and others gave a miss to Dusshera celebrations at Patna's iconic Gandhi Maidan, where Kumar was the chief guest.