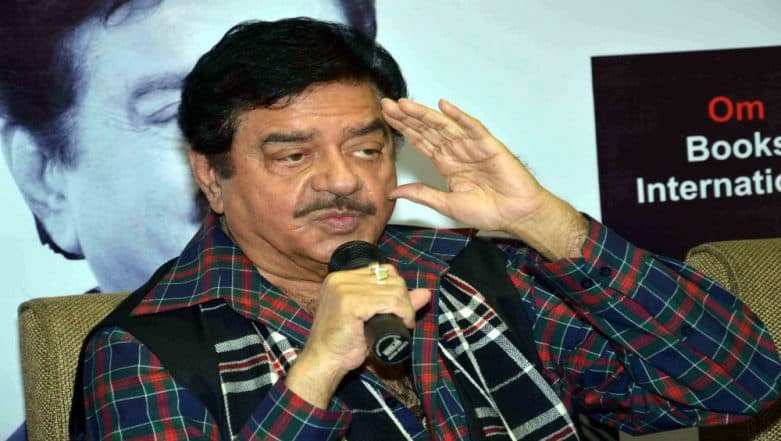 Patna, March 12: Actor-politician Shatrughan Sinha, who rebelled against the BJP top brass shortly after the party's victory in the 2014 Lok Sabha polls, will be officially exiting the party ahead of the 2019 general elections. The two-time MP from Patna Sahib, on Tuesday, said he is weighing his options and will be announcing his next political stop on March 22.
Speculations are rife that Sinha could be joining the Congress or the RJD. Both the parties have indicated that they would be fielding Sinha from his current constituency if he enters their fold. "Just wait and watch. No more speculations required," the BJP rebel told reporters today, adding that an announcement would be made by him next Friday. Patna Sahib Battle: Is Shatrughan Sinha vs Sushil Modi on Cards For 2019 Lok Sabha Elections?
Although Sinha has confirmed that he is switching his political party, but the constituency from where he would be contesting would remain the same. "I can win from anywhere, but I will not leave Patna Sahib," he said.
Notably, Sinha had wrested the seat first in 2009, winning it by a margin of over 2.5 lakh votes against his nearest rival, the then Congress candidate and actor Shekhar Suman.
In 2014, Sinha furthered his victory margin, defeating his nearest challenger, JD(U)'s Gopal Prasad Sinha by a margin of over 3.9 lakh votes.
BJP insiders claim that the battle for Patna Sahib has turned into a prestige fight for the Modi-Shah duo, who have been lambasted from several public platforms by Sinha over the last 4 years. Reports claimed that the party is considering to field its senior leader and current Bihar Deputy Chief Minister Sushil Kumar Modi from Patna Sahib.
Responding to the speculations, Sushil Modi said he would abide by any instruction issued to him by the party high command. "If the party decides, I will contest. I am born in the BJP and will die in this party," he said.