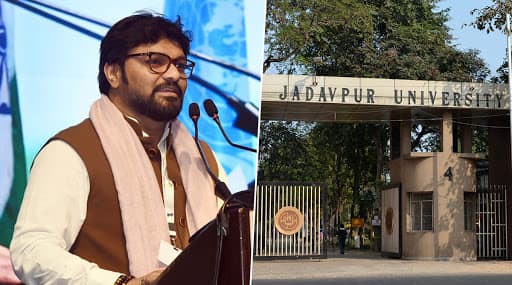 Mumbai, September 19: Union Minister of State for Environment, Forest and Climate Change Babul Supriyo on Thursday was heckled by students of Jadavpur University, when he arrived at the campus to participate in the freshers' event -- organised by Akhil Bharatiya Vidyarthi Parishad. He was called by ABVP -- students wing of Rashtriya Swayamsevak Sangh -- as a singing artist. During the heckling, Supriyo even fell. Mamata Banerjee Meets Amit Shah, Expresses Concern Over 'Wrongful' Exclusion From NRC in Assam.
According to a report, published in 24 Ghonta, the Union Minister was heckled after he arrived in the varsity. Soon students stopped him from entering the varsity with the slogan -- "Babul Supriyo, Go Back". Following this, when Supriyo tried to enter the varsity, he was pushed by the students towards gate number 3. Due to this, he fell on the ground, and his shirt's collar tore apart.
With reports pouring that Supriyo was heckled, the varsity turned into a warzone of students. Security has been beefed up in the University campus, and the administration is trying to maintain law and order, while students continue to protest against the event of ABVP in the campus. Final NRC List 2019, Excluding 19 Lakh Individuals, Published Online by Assam Government.
Here's the tweet by BJP:
These msgs were forwarded overnight b4 the disgraceful scenes in Jadavpur University as pro-Naxal students block entry of Union Minister Shri @SuPriyoBabul. State of some of our universities where a small minority flex their muscles @BJP4Bengal @BJPLive @ABVPVoice @AbvpBengal pic.twitter.com/Gz4BfMPc9u

— BJP Asansol (@BJP4Asansol) September 19, 2019
It is being said that Supriyo was called after taking permission from the university administration. Even the administration was taking an active part in the event called by ABVP. However, Supriyo's heckling by the students comes as a surprise to both the varsity administration and the political arena of the state.