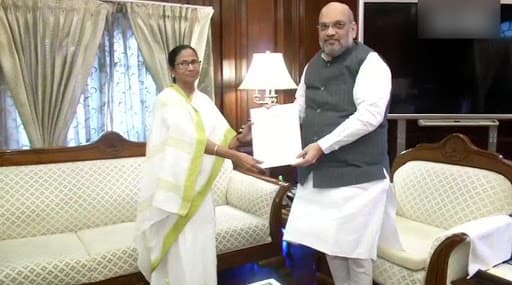 New Delhi, September 19: West Bengal Chief Minister Mamata Banerjee met Union Home Minister Amit Shah on Thursday at his office in New Delhi. Banerjee's meeting with Shah came a day after she held a meeting with Prime Minister Narendra Modi. The West Bengal CM raised protest over exclusion of 19 lakh people from the National Register of Citizens (NRC) list in Assam. Mamata Banerjee also handed the letter to the Home Minister regarding this. Mamata Banerjee to Meet PM Modi on Wednesday, Discussion Likely on Renaming West Bengal as 'Bangla'.
During media interaction after the meeting, Banerjee said, "I handed over a letter to Amit Shah, told him that of the 19 Lakh people left out of NRC, many are Hindi speaking, Bengali speaking and local Assamese. Many genuine voters have been left out. This should be looked into. I submitted an official letter." According to Banerjee, Shah did not say anything about the NRC in West Bengal. However, she reiterated her stand against implementing NRC in West Bengal. Final NRC List 2019, Excluding 19 Lakh Individuals, Published Online by Assam Government.
Mamata Banerjee's Statement:
West Bengal CM Mamata Banerjee on her meeting with Union Home Minister Amit Shah: He did not say anything about NRC in West Bengal. I have already clarified my stand that NRC is not needed in West Bengal. https://t.co/XyJEpyk5JY

— ANI (@ANI) September 19, 2019
In the NRC list, which was released on August 31, over 19 lakh peple from Assam were declared illegal. The list was published online on Saturday. The process of updating NRC was carried out by the Registrar General of India, and was monitored by the Supreme Court. The top court in July had extended the date to release the final NRC list from July 31 to August 31. Mamata Banerjee Runs Into PM Narendra Modi's Wife Jashodaben at Kolkata Airport, Gifts Her a Saree.
Banerjee met PM Modi on Wednesday. She discussed several issues including changing the name of West Bengal to Bangla. She told reporters after the meeting that PM Modi assured her that he would do something about it. According to reports she also invited the Prime Minister to Bengal after the Durga Puja for the inauguration a coal project.