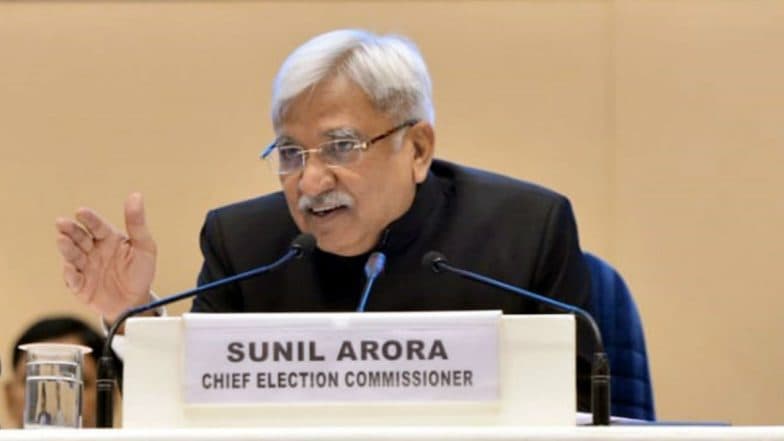 Mumbai, September 19: When will Assembly elections 2019 dates for Maharashtra, Haryana and Jharkhand be announced by Election Commission of India? This question is widely searched on Google. The Election Commission is reviewing preparedness for Assembly polls in Maharashtra and Haryana, while reports are suggesting that elections in Jharkhand could be postponed. The poll panel on Wednesday held a press conference in Mumbai but made no announcement regarding the dates for elections. In Maharashtra, Haryana and Jharkhand, BJP Likely to Fight Assembly Elections Under Incumbent Chief Ministers.
According to reports, preparations for Assembly elections in Maharashtra and Haryana are in final stages and the Election Commission may announce the schedule for polls today or tomorrow or this weekend. The term of Maharashtra and Haryana Assemblies ends on November 9 and on November 2 respectively. The poll panel, however, may postpone polls in Jharkhand in view of the left-wing extremism in the state. Maharashtra Assembly Elections 2019: BJP-Shiv Sena Alliance Talks Go Awry Over Seat Sharing.
At the press conference on Wednesday, Chief Election Commissioner Sunil Arora said that all the parties talked about Diwali next month and cited different dates (for holding elections). "But in any case, while deciding the dates, the commission does try to take care of various factors like holidays and schools, examinations of kids, very important festivals of different religions," he said.
Arora also informed that the election dates and number of phases it will be conducted in will be duly informed at a press briefing in Delhi. In 2014, dates for Maharashtra and Haryana assembly elections were announced on September 20 and the voting took place on October 15. The results were declared on October 19. In 2014, Jharkhand voted in five phases between November 25 and December 23.
All three states are currently ruled by the Bharatiya Janata Party (BJP). In the 2014 assembly elections, the BJP won 47 Assembly seats in Haryana, it bagged 122 of Maharashtra's 288 seats and 37 of Jharkhand's 81 constituencies.