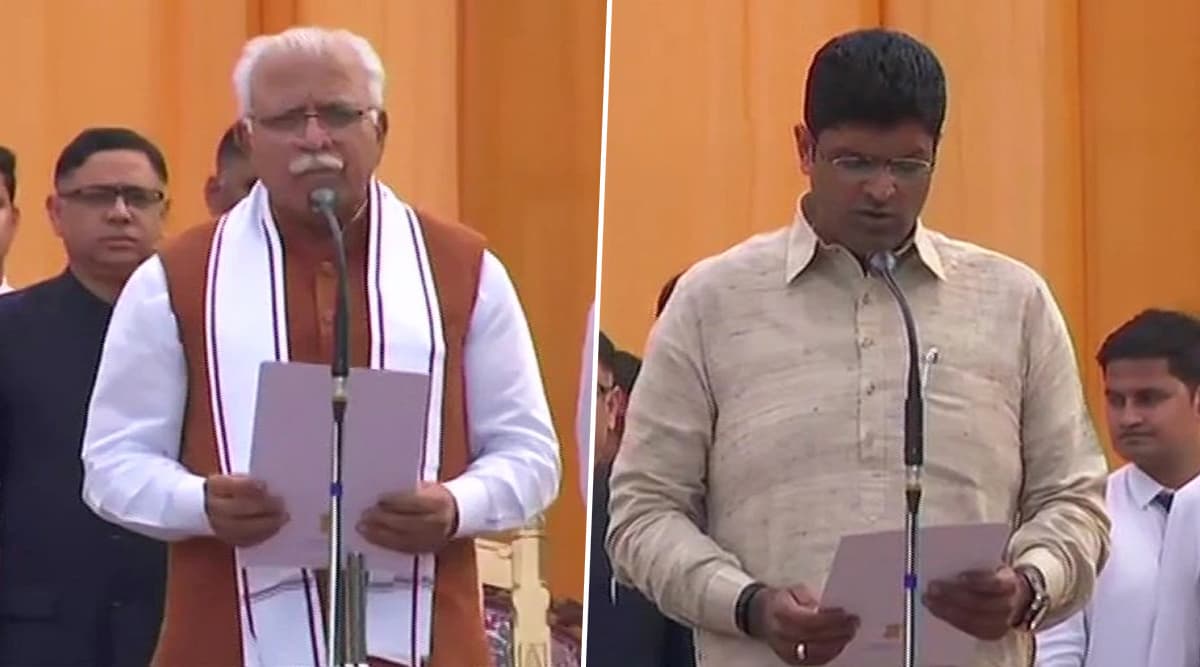 Chandigarh, December 26: Two days after the Bharatiya Janata Party (BJP) was jolted in Jharkhand, cracks have emerged within its crucial ally ally in Haryana - the Jannayak Janta Party (JJP). The party's seniormost legislator and vice-president, Ram Kumar Gautam, resigned from his post in the JJP on Wednesday. The 73-year-old MLA from Narnaund attributed his decision to the alliance with the BJP sealed by JJP chief Dushyant Chautala. Jharkhand BJP Chief Laxman Giluwa Resigns Following Party's Defeat in Assembly Polls.
Speaking to reporters, Gautam claimed that the party had aggressively contested the elections against the BJP. After Haryana had delivered a hung verdict, Chautala unilaterally decided to seal an alliance with the incumbent Chief Manohar Lal Khattar, rather than consulting the 11 elected legislators of JJP, he alleged.
"(He) sealed the alliance in Ambience Mall in Gurugram. When we got to know we were very hurt," Gautam said. Further hinting at a wider rebellion, he claimed that "all the MLAs are very upset."
Gautam's furious rant against Chautala comes two days after the BJP was unseated from power by the alliance of Congress-JMM-RJD in Jharkhand. The rout for the saffron party came days after it lost power in Maharashtra and got dented in Haryana.
Chautala, on being confronted by reporters on the rebellion of Gautam, said he was not aware that the veteran leader or any other legislator within his party was upset. "I've learnt about his decision through media reports. We will definitely discuss the issue with him," he said.
Although Gautam has cited the alliance with the BJP as the reason his dissent, JJP insiders claimed that he is upset with Chautala keeping "all plum posts" in the Haryana government. Despite defeating BJP's top leader - Captain Abhimanyu - Gautam has not been accorded a ministerial rank.
Chautala, who is the Deputy Chief Minister of Haryana under the coalition government, heads a total of 11 portfolios. Only 1 JJP MLA has been accorded a Minister of State (MoS) rank with comparatively less significant portfolios.
The 31-year-old Chautala had been called out by Opposition parties after the Haryana elections for sealing an alliance with the BJP. Several clips of his scathing criticism of Chief Minister Khattar and Prime Minister Narendra Modi went viral after he inked the alliance with the BJP. The Chautala scion, however, defended his decision claiming that the BJP has agreed to incorporate the poll manifesto of the JJP.