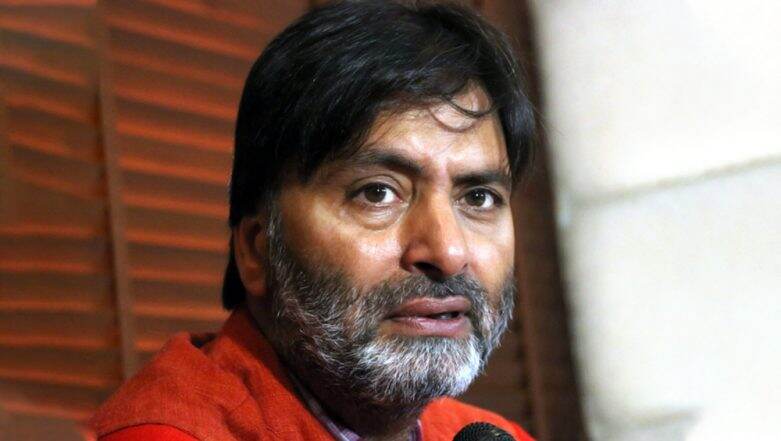 Srinagar, February 23: The Jammu and Kashmir police on a midnight raid on Friday night arrested Kashmiri separatist leader and JKLF chief Yasin Malik from his Maisuma residence. The arrest comes days before the crucial hearing on Article 35-A in Supreme Court which is likely to take place on Monday.
The arrest of Jammu Kashmir Liberation Front chief also comes amid the ongoing tension between India and Pakistan post-Pulwama terror attack on CRPF convoy, in which 40 security personnel were killed. The dastardly attack was carried out by Jaish-e-Mohammed terrorist where he rammed an explosive-laden SUV onto the convoy of CRPF, passing through the Jammu-Srinagar highway. Yasin Malik, Hurriyat Conference Term Order of Withdrawal of Security Cover a 'lie'.
Though both the issues in Kashmir are different, with the terror attack on the security personnel in Pulwama and arrest of Yasin Malik taking place within a week time, tension in the state is expected to escalate. It is to be known that the separatist leader has been vocal against the repeal of Article 35-A which bars people from outside Jammu and Kashmir acquire any immovable property in the state.
Earlier on Thursday, The JKLF leader called termed the Jammu and Kashmir administration's announcement about the withdrawal of security cover of some leaders a "lie". Referring to the move, he alleged that he had never received any protection from the state. Security Cover of 18 Separatists, 155 Political Persons Withdrawn.
He had said, "I have had no security with me for the last 30 years. So, when there was no security, what withdrawal are they talking about? This is utter dishonesty on part of the government." After the Pulwama terror attack, security cover of separatist leaders was revoked.