Deepika Padukone and Priyanka Chopra's fashion face-off is nothing unusual. There have been umpteen instances in the past when these ladies ended up picking more or less the same attire. As Sara Ali Khan said, there are days when the Padmaavat actress looked great and then there are occasions when PeeCee shone like the brightest star in the sky. While there's no harm in picking the same outfit in the same colour for different occasions, it's time we stop fussing about it. Fashion is a very small world and as the saying goes, 'Like Minds Think Alike'. It's not surprising or shocking to see DP and Priyanka pick the same white Rag & Bone sweater for their personal wardrobes. If the outfit deserves a place in their own collection, they might as well own it. Priyanka Chopra, Deepika Padukone, Sonam Kapoor - Meet the Happy Brides of 2018.
While Priyanka wore the same white studded sweater with a black leather skirt, matching boots and curly hair, Deepika preferred it as her airport attire. She paired her look with black pants, matching bag and hair tied in a sleek bun. Ask us about the styling and we'll say the Rani sa of Bollywood was able to nail it better than Priyanka. It was simple yet so chic. But thanks to the aura around Priyanka, she was able to pull off as gracefully as her contemporary. Hey Ranveer Singh, Deepika Padukone and Priyanka Chopra! Elon Musk Has Become a Fan of Your Bajirao Mastani! Read Tweet.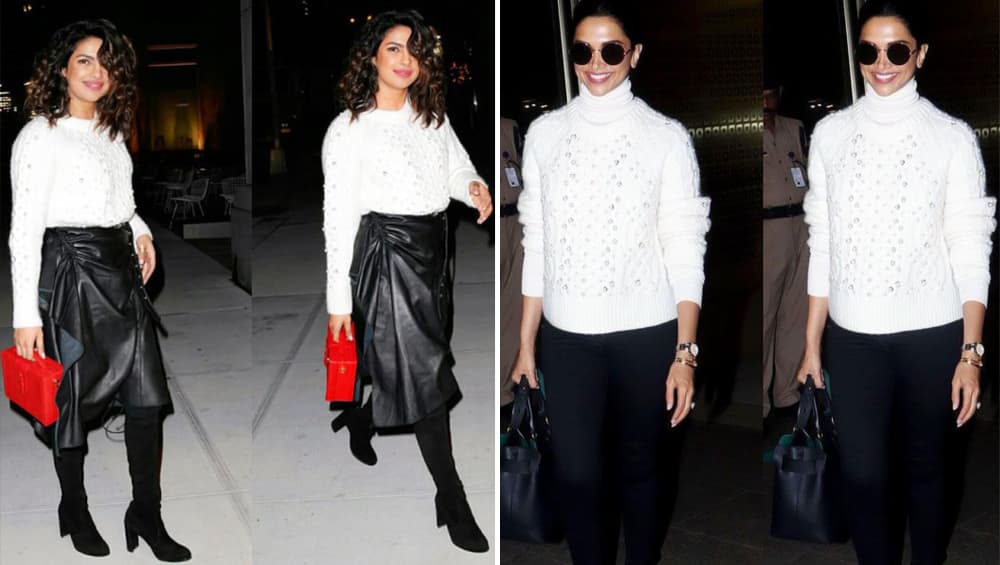 Was Deepika aware of Priyanka owning the same topwear? We don't know and it doesn't even matter. As long as the girls end up slaying individually in the same #OOTD or #OOTN, we have no qualms about them flaunting the same style. Rest is on their stylists of course.