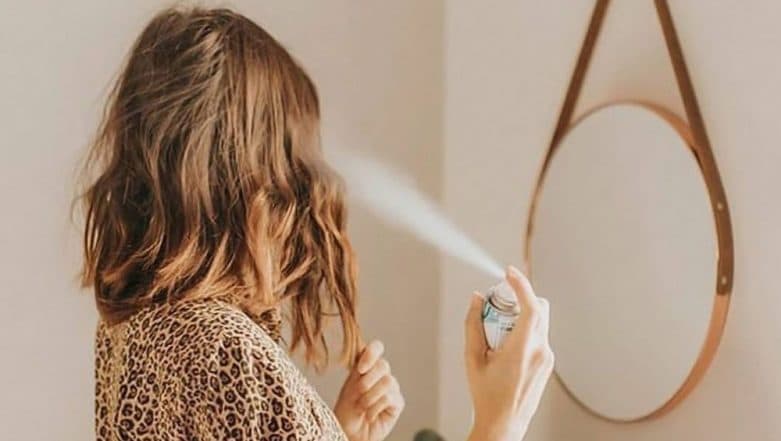 Dry shampoos! Every lazy person's best friend. If you don't know what dry shampoo is, we're here to guide you through this discovery that will probably change your life. Dry shampoo is basically a spray that you use on your hair to take away the greasiness. The consistency feels like powder and it refreshes third-day hair to new. Here is everything you need to know about dry shampoo before you get yourself a bottle. Monsoon Hair Care 2019: From Hair Fall to Dandruff, How to Say Goodbye to Hair Problems During Rains.
Dry shampoo comes in various forms. The most famous one comes in a spray can which is also the easiest to use. To use dry shampoos, part your hair in small sections and spray it directly on the scalp. Make sure to hold it at least 10-15cms away from your scalp or you're going to end up with a white blob on your hair. Once you're done using it, massage it into your roots to get rid of any white residue left behind. Tie your hair tied in a bun or ponytail and let the dry shampoo work its magic and vanish all the grease. Designer Makes a Jumpsuit Which Lets You Pee Without Taking it All Off and We Are So 'Relieved'!
Now Coming to the Benefits:
Dry shampoo is easy to use.

Saves time.

Great to refresh hair in minutes.

Makes heat based hair styling last long.
Dry shampoos are really handy when you're trying to do something with your hair that requires fresh hair. They're not too expensive so they're a great investment if you don't like to wash your hair every day. Dermatologists recommend washing your hair only twice a week. And if it gets too dirty then thrice.
Negatives of Dry Shampoo:
Dry shampoo can cause hair to fall if it doesn't suit you. Just like every makeup, skincare and hair care product, the product has to agree with your body. If any ingredient in the product does not suit you, you may start to lose hair. This isn't very common but totally depends on your hair.

If not massaged properly into the roots, it may look like white powder sitting on your scalp. This may look like grey hair. So if you're not into the grey hair trend, rub it in really well.

If applied too much, it can make your hair feel chalky. You have to figure out the right balance to make it look fresh without ruining your hair's texture.
DIY Dry Shampoo
Baby Powder

Baby powder works very well as an on-a-budget dry shampoo. It has a pleasant fragrance that can reduce stench and it works exactly like any other powder. It absorbs the oil and gets the job done. Not exactly DIY, but a perfect substitute.

Coloured Dry Shampoo

If you wanna add some tint to your dry shampoo, try this. Add some baby powder to a bowl, scrape off some dark brown or black eyeshadow into it and mix very well. Make sure you use matte eyeshadows. This won't add a lot of colour to your hair but it will add some colour, kinda like a dark dry shampoo.
Just like every other brand, you might find some that work for you and some duds. Try a few brands before making any decision. This could be a lifesaver and come handy on your busy days.