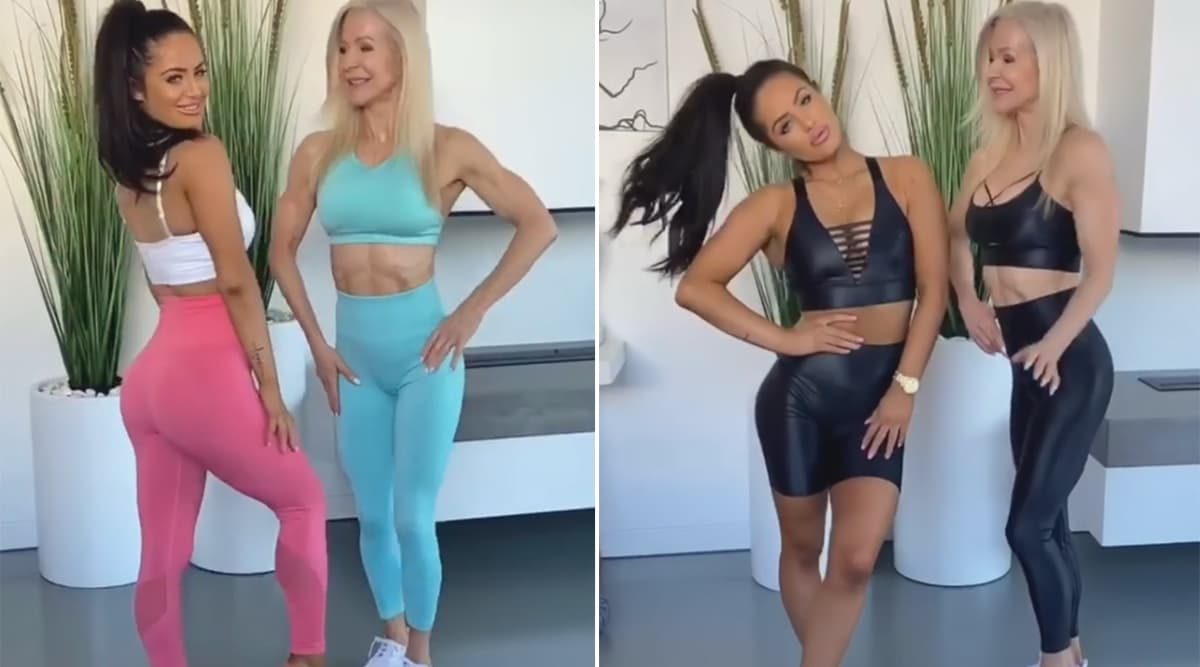 If you lack fitness inspiration, then you might immediately need to watch this video of a grandmother and her granddaughter, fit and fabulous in their fashion faceoff. You hear it right; it is the grandmom and her incredible figure that will want you to hit the gym right away. The 63-year-old grannie, Lasley Maxwell is absolutely stunning, and she loves working out with her gym partner, her 18-year-old granddaughter, Tia Christofi. Both run separate Instagram handles, where the pair would share their fitness routine and flaunt their curvy figure. And their fashion sense for a workout is also awe-inspiring. Recently, they uploaded a video of themselves having a fashion faceoff which is taking the internet by storm. They are making headlines, as they look equally stunning in their lycra leggings and sports bras. You surely won't be able to measure accurately as to who pulled it off better! Grandmothers Swimming Underwater Uncover Large Population of Venomous Sea Snakes in Noumea, Watch Video. 
Lasley has garnered more attention from the viewers for obvious reasons that we do not think needs to be specified here. According to reports, she became a qualified personal trainer at the age of 48 and even participated in many fitness competitions. Her Instagram account is full of videos of images of the 63-year-old, working out. Lasley's achievements in competitions she won was also shared on her account. She often uploaded videos of her and Tia, intensely working out at the gym. But the recent one appears to be a level higher as you would never realise that they have an age gap of 45 years. Grandmother Giggling And Swaying After Eating Grandson's Cannabis-Laced Food Leaves the Internet in Splits. 
Watch the Video:
After the ladies shared their short clip, they asked the followers to say which one of them wore the attire better. Naturally, Lasley garnered quite a number of attention. One of the commentators wrote, "You really prove that age is no barrier to looking amazing." Another said, "I love it! You are such a great role model to your granddaughter but also to all of us mums too!"
The youthful-looking granny in an interview with Daily Star said that her looks often turn the heads of younger men. Besides, all of her partners have been younger to her! She said, "I'm always approached by younger men, I feel ageless so it works. All of my partners have been younger than me, including my ex-husband, whom I had a 13-year age gap with."
Age is just a number! A woman like Lasley is the true definition of ageless beauty. She is an inspiration to many. We all deserve to stay fit for as long as we live and following a healthy diet is key to beautiful skin and figure. Just as Lasley stands as an inspiration to her granddaughter Tia, she has also given the fitness regime a new boost!