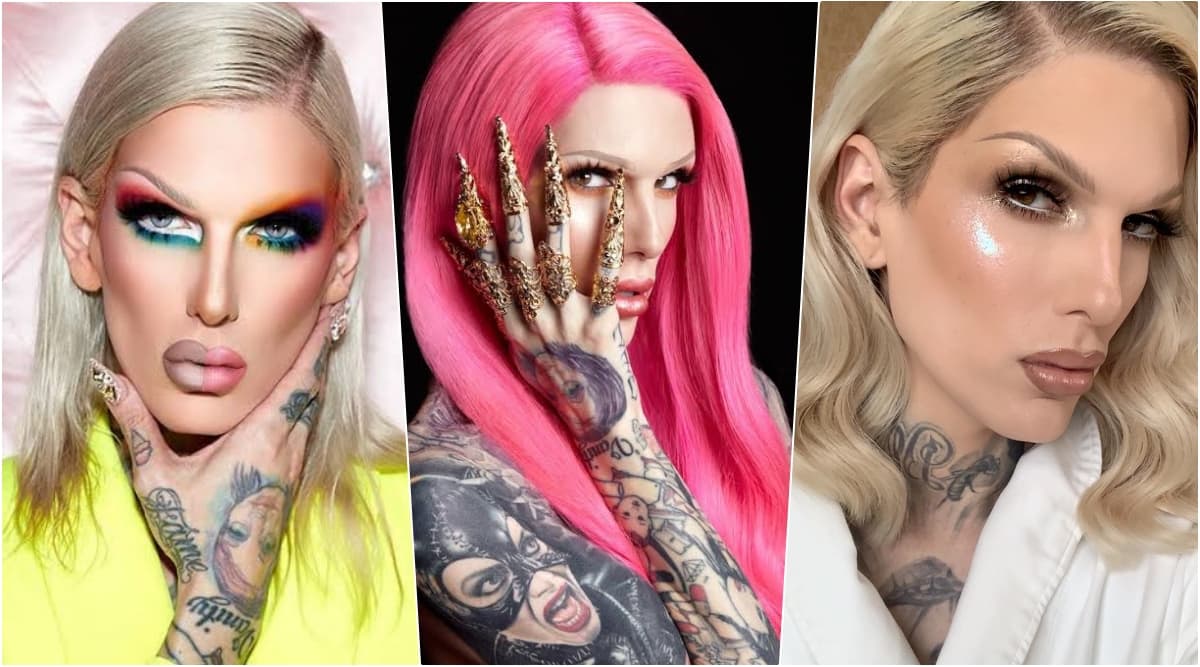 It is Scorpio month! And one person who is undoubtedly most excited about this has to be makeup mogul and YouTube's Star, Jeffree Star. Born on November 15, 1985, as Jeffrey Lynn Steininger Jr, the internet sensation is all set to celebrate his 34th birthday with all the excitement. From the super-successful launch of his recent makeup collaboration with Shane Dawson (the Conspiracy Palette) to finding his dream home once again, Jeffree Star is finally getting all the happiness that he deserves. The YouTube sensation has been the talk of the town for spilling the tea on everything from beauty community drama to calling out brands on shady practices.
It is almost impossible to talk about Star without brushing up on the tea he has spilled from the drama with fellow YouTubers to his shade with well-known brands, Jeffree has done it all. However, there is no denying that multi-talented businessperson has also transformed his image over the past few years. So as we celebrate Jeffree Star's 34th birthday, let's delve into the iconic looks pulled off by the one and only - Jeffree Star! Jeffree Star Birthday Special: From Being a Musician to Ruling The Make-up World And YouTube, Here's a Look at the All-Rounder Business Person's Career.
The Iconic Pink Hair
Back in the MySpace Days, Jeffree Star was known for his bright bubblegum pink hair and the bold and loud makeup looks that made head turn. His funky avatar, topped with his musical talent all led to Akon referring to him as the "Next Lady Gaga." This iconic Jeffree Star look is probably how most OG fans still remember him and speaks mounds about his ability to stand out every single time!
Rocking the Bangs and How!
View this post on Instagram
Jeffree's love and affection for wigs have been well-known. But this brunette with the bangs look indeed shows him in a new light. The subtle makeup and attire made this drastic difference stands out and is genuinely one of the most iconic looks that he has donned. Jeffree Star does justice to simplicity in this picture, and we sure do love the bangs and of course, the lenses that make his eyes pop!
The Sultry Glam Jeffree
Jeffree Star is an amalgamation of different trends and moods. From going all out with the most colourful looks to donning a chic glam look that is perfect for any red-carpet, he does it all. And this sultry glam look that teased Jeffree Star Cosmetics Liquid Frost highlighter gives us all the perfect inspiration for all your glam nights!
You Know Who Loves This One!
View this post on Instagram
Jeffree Star's love for spooky, tea(drama) and Redbull need no introduction. But this image does complete justice of capturing his fun side, while also showing off this amazing Halloween look. From the stellar makeup that gives us all the Voldemort vibes to his sheer expression that captures all types of bleh mood, the picture is truly an iconic masterpiece!
Jeffree Star is An Alien
Trust Jeffree Star to take a joke and turn it into art. The paramount trolling that the iconic influencer has received for his looks transcended to one of the most brilliant launches when Star announced his Alien pallette. If there is one person who knows how to shut trolls, it has to be Jeffree Star, with his innate ability to laugh with the trolls while silencing them with sheer sass!
These are just a few of the thousands of looks that Star has created over the decade. His mind-bogglingly creative launch photoshoots alone manage to leave us all in awe There is no questioning the creativity and talent that Jeffree Star holds, and as we celebrate his birthday, we cannot help but be excited about what is in store for the coming year!