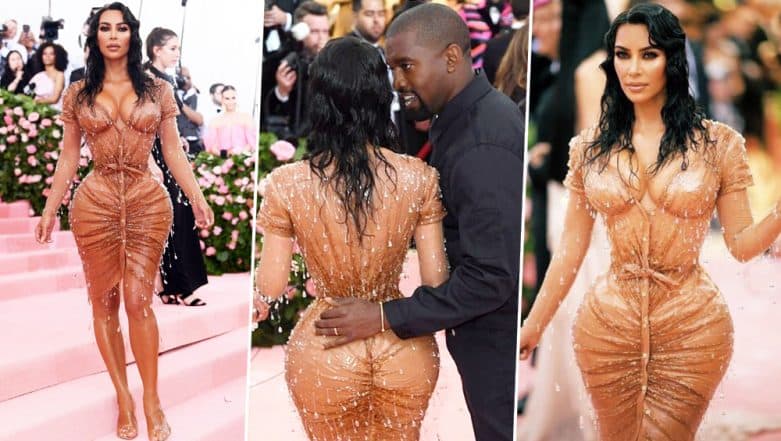 Kim Kardashian set the temperature soaring high and beyond on the met gala 2019 pink carpet. Tricking the eyes, Kim K managed to look like she just took a dip in the ocean and came out looking sizzling delish. Se wore a nude, sheer knee-length dress with a plunging neckline. The dress has studs that gave an impression of water droplets dripping off her body. Kim Kardashian had hinted earlier that her dress is inspired vintage pic of Sophia Loren, wet and sultry from the 1957 film, Boy on a Dolphin. She looked like a real mermaid, and it is actually hard to keep up with her! Kim K wore a nude, body-hugging Mugler dress. However, what grabbed everyone's eyes was that her waist looked almost invisible in the dress, even with all the dripping in beads and sequins, she managed to give a physics-defying hourglass figure. Maintaining the balance of nature, Kanye West wore a black jacket and pants in a not-so-out-there look.
Take a look at Kim Kardashian's wet look from MET 2019:
this is Kim Kardashian Wet everybody say hi #MetGala #MetGala2019 #KimKardashian pic.twitter.com/kpu1r82IhO

— 🥀 (@potraitofme) May 7, 2019
However, while many people praised her look, people couldn't help but talk about how incredibly small her waist looked. Her waist was called "fake" and "invisible" and people also spoke about how it would affect the body image issues of the young girls who look up to her.
Here are some of the reactions that Kim Kardashian's Wet look and "invisible" waist received:
Worth Pondering
Here's another proof of fakery 👇🏾 just doing my bid to save souls as many young girls have died trying to achieve this grotesque look. It's not real girls and it will destroy you. Please love your natural body #KimKardashian pic.twitter.com/2wbcIPZZMO

— Nene Aloka (@nenyloks) May 7, 2019
Kinda true
Love the outfit, but I'm tired of seeing her in body cons. #MetGala #KimKardashian pic.twitter.com/qUfwqpRDnz

— Ruthie de Chelles (@okruthiee) May 7, 2019
Wait a minute, who did this?
sis be lookin like a slug #MetGala2019 #KimKardashian pic.twitter.com/GrZDZgJYTb

— 🕊 (@irranx) May 7, 2019
Trying to focus on her teeny tiny waist and people distracting me like... LOL
Who pushed her in a pool? Poor girl. Her jugs will keep her afloat #KimKardashian #metgala pic.twitter.com/8FAMqDipaf

— Jacob Gardner (@ThatBoyJacob) May 7, 2019
Wassup with this video?
View this post on Instagram
Dying
Is it me or.... #KimKardashian #SausageParty pic.twitter.com/aQUGSUq40J

— Deanna Jay🌙 (@deannajayyy) May 7, 2019
It is difficult to actually comment on her waist size and its impact on body image issues and beauty standards because then a lot of other things will need to be taken into consideration. What do you think?