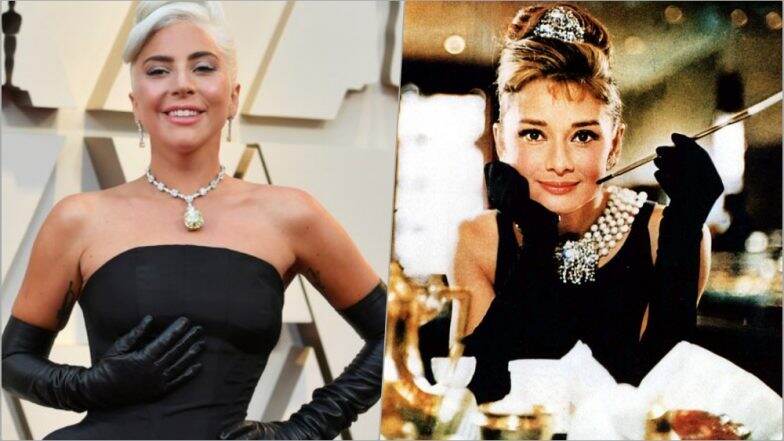 Los Angeles, February 25: Lady Gaga, who has been nominated for best actress and best song sported a gorgeous Alexander McQueen gown with matching leather opera gloves for the Oscars 2019 red carpet. To top it all, she accessorised it with a priceless and historically significant piece of jewellery, the Tiffany Yellow Diamond. Lady Gaga Bradley Cooper Memes From the Oscars 2019 Are Out! Twitter Points Out 'Sexual Tension' Between the Two During 'Shallow' Performance.
In a statement issued by Reed Krakoff, Tiffany & Co. Chief Artistic Officer, that was cited by People, they wrote, "Lady Gaga is the ultimate creator, innovator and rule breaker, and I'm thrilled that she will be wearing the legendary Tiffany Diamond on the awards show red carpet for the first time since it was discovered 141 years ago." Oscars 2019: Lady Gaga and Bradley Cooper Perform 'Shallow' from a Star Is Born and Its EVERYTHING – Watch Video.
The stone totals 128.54 carats and was first discovered in South Africa over 140 years ago by Tiffany & Co. founder Charles Lewis Tiffany. In honour of Tiffany's 175th anniversary in 2012, the one-of-a-kind gem was reset into the eye-catching necklace, which is the style Gaga wore.
It features over 100 carats of white diamonds. Gaga is the first celebrity to wear the Tiffany Diamond since Audrey Hepburn, who wore the massive yellow stone in publicity photos for her 1961 film 'Breakfast at Tiffany's.' The only other woman to sport it was socialite Mary Whitehouse who wore it in a lavish necklace at the 1957 Tiffany Ball in Newport, Rhode Island.
While Gaga wore the historically significant jewel to complete her look, what was noticeably missing was the pink diamond engagement ring from ex-fiancé Christian Carino.