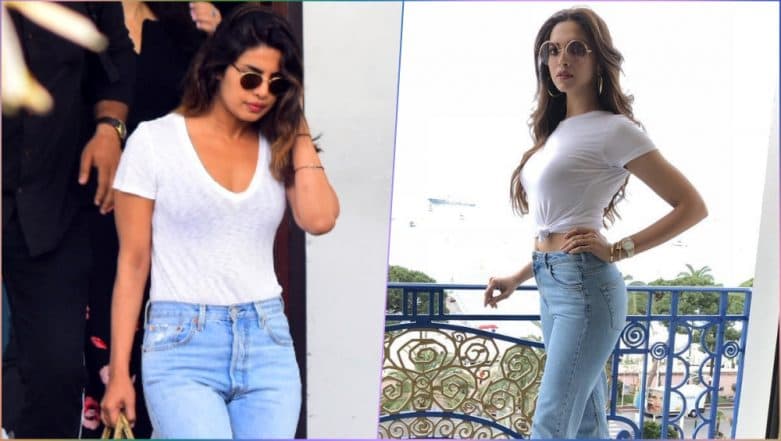 Priyanka Chopra and Deepika Padukone, Bollywood's most prominent superstars also happen to be among world's most influential fashion icons. From never ceasing to amaze on the red carpet with their dramatic style or turning the most boring outfits into a 'wow, what is she wearing?' the ladies are quintessential fashionistas. While we would love to raid their wardrobe any given day, but realistically speaking, for now, we can take a style lesson from the two's love for classic blue denims and white tee combination. More precisely, we have Deepika and Priyanka showing us how to look ultra-glam in mom jeans! Wearing mom jeans, the retro high-waisted silhouette, tapered legs and rolled-out ankles has become a hit among B-town female stars. And who better than PeeCee and Deepika to show us how to do it. Priyanka Chopra Crowned 'Hottest Woman on Planet'! The Hot Magazine Cover Picture Will Prove Why.
Beginning with the star of the moment, Priyanka Chopra. The 35-year is the cynosure of all eyes on her latest trip to India. Yes, the Globetrotter is living major parts of the year on foreign shores courtesy work commitments and now purportedly due to her romantic life as well. Yes, yes, she is dating 25-year-old American singer, Nick Jonas and all set to begin a relationship and it is more serious than anticipated at first. We saw Priyanka rock the mom jeans and a white tee when returning to Mumbai after spending a lavish time with boyfriend Nick and her family in Goa.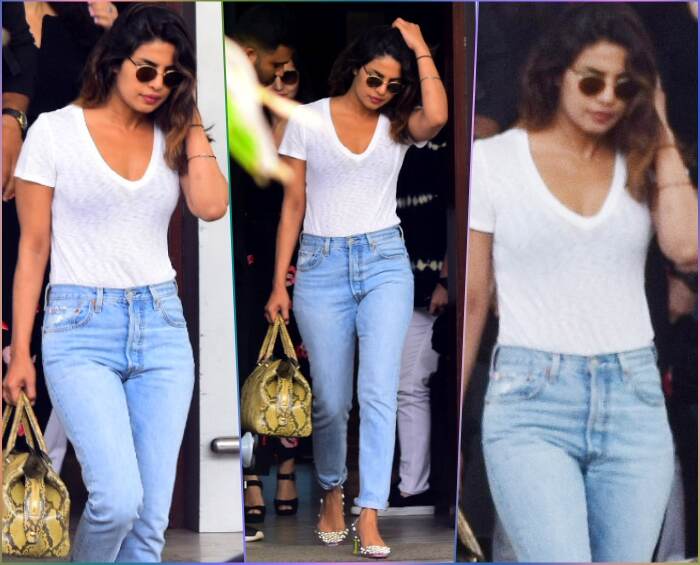 Now we move to Deepika and how distinguished her appearance was in the same combination. The 32-year-old had worn the mom jeans and a white t-shirt during her trip to Cannes 2018. Deepika's stylist Shaleena Nathani understanding the top actress' inclination towards comfy yet in-vogue fashion had her deck up in it for one of the day's event. It was a noticeable break from the string of dazzling, dramatic looks of Deepika in the film festival held at the French Riviera.
While Priyanka looked urbane without missing the cool factor in this airport look, Deepika's style was on game. There were a few differences like Priyanka had worn a v-neck tee, Deeps wore a built-up round neckline top. To add more drama to her attire, Deepika knotted up the bottom of the tee to also flaunted her flats abs. Meanwhile, Priyanka chose to tuck the t-shirt in.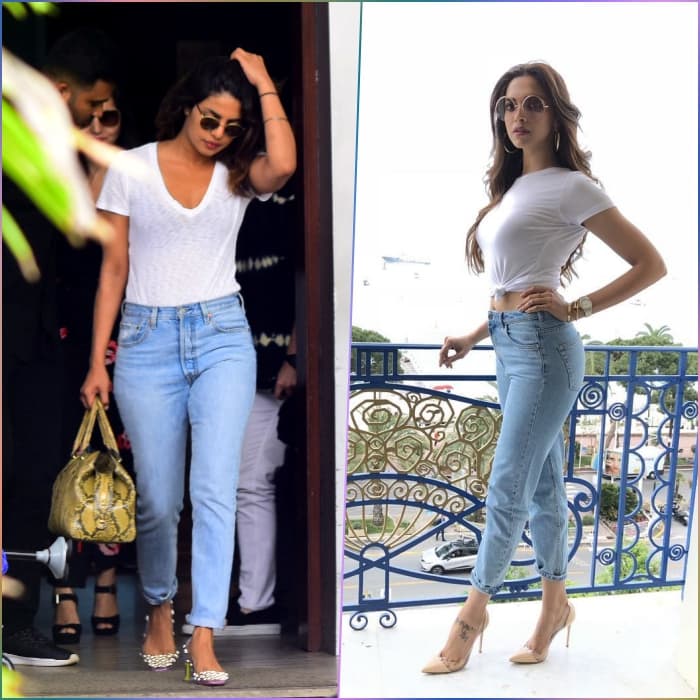 As for footwear, Priyanka chose a fancy pair of lime-coloured comma heels with beads on top of it, Deepika went for beige pointed-toe clear detail stiletto heels. With a designer bag and sunnies carried by PC and Deeps respectively, they completed off their looks. So, peeps, that's how you do it!