Priyanka Chopra's weekend is better than your weekend and here's the reason why. While you are sitting in your home and scrolling through Instagram, Priyanka is celebrating her bachelorette party with her squad in Amsterdam. Yesterday we shared with you Priyanka's picture in which her bridal glow is visible as she gets ready for the wedding festivities. After her bridal shower, PC is chilling with her bride squad in Amsterdam and making everyone jealous. Today, she yet again shared another picture of herself and her squad who are there to make her Bachelorette special. Priyanka Chopra is All Smiles As She Feels the 'Bachelorette Vibes', Nick Jonas' Bride-To-Be Looks Radiant in Her Recent Post – See Pic.
For the occasion, Priyanka was dressed in a white fuzzy sweater dress which she paired with snake-print knee-length gumboot heels. She styled her outfit with a beige overcoat. Priyanka was all smiles as strikes a pose on a yacht or boat while celebrating her bachelorette. Priyanka and Nick will tie the knot in Jodhpur in December. In Priyanka's earlier post, Nick's mom commented a playful message for her future daughter-in-law by writing: 'Be good!' Ain't that sweet? Priyanka Chopra Reveals What Was the First Text Sent by Nick Jonas – Watch Video.
Priyanka Chopra Striking a Pose on Her Bachelorette Weekend
In the next picture, she posed with her squad – Shrishti Behl Arya, Tamanna Dutt, Natasha pal, Chanchal D'Souza and Games of Thrones star and future sister-in-law Sophie Turner.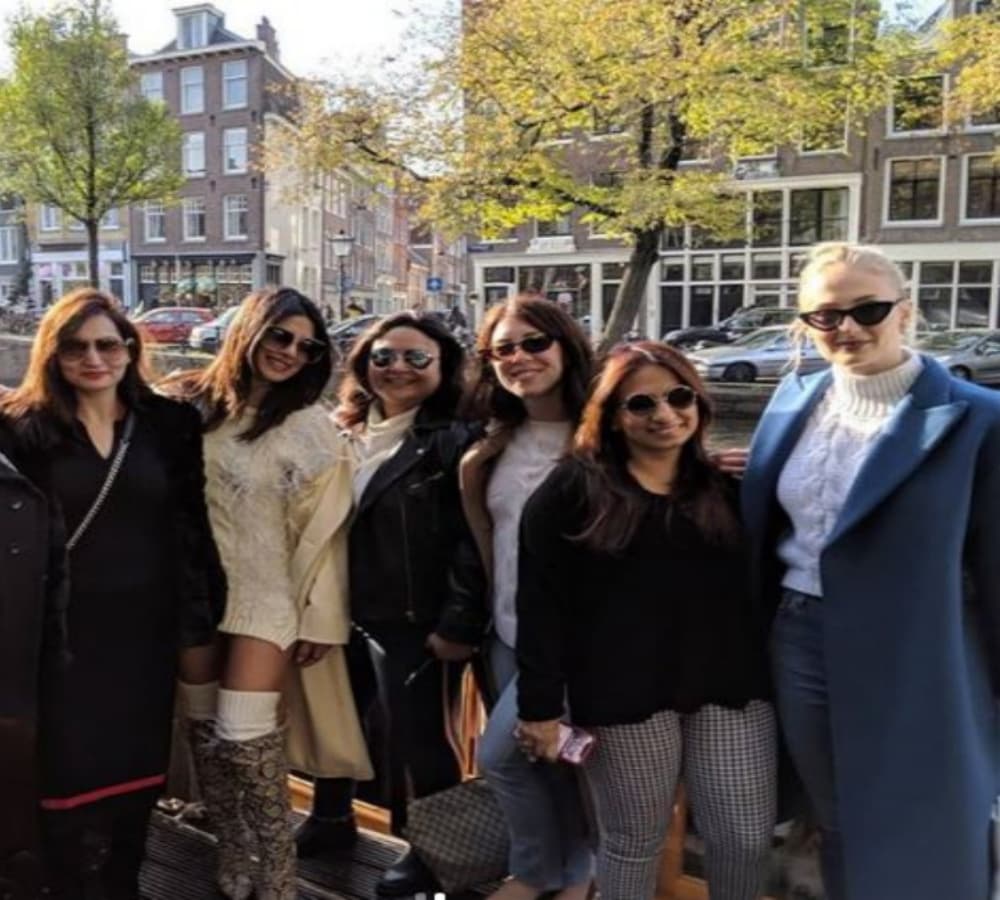 We don't doubt that Priyanka's hen party was a mad affair, and her close friend and filmmaker Shrishti shared some stories on her Instagram as well. Here's look at the inside pictures and videos of Priyanka Chopra's bachelorette fun.
View this post on Instagram
Bartender Showing His Skills at PC's Bachelorette
View this post on Instagram
All these pictures and videos convey that it was a trip to remember for a lifetime for our desi girl. Apart from enjoying the pre-wedding festivities, PC is also setting some major style goals leading up to her wedding. We cannot wait to see which designer Priyanka and Nick will wear on their big day. Stay tuned for more updates on Nick and Priyanka's wedding.