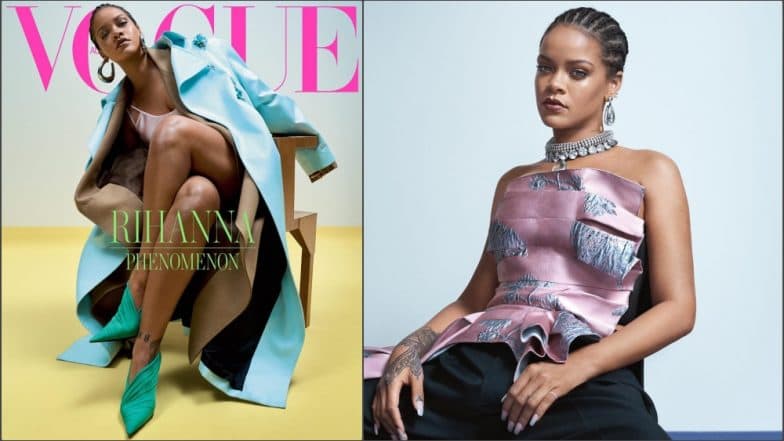 Everything about her is unconventional.  Her fast-paced journey to success in the world of showbiz, the way she holds her fans' attention and the reasons why she is in the news-everything about Rihanna spells quirk and idiosyncrasies. So when we spotted her on the latest edition of the holy bible of fashion and style, we were not exactly surprised to see the usual self that Rihanna's atypical personality dishes out!
This cover has made us happy, but has not surprised us at all! The beauty uses a certain colour palette to create this visual treat. And yet these are recurring elements that we normally associate with Rihanna. She power dresses to stand out without masking the inherent traits of her unique personality that speaks of the blend of many facets and cultures. Rihanna is Coming to India This Year and It's Time You Start Cheering for RiRi!
The way she has broken her body makes this frame all the more special. The blue creation that she has thrown over makes her look stronger but at complete ease at the same time. The hairdo, the shoes, the tattoos and the makeup act as bold statements that go in complete sync with what's on offer here. Here are the more treats that have tumbled out of the inside pages of the glossy, that will appeal your senses! Rihanna And Her Billionaire Beau Hassan Jameel To Get Engaged?
View this post on Instagram
View this post on Instagram
Fans,now you can tell us what is it that you can borrow from Rihanna the phenomenon that will amp up your wardrobe and will make the stylist in you even sharper as well as BOLD! Feel free to use our comment section below to give us your expert take on these pics of the sensation that the hottie is!