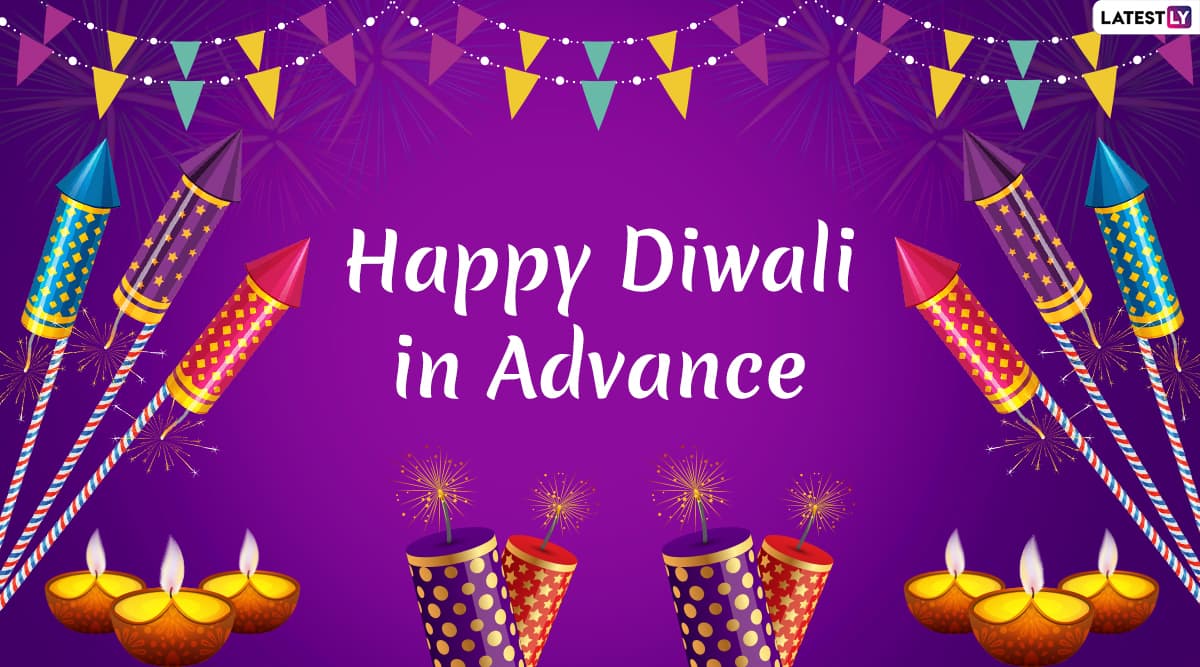 India's most awaited festival of lights, Diwali will be celebrated on October 27, with great enthusiasm and zeal. While the five-days festivities which begins with Dhanteras on October 25, the main festival of Diwali and Laxmi Puja will be commemorated on October 27. Every year, it is customary for people to deck up their homes, splurge on some festive wear and enjoy the annual Diwali Parties with their friends and family. However, the excitement of this festival begins much in advance, and people send Happy Diwali in advance greetings, Diwali 2019 WhatsApp Stickers and Shubh Deepawali Facebook Status to their friends and family, in anticipation of this important Indian festival. We bring you a collection of Happy Diwali Wishes in Hindi, Diwali Messages in Hindi, Shubh Deepavali Messages in Hindi, Diwali Message in Hindi for WhatsApp, Diwali Messages in Hindi English, Diwali Whatsapp Status Video, Diwali WhatsApp Stickers, and more are available for free download online.
Diwali is one of the biggest festivals in India, which is celebrated across four or five days in most parts of the country. Diwali is a celebration of the victory of light over darkness, good over evil and knowledge over ignorance. The biggest day from this five-day festivity is on the new moon day in the Hindu month of Kartika, which is commemorated as Diwali. On this day, people traditionally conduct Laxmi Puja, revering Goddess Laxmi and Lord Kuber, and seeking their blessings for continued prosperity.
Mythologically, Diwali is celebrated as the day Lord Rama returned to Ayodhya after his 14-year exile. People, therefore light up their homes with diyas, rangolis and fairy lights to welcome Lord Rama back. In preparation for this grand festivals, it is customary for people to deep clean their homes, buy new clothes, and also begin the early celebrations of this festival by sending Happy Diwali 2019 wishes in Hindi and English to their family and friends. With just a few days left for this auspicious festival, here are an array of Happy Diwali Greetings in Hindi, Shubh Deepawali WhatsApp Stickers, Diwali 2019 Facebook Status Pictures and Happy Deepavali messages to celebrate this festival of light.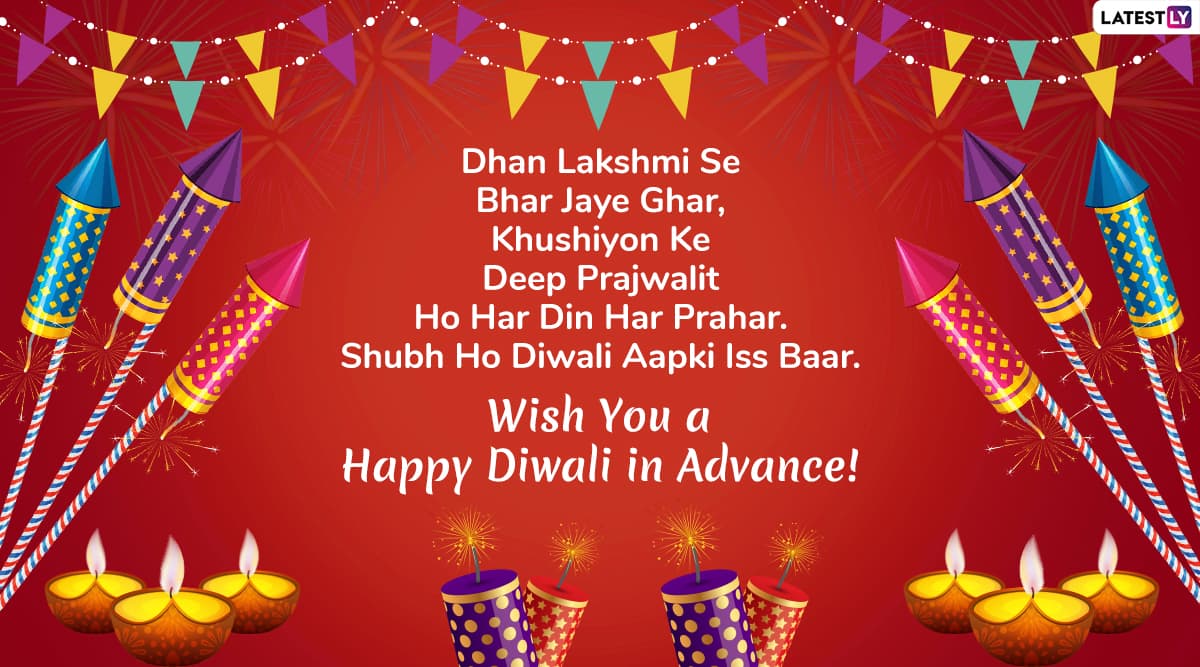 WhatsApp Message Reads: Dhan Lakshmi Se Bhar Jaye Ghar, Khushiyon Ke Deep Prajwalit Ho Har Din Har Prahar. Shubh Ho Diwali Aapki Iss Baar. Wish You a Happy Diwali in Advance!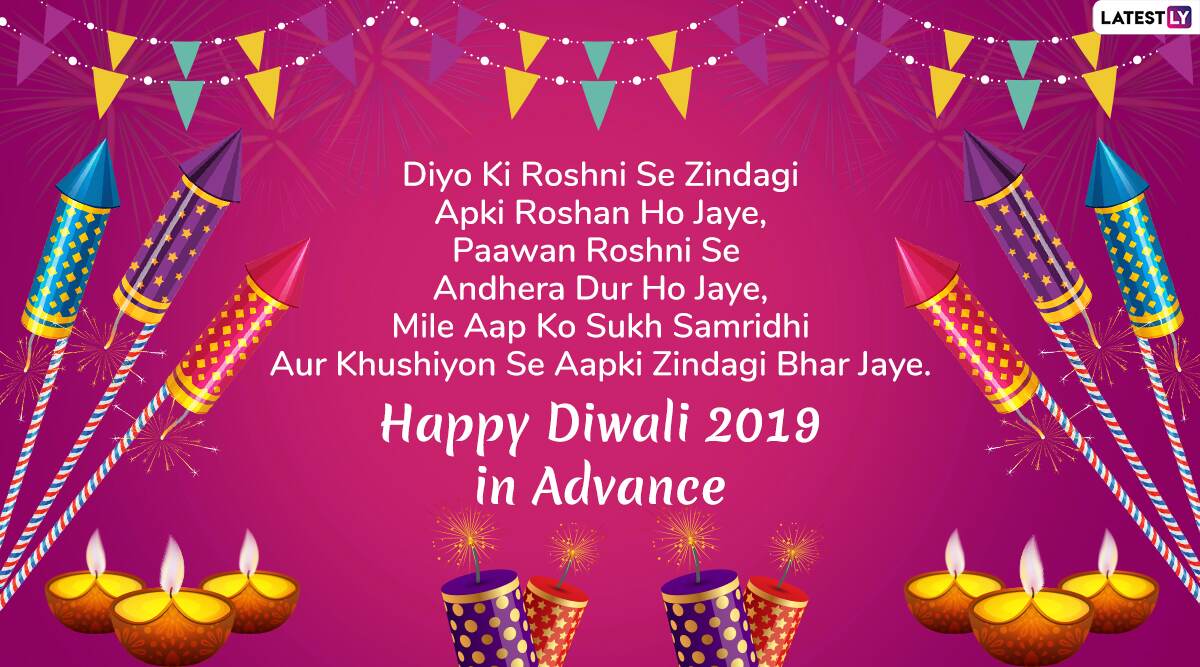 WhatsApp Message Reads: Diyo Ki Roshni Se Zindagi Apki Roshan Ho Jaye, Paawan Roshni Se Andhera Dur Ho Jaye, Mile Aap Ko Sukh Samridhi Aur Khushiyon Se Aapki Zindagi Bhar Jaye.  Happy Diwali 2019 in Advance.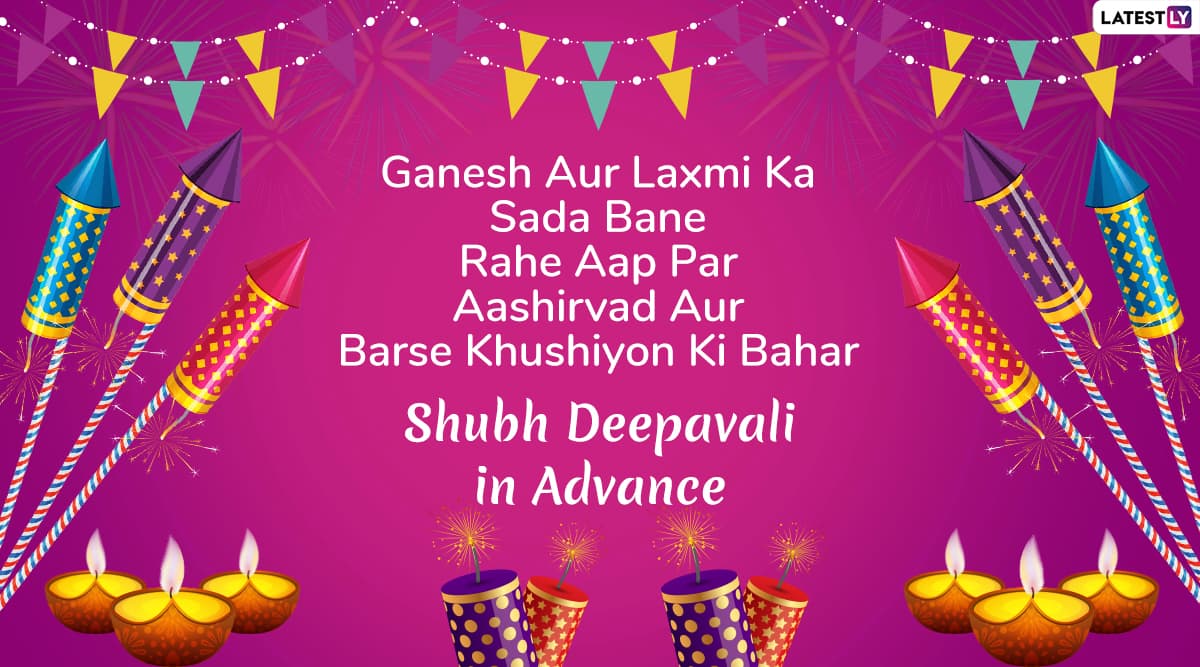 WhatsApp Message Reads: Ganesh Aur Laxmi Ka Sada Bane Rahe Aap Par Aashirvad Aur Barse Khushiyon Ki Bahar, Shubh Deepavali in Advance!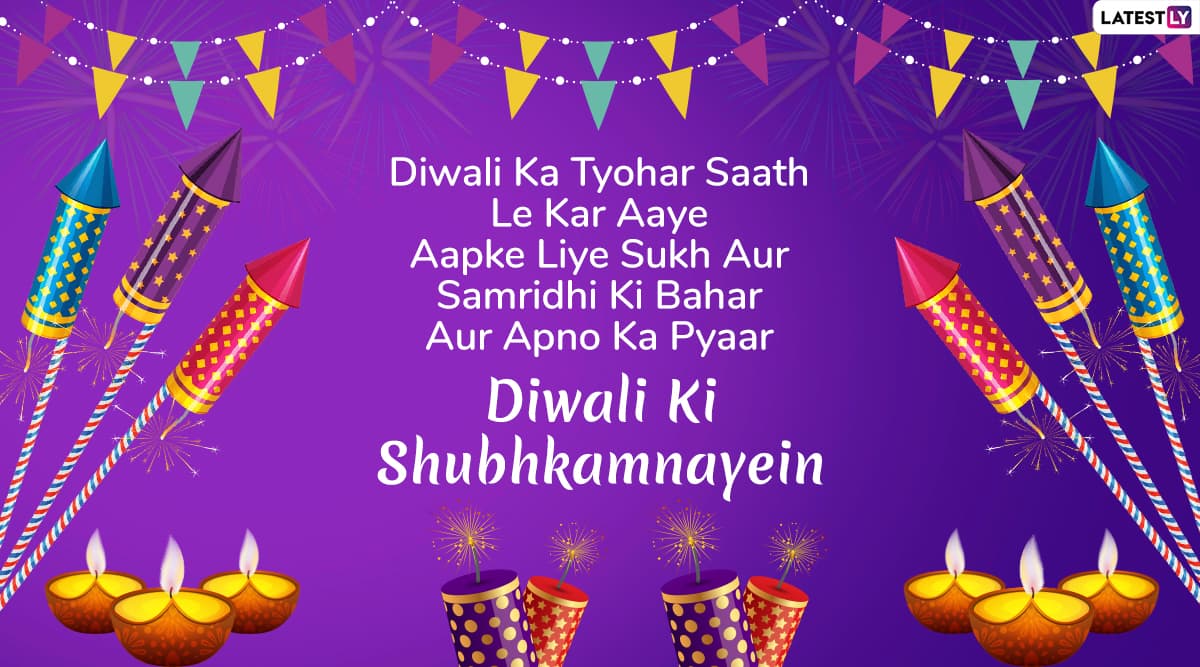 WhatsApp Message Reads: Diwali Ka Tyohar Saath Le Kar Aaye, Aapke Liye Sukh Aur Samridhi Ki Bahar Aur Apno Ka Pyaar Diwali Ki Shubhkamnayein.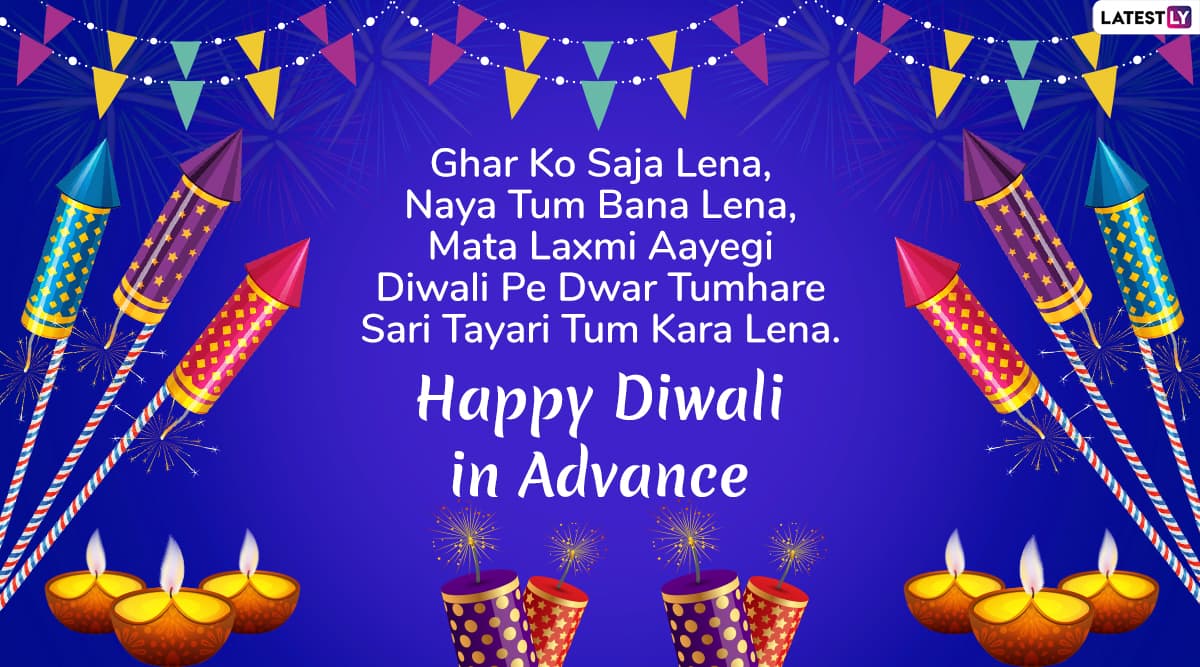 WhatsApp Message Reads: Ghar Ko Saja Lena, Naya Tum Bana Lena, Mata Laxmi Aayegi Diwali Pe Dwar Tumhare Sari Tayari Tum Kara Lena. Happy Diwali in Advance.
How to Download Diwali WhatsApp Stickers Online?
You can download WhatsApp Stickers for Diwali or Deepavali from the Play Store app. There are apps like Happy Diwali Photo Frame, Diwali Photo Greetings, Diwali Photo Editor - Happy Diwali 2019, Diwali Crackers: Diwali Fireworks, Shubh Diwali, Diwali New Year Stickers for WhatsApp 2019, Diwali Stickers - Happy Diwali Stickers, Diwali Stickers for WhatsApp, WAStickerApps and more. You can download them from HERE.
Advance Diwali 2019 Greetings: WhatsApp Messages, SMS, Images & Quotes to Wish Happy Deepavali
Another important ritual around Diwali has to be the lavish Diwali Parties where people get together with their family and friends and indulge in a game of cards. People also share special Diwali gifts with each other during this festive time, to spread their joy and happiness around. Diwali is not just a religious celebration but a cultural one, with the parties, giftings and community celebrations making way for some much-needed bonding time with friends and family.
The Diwali special delicacies that are made and shared with friends and family, further adds to the festive feel of this auspicious festival. As we continue without last-minute preparations for Diwali 2019, we hope that these wishes and messages help add some light to your celebrations. Happy Diwali!