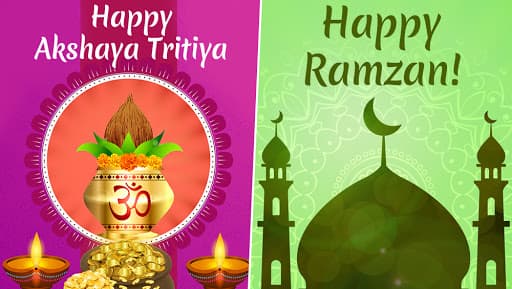 With the auspicious month of Ramadan underway, the festival of Akshaya Tritiya and Parshuram Jayanti taking place today, the festivity for both Muslims and Hindus in India became special on Tuesday. On one side, Hindu devotees worship Goddess Laxmi and Lord Vishnu and buy gold ornaments, and on the other Muslim devotees fast in the months of Ramadaan to seek Allah's blessings.
Both the Hindus and Muslims are seen as excited and rejuvenated to celebrate the auspicious festivals. People are seen in the market, buying gold ornaments, sweets, clothes among others. Even the business community have decorated their shops to welcome the guests. Akshaya Tritiya 2019 Shubh Muhurat And Puja Vidhi: Know When To Buy Gold And Worship on Akha Teej. 
Importance of Akshaya Tritiya:
Also known as Akha Teej, Akshaya Tritiya is celebrated as an auspicious day by the Hindu communities. Believed to bring good luck people to buy gold which brings prosperity in the future. The word Akshaya means 'never diminishing'. Hence, it is believed that the puja performed or the fast observed on the day of Akha Teej will bring long-term benefits for devotees.
Also, the Jain community celebrates this day to commemorate Tirthankara Rishabha's year-long fast, which he ended by consuming sugarcane juice. Akshaya Tritiya is also considered an auspicious day to perform weddings. The day witnesses several weddings every year.  Ramzan 2019: PM Narendra Modi, Mamata Banerjee and Congress Greets Muslims on Beginning of Holy Month of Ramadan. 
Ramzan Mubarak:
With the sight of Ramadan crescent in India on Monday, the beginning of the Islamic Holy month for the Muslim devotees stated. The first Roza or fast is being observed after the special Taraweeh namaz was observed on Monday after the crescent was sighted. During the entire month of Ramadan, Muslims are duty-bound to fast between dawn to dusk. The month ends with the observance of Eid-al-Fitr, considered to be the biggest festival of Muslims.