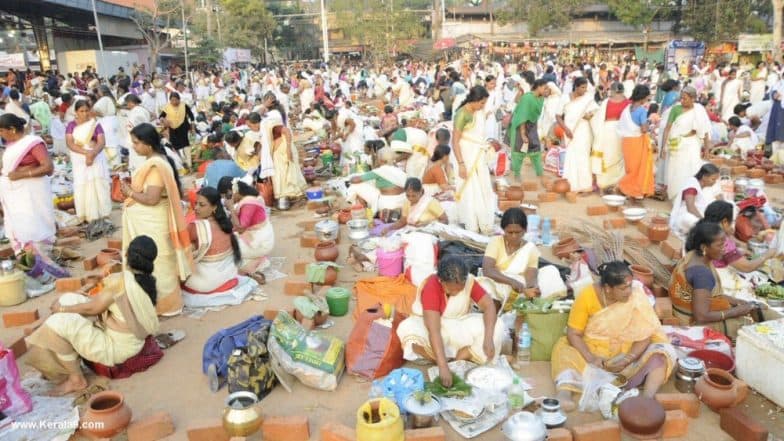 Attukal Pongala is an annual 10-day festival celebrated at the Attukal Bhagavathy Temple in Thiruvananthapuram, Kerala. This year the festival is celebrated from February 12 to 21, 2019. On the ninth day of the observance, lakhs of women gather together to worship Attukal Devi and prepare food to offer the Goddess for prosperity. The origin of the age-old observance has various myths and stories attached to it. The temple is also popularly known by the name Sabarimala of women. Attukal Pongala 2019 is expected to witness a gathering of 40 lakh women.
Women come together and prepare makeshift stoves on streets to prepare a divine offering (naivedya) of rice made in earthen pots called pongala. It is simple preparation made of rice, jaggery and coconut. With an increasing number of women devotees participating in the festival every year, there are registrations wherein exact location and a token number where a devotee can make their offering is given. Women worship goddess Bhadrakali, the fierce incarnation of Devi also known as Attuakal Amma on this day. In SriLanka, she is worshipped by the Sinhalese Buddhists as Goddess Pathini. Attukal Pongala 2019: Trivandrum MP Shashi Tharoor Shares Photos And Videos of Temple Festival.
Thiruvananthapuram MP Shashi Tharoor took to Twitter sharing videos from the festivities:
The moment all were waiting for at the #AttukalPongala — now the festivities begin pic.twitter.com/8f1Tx1yuwS

— Shashi Tharoor (@ShashiTharoor) February 20, 2019
Attukal Pongala in the past has also entered the Guinness book of world records for being the largest women gathering festival in the world. The record was created in 2009 with a gathering of 2.5 million women.
Significance and Story related to Attukal Pongala
While there are various stories related to the celebration of Attukal Pongala, one of the popular ones have Kannagi, a Tamil character as the central figure. According to the story, Kannagi avenged the mistaken death penalty awarded to her husband by cursing Madhurai and setting it on fire.
According to the mythology, a wealthy merchant from Kaveripattinam named Kovalan married a beautiful woman Kannagi. However, their happily married life did not last long as Kovalan fell in love with a dancer called Madhavi. Kovalan moved in with Madhavi and spent all his wealth on her. However, in the end, a penniless Kovalan returned to his wife after releasing his mistake. Kannagi forgave him but they did not have money to survive.
Today is #AttukalPongala in the capital city of #Thiruvananthapuram . 45 lakh women are expected to participate to offer their naivedya to Attukal Devi. It is Worlds largest congregation of Women. pic.twitter.com/hF1TcwZ8dX

— Sreedhar Pillai (@sri50) February 20, 2019
The only possession with Kannagi was a pair of precious anklets which she gave her husband and told him to sell it. Kovalan then went to Madurai which was then ruled by Pandya King Nedunj Cheliyan to sell the anklets. At the same time he set out to sell his wife's anklets, Madurai's Queen had lost her anklets and to his misfortune, both the anklets looked similar. When Kovalan tried to sell them, he was accused of stealing the Queen's prized possession. He was soon presented before the King who beheaded him.
When Kannagi was informed about her husband's death, she became furious and marched to the King's court. She presented the anklet seized from Kovalan and broke it open. Kannagi's anklet was filled with rubies as opposed to queen's anklets which had pearls. The King and Queen realised their mistake but the damage was irreversible. It is said that she tore out a breast and threw it on the city cursing it. Soon, the curse became a reality and the entire city was set ablaze. Haldi Kumkum in Makar Sankranti 2019: Know The History and Significance of This Social Gathering of Women.
After setting the city on fire, she went to Kodungalloor in Kerala and later natives of Attukal built a temple in her name. It is believed that she settled at Kodungalloor Devi Temple, situated south of Guruvayoor. Kannagi is considered a brave woman in traditional and cultural references in both Tamil Nadu and Kerala.  She is considered as the epitome of chastity and is worshipped for devotion towards her husband despite him abandoning her. Pongala is offered to celebrate the victory of Kannagi over the King. Women pray to the Goddess for prosperity, time and salvation.
Safety measures taken by police for the festivities
On the safety front, this year 300 Railway Police Force (RPF) personnel including 100 female police officers have been deployed across the city. The ritual began at 10.15 am after chief priest signalling the start of the ritual, lighted the main hearth near the shrine. A sanctification ceremony will be held at 2.20 pm. To mark the occasion, all educational institutions and offices in the state's capital are closed today. Green Protocol which bans the use of plastic items around the festival zone is in the place like the previous years.