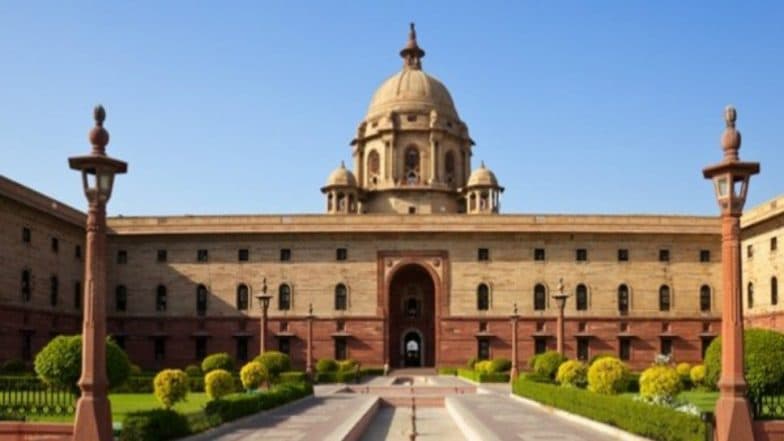 New Delhi, January 29: India celebrated its 70th Republic Day on Saturday. The Republic Day celebrations began with the parade displaying military might of the country and cultural tableaus showcasing unity in diversity at Rajpath. The four-day celebrations will come to an end with 'Beating the Retreat Ceremony' which will take place today in the evening at the Raisina Hills in Delhi. The event officially marks the finale of the Republic Day celebrations. Catch the live streaming of 'Beating the Retreat Ceremony' on Doordarshan or DD News and their youtube channels. The Press Information Bureau (PIB) is also live streaming the Republic Day parade on its YouTube channel. Republic Day Parade 2019 Highlights: India's Diversity, Military Might Displayed at Rajpath, See Pictures & Videos.
Every year, on the day of the Beating the Retreat Ceremony, at 6 o'clock in the evening the bugles call the retreat sound and the National flag is lowered. The President is the chief guest of the function and is escorted by the President's Bodyguards (PBG), a cavalry unit. This time, a total of 27 musical performances by bands of the Indian Army, the Indian Navy and the Indian Air Force will be played, out of which local musicians will play 19 tunes. Meanwhile, eight western tunes will also be played in the ceremony. The event will come to a close with the tune of 'Sare Jahan se Achha'.
Live Streaming of Beating the Retreat Ceremony:
This year, 15 military bands, 15 Pipes and drum band from Regimental Centres and Battalions will be part of the ceremony. A band from Delhi Police is also participating in the 'Beating the retreat'. The ceremony was first started in the early 1950s when Major G.A.Roberts better known as Robbie from Grenadier battalion of the Indian army was asked to develop the ceremony of display by the massed bands. Lt Bhavana Kasturi Becomes First Lady Officer of Indian Army to Lead All-Male Contingent During Republic Day Parade 2019.
After August 15 (Independence Day), the 26th of January is considered the most important day as it marks the coming into force of India's own constitution. The Constitution was adopted by the Indian Constituent Assembly on November 26, 1949. However, it came into effect January 26, 1950, with a democratic government system.