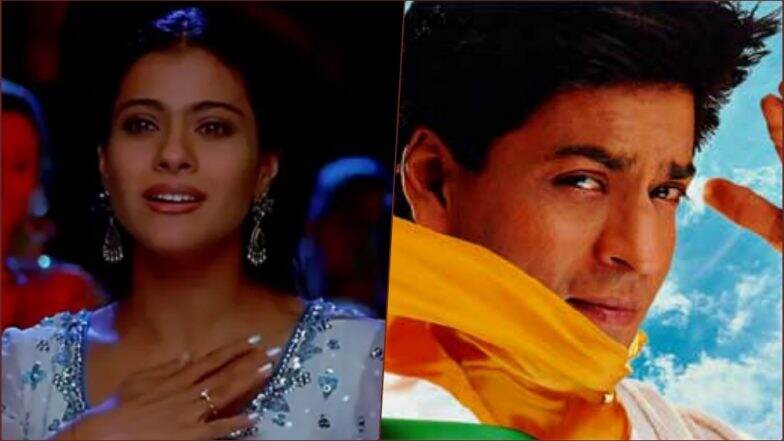 It is that time of the year when students in schools and colleges are busy preparing for Republic Day 2019 performances to be held on 26th January (Saturday). A typical Republic Day celebration in India sees flag-hoisting ceremony by the Chief Guest. The function also witnesses R-Day parades, a stride of pride by the march past contingent, dance performances on patriotic songs and skits or dramas. Out of all these, everyone excitedly waits for colourful dance performances. It is pretty important to choose the right song to perform on as it will evoke the spirit of patriotism in the audience. We have a list of few evergreen Bollywood patriotic songs that one can perform on the 70th Republic Day of India. From Shah Rukh Khan's "Ye Jo Des Hai Tera" and "Phir Bhi Dil Hai Hindustani" to Kajol's "Des Rangila," this Republic Day 2019 playlist is quite impressive. Farhan Akhtar's Bhaag Milkha Bhaag and Other Patriotic Songs Which Shankar-Ehsaan-Loy Gifted Us Long Before Manikarnika Music Album.
India will be celebrating Republic Day 2019 or 70th Republic Day on Saturday. It is one of the three national holidays apart from Independence Day on August 15 and Gandhi Jayanti on October 2. Republic Day holds significance as it was on January 26, 1950, the Constitution of India was formed. It marked the formation of India as an independent republic nation. Republic Day celebrations witness lavish ceremonious parades at the Rajpath, New Delhi, before the President of India. It signifies India's belief in unity in diversity and rich cultural heritage.
Republic Day celebrations are a pretty big deal in the country. We are not only speaking about the one carried out in New Delhi but in every school and college across the country. Students take much pride in commemorating this important day in the history of our country. As mentioned above, songs and dances are an integral part of R-Day functions. So, here's a collection of most patriotic songs from Bollywood that will be perfect to play on Republic Day 2019.
Des Mere Des - The Legend Of Bhagat Singh
Students can depict the tale of heroic freedom fighter, Shaheed Bhagat Singh on "Des Mere Des." The patriotic song is from 2002 Ajay Devgn-starrer The Legend Of Bhagat Singh. It is sung by Sukhwinder Singh and AR Rahman.
Bharat Humko Jaan Se Pyara Hai - Roja
Another AR Rahman masterpiece that is tailor-made for the occasion is "Bharat Humko Jaan Se Pyara Hai" from Roja, a 1992 film. Sung by Hariharan, the song has such a calming effect. At the same time, it is so inspirational.
Aye Watan Tere Liye - Karma
Kavita Krishnamurthy's melodious song will fill your heart and soul with patriotism. "Aye Watan Tere Liye" song is picturised on Nutan and is interestingly a part of the national festival celebration in the 1986 film Karma. Despite being decades old song, it does not lose its relevance in the present day. Make sure to make it a part of Republic Day 2019 celebrations.
Ye Jo Des Hai Tera - Swades
Bow down to AR Rahman, the genius master who gave us this musical gem – "Ye Jo Des Hai Tera" in 2004 film Swades. We have seen this song picturised on actor Shah Rukh Khan a million times, but there is no way we can get enough of it. Such is the brilliance of this song.
Des Rangila - Fanaa
Running short on time to prepare a dance performance for Republic Day, just hit play button of "Des Rangila" song from 2006 film, Fanaa. The song sung by Mahalakshmi Iyer is picturised on Kajol, and a group of girls shows them travelling to New Delhi to perform in a ceremony for Republic Day. Copy their dance steps, or improvise, but make sure to dance on "Des Rangila" this Republic Day 2019.
Phir Bhi Dil Hai Hindustani Title Track
We are not a perfect nation, but we are proud Hindustani striving hard to be better every day. The title track from Shah Rukh Khan's 2000 film Phir Bhi Dil Hai Hindustani is a fun but relatable track. We do not need to adopt hyper-nationalism and instead continue to work on ourselves with a smile on our face.
We know there are so many songs that have not made to this list of patriotic songs for Republic Day celebrations. But these tracks are a good mix of emotional as well as spirited musical tracks that will make for an excellent option to perform on. We will also be bringing to you a list of new-age patriotic songs, which will include your songs from Alia Bhatt's Raazi and Vicky Kaushal's Uri: The Surgical Strike. So keep glued to this space.