Merry Christmas 2018 & Happy Holidays! The most avaited festival season of the year is here and the good vibes have begun spreading just in time. As the decorations and dinner treat planning begins, the good wishes for the holidays & festival also start pouring in. Christmas is no more just limited to be celebrated by the Christian community, but over the years everyone celebrates it. Christmas wishes, WhatsApp Stickers and greeting messages are exchanged over social media. With smartphones reducing the distance between people, Christmas wishes are sent online over Facebook and WhatsApp with funny and creative photos. A lot of people thus search for Xmas images, Gifs and picture messages to share with their friends and family. If you too have been looking for Christmas wishes 2018 then we give you some nice images, messages and greetings for the season. Santa Claus WhatsApp Stickers for Christmas 2018: Best Xmas Images and GIF Greetings to Wish Merry Christmas Online.
People decorate their houses along with the lovely Christmas trees, invite friends and family for a yummy Christmas dinner and have a good time. But with the work schedules getting busy it is not always possible to catch up for the festivities. Sending your good wishes, greetings and blessings on the festive occasion is part of modern-day celebrations. We give you some Christmas messages and wishes. Know Why It Is Correct to Wish 'Merry Christmas' and Not 'Happy Christmas'.
Christmas Wishes To Wish Everyone For This Festive Occasion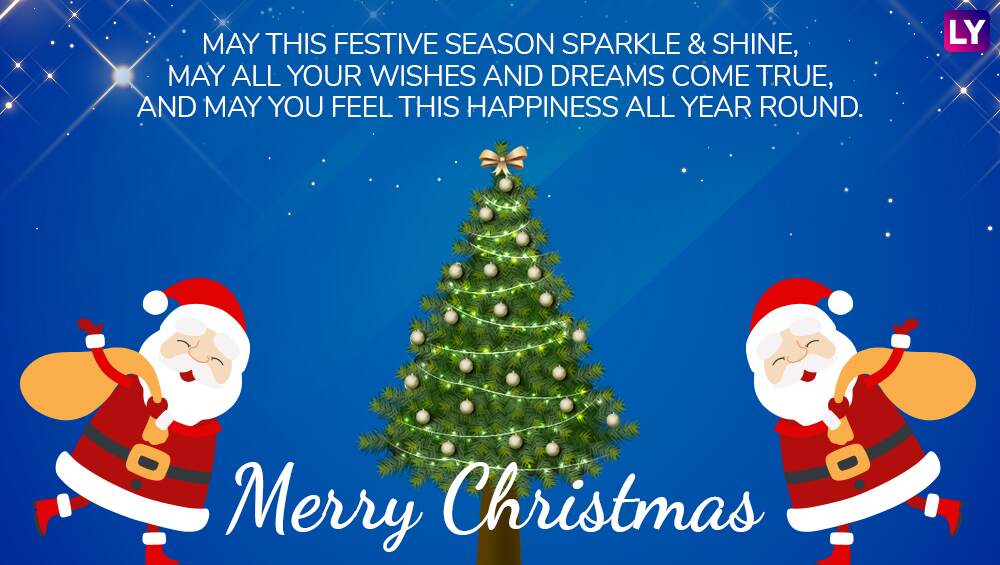 Message Reads: May This Festive Season Sparkle & Shine, May All Your Wishes and Dreams Come True, And May You Feel This Happiness All Year Round. Merry Christmas!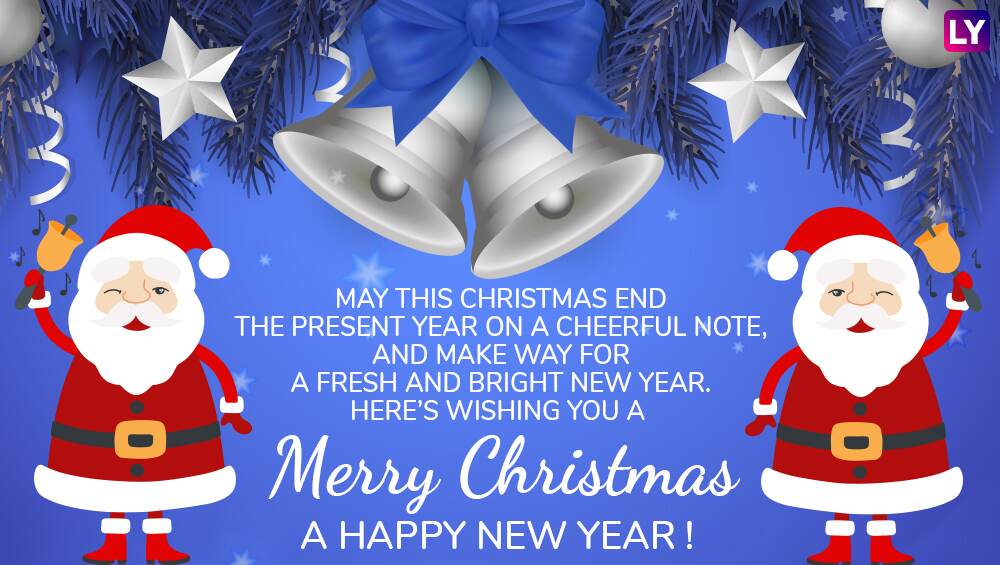 Message Reads: May This Christmas End the Present Year on a Cheerful Note, And Make Way for a Fresh and Bright New Year. Here's Wishing You a Merry Christmas and a Happy New Year!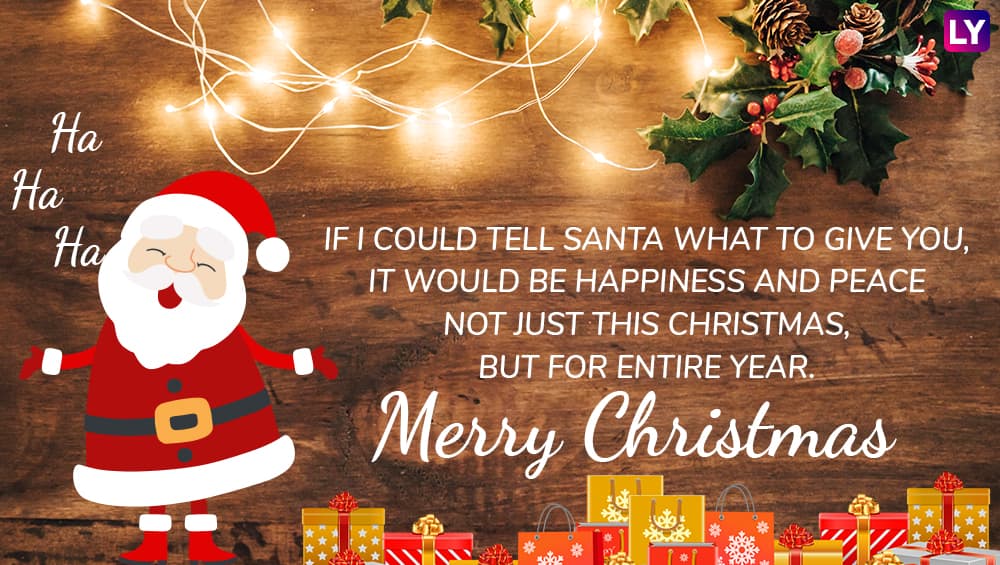 Message Reads: If I Could Tell Santa What to Give You, It Would Be Happiness and Peace, Not Just This Christmas, But for Entire Year. Merry Christmas!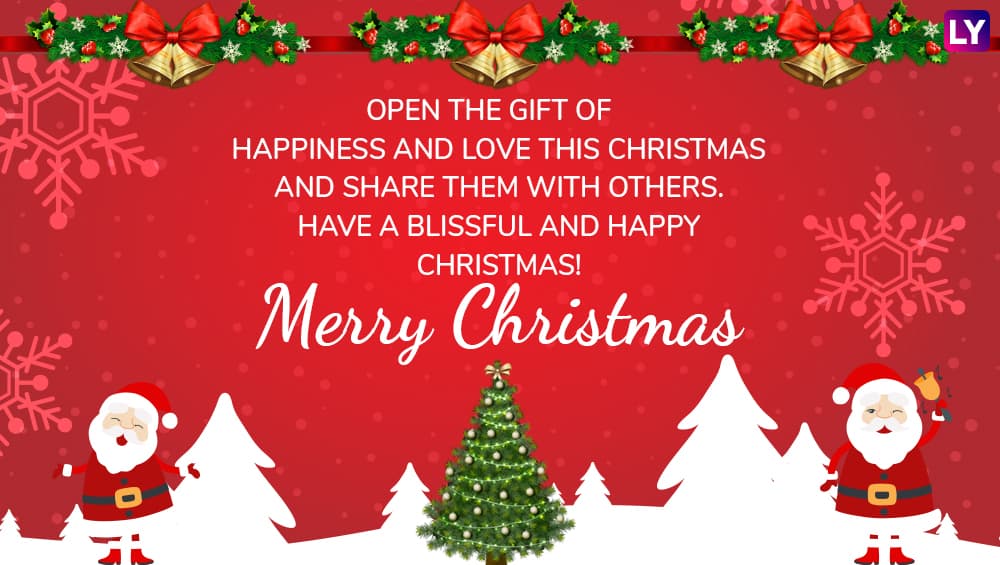 Message Reads: Open the Gift of Happiness and Love This Christmas    And Share Them with Others. Have a Blissful and Happy Christmas!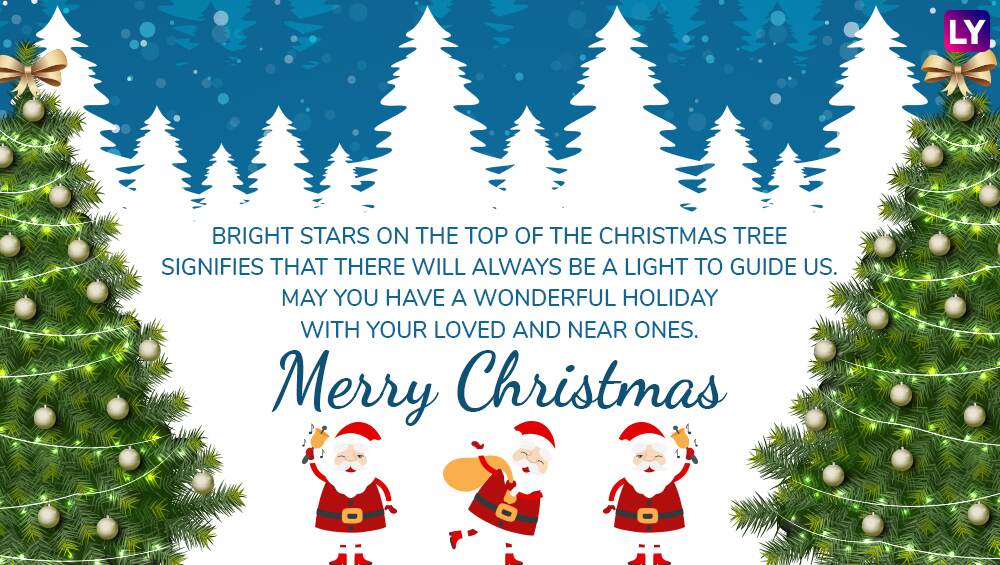 Message Reads: Bright Stars on the Top of the Christmas Tree Signifies That There Will Always Be a Light to Guide Us. May You Have a Wonderful Holiday With Your Loved and Near Ones. Merry Christmas!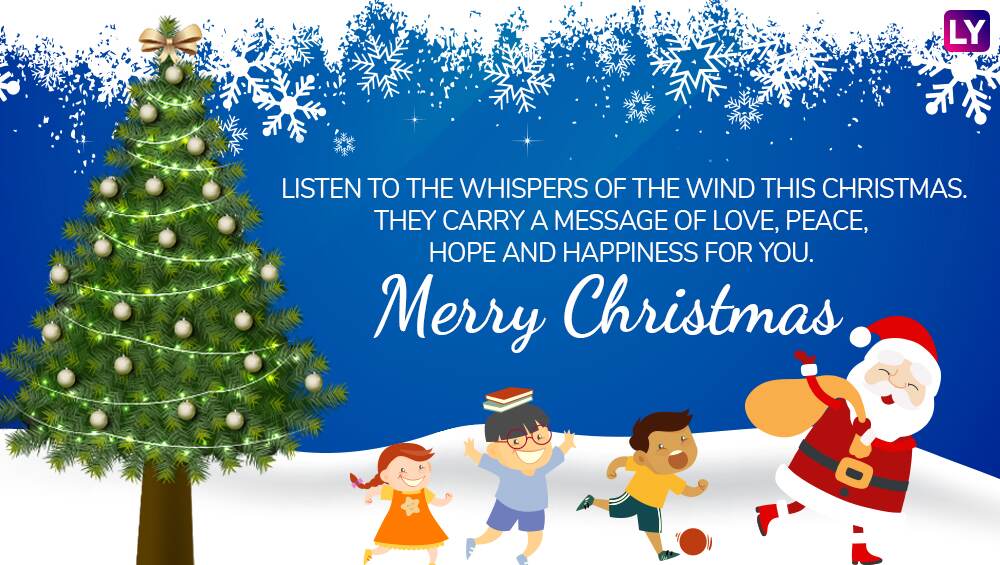 Message Reads: Listen to the Whispers of the Wind this Christmas. They Carry a Message of Love, Peace, Hope and Happiness for You. Wishing You a Merry & Prosperous Christmas!
Christmas GIFs
Santa Claus is Coming Home
We hope these Christmas messages, images and GIFs help you to send across your good wishes to your loved ones. This Christmas spread the cheer and wish for a wonderful new year. We wish you all Merry Christmas 2018!