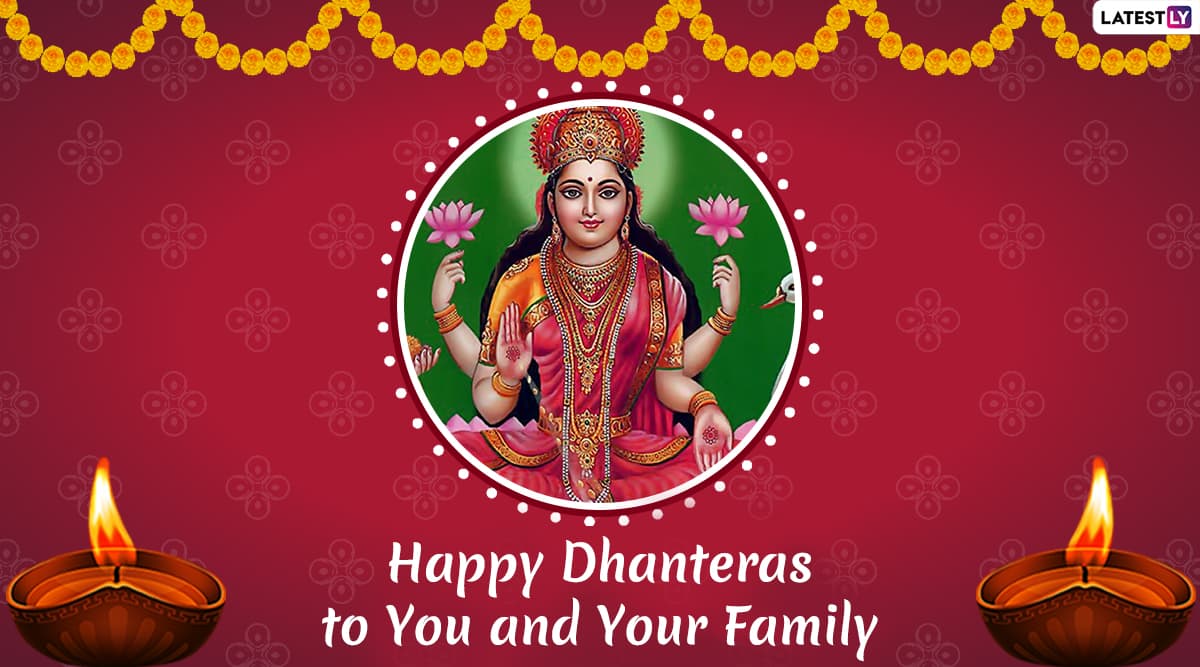 Time to Get Your Hands on Best Dhanteras 2019 Wishes, Images, WhatsApp Sticker and Messages! The first day of Diwali festival is known as Dhanteras or Dhanatrayodashi. Dhanteras 2019 will be celebrated on October 25, 2019. On this day, people worship Lord Dhanvantari, the God of Ayurveda. On this day, people head out during the auspicious Dhanteras Muhurat to buy silver and gold coins, jewellery, etc. for the Lakshi Puja on Diwali. Many also enjoy wishing each other Happy Dhanteras, by sharing Dhanteras 2019 wishes and messages, Happy Dhantrayodashi WhatsApp Stickers and Dhanteras Facebook Status Pictures with their friends and family. This is why LatestLY brings you a collection of Dhanteras images, Dhanteras wishes, Dhanteras wishes in Hindi, Dhanteras wishes images in HD, Dhanteras wishes in Gujarati, Dhanteras wishes in English, Dhanteras greetings messages, Dhanteras WhatsApp Stickers, Dhanteras GIF status video and more for free download online. Happy Diwali 2019 Wishes & Greetings: WhatsApp Stickers, GIFs, Images, SMS, Quotes, Facebook Photos and Status to Send Shubh Deepavali Messages.
Celebrated on the thirteenth day of Krishna Paksha in the month of Kartika, Dhanteras is also known as Dhanvantari Trayodashi. It is believed that on this day, Goddess Laxmi came out of the ocean during the churning of the milky sea, along with Lord Kubera and this is why some people also perform Lakshmi Puja on this day. However, the Puja done on Diwali day is considered to be more auspicious. Many people resort to buying gold and silver during the Shubh Muhurat on Dhanteras, as it is said to increase prosperity and wealth. Ominous Things You Should NEVER Buy on Dhantrayodashi Diwali Festival.
Homes which have not been cleaned before, in preparation of Diwali are often white-washed and client on Dhanteras mornings, and Lord Dhanvantri is worshipped in the evenings. People also begin their drawing colourful Rangolis and lighting up the homes from this day, and the Tulsi plant in the house is also decorated. Sending Happy Dhanteras wishes and messages, Dhanteras 2019 WhatsApp Stickers and Facebook Status Pictures have also grown to become customary on this day.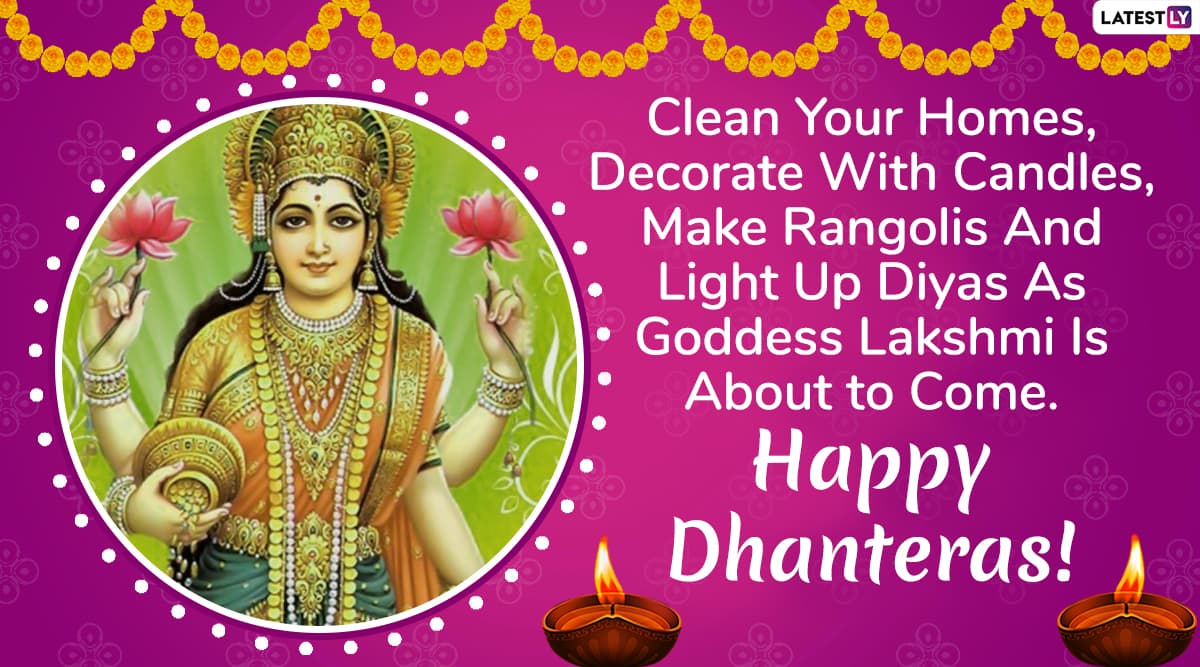 WhatsApp Message Reads: Clean Your Homes, Decorate With Candles, Make Rangolis And Light Up Diyas As Goddess Lakshmi Is About to Come. Happy Dhanteras!!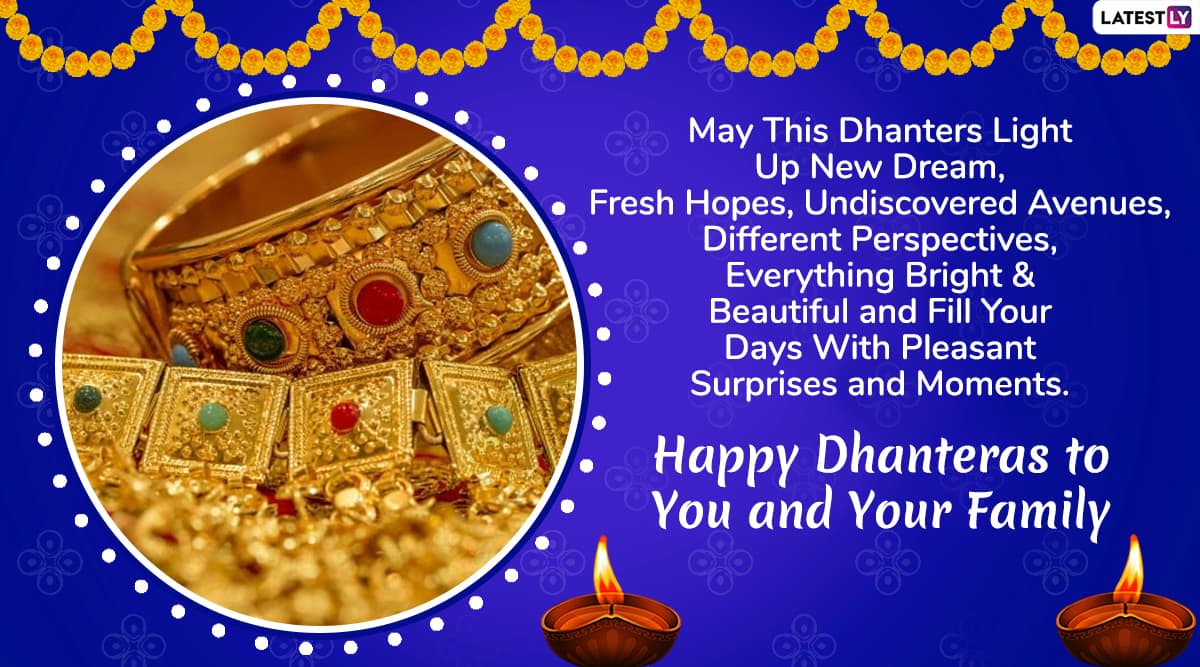 WhatsApp Message Reads: May This Dhanteras Light Up New Dreams, Fresh Hopes, Undiscovered Avenues, Different Perspectives, Everything Bright & Beautiful and Fill Your Days With Pleasant Surprises And Moments. Happy Dhanteras to You and Your Family.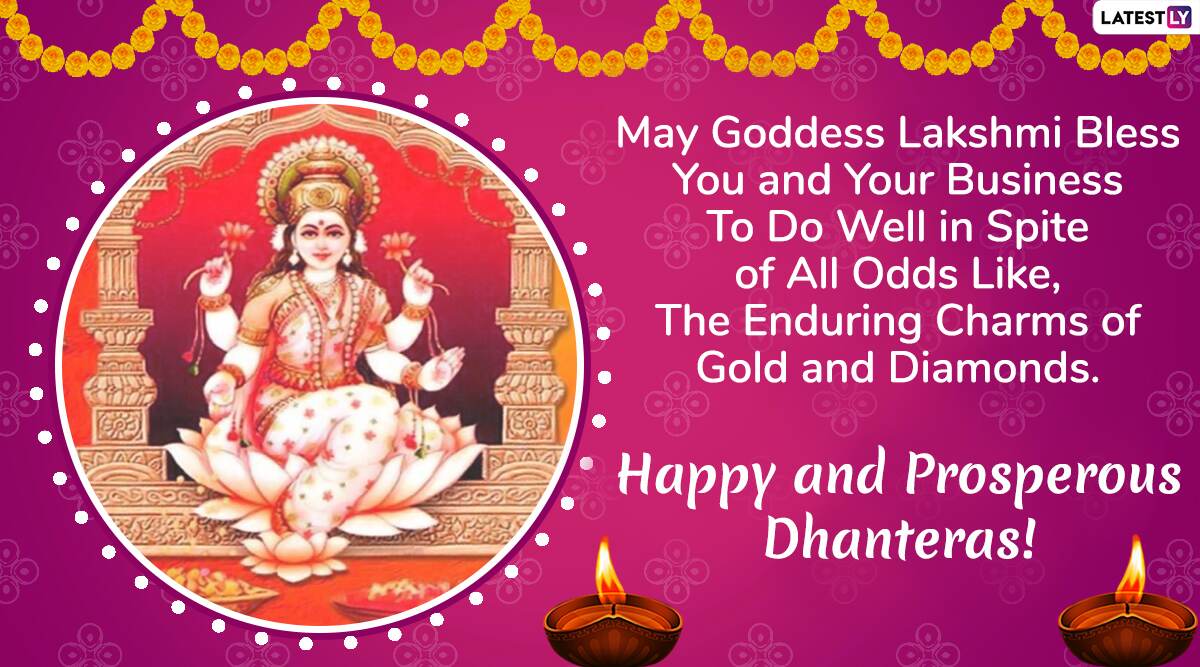 WhatsApp Message Reads: May Goddess Lakshmi Bless You and Your Business, To Do Well in Spite of All Odds Like, The Enduring Charms of Gold and Diamonds. Happy and Prosperous Dhanteras!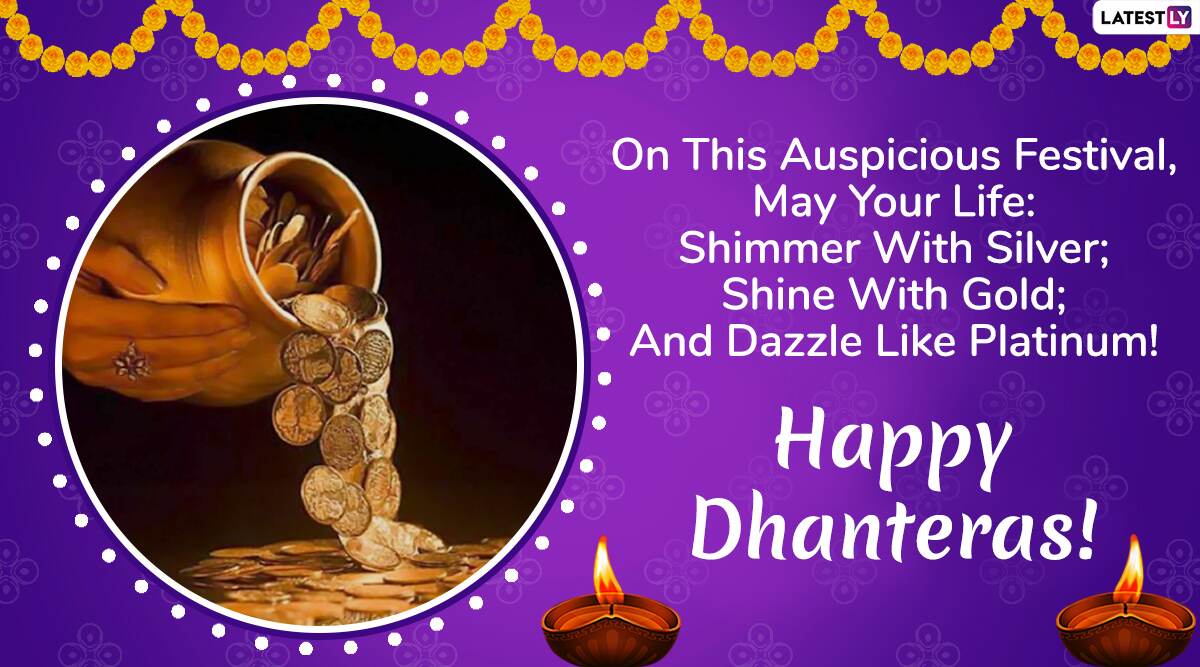 WhatsApp Message Reads: On This Auspicious Festival, May Your Life: Shimmer With Silver; Shine With Gold; And Dazzle Like Platinum! Happy Dhanteras!
WhatsApp Message Reads: May This Dhanters Light Up New Dream, Fresh Hopes, Undiscovered Avenues, Different Perspectives, Everything Bright & Beautiful and Fill Your Days With Pleasant Surprises and Moments. Happy Dhanteras to You and Your Family.
How To Download Dhanteras 2019 WhatsApp Stickers Online?
WhatsApp Stickers are loved by one and all, and if you too wish to send the colourful and lovely stickers on Dhanteras, you can download them from the Play Store app. They are providing Dhanteras GIF images, Happy Dhanteras 2019 HD images, wallpapers, photo frames, as well as fun Dhanteras lottery games. Here's the link to download them all.
Happy Dhanteras 2019 Images & Diwali Wishes in Advance: WhatsApp Messages, SMS, Quotes & Greetings
In various villages across India, people also adorn and worship the cattle, as they are the main source of income for farmers. In South India, Dhanteras celebrations also include preparation of a special concoction to offer to the Gods and Goddesses on the next morning, which is celebrated as Naraka Chaturdasi. This concoction is called as Marundha and is believed to eliminate the imbalance of Tridosha in the body. We hope that this Dhanteras is filled with prosperity and happiness!