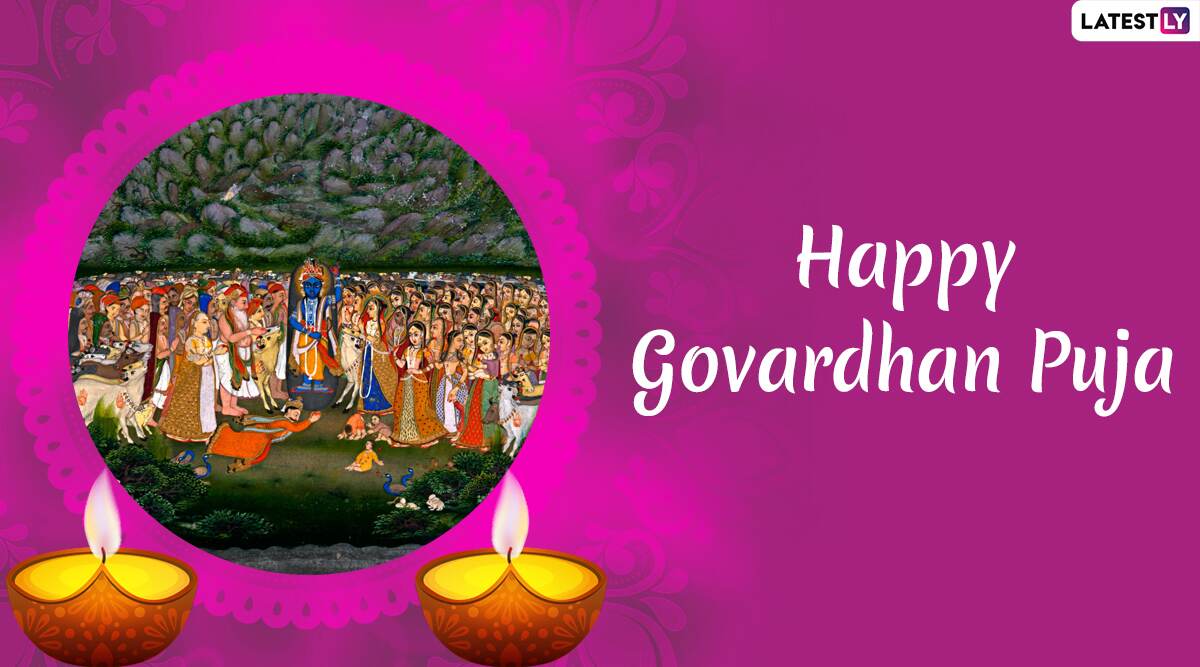 Govardhan Puja is a Hindu festival which marks the victory of Lord Krishna over Lord Indra. As per the legends, Lord Krishna lifted the Govardhan Hill to protect the villages of Vrindavan from the grasp of torrential rains. Ever since then, the Hindu lord is being celebrated joyously for being the saviour. Devotees offer a mountain of food, metaphorically representing the Govardhan Hill to the lord as a ritual remembrance. The traditional celebration of Govardhan Puja has been redefined with the advent of technology. Apart from the rituals, people send Govardhan Puja wishes dedicated to Lord Krishna. This year, Govardhan Puja will be celebrated on October 28. On the auspicious occasion and increasing usage of social media, here we bring you devotional Govardhan Puja 2019 wishes in Hindi. Along with GIF greetings and Lord Krishna photos, we have also shared the direct link to download the WhatsApp stickers. These Govardhan Puja 2019 messages and images can be sent on social media platforms along with Facebook and as SMS templates.
The celebrations of festivals have been redefined with the advent of technology. WhatsApp forwards on any occasion is standard in every Indian family. The senior citizens who have just discovered various updates of their smartphones love to show off a little by sharing stickers, GIFs and other images through the messaging app. And Govardhan Puja will be another occasion. Below in this article, find out the Govardhan Puja 2019 wishes and greetings in Hindi, WhatsApp sticker links and Facebook messages to send to your near ones on the auspicious festival. Simple Rangoli Designs for Govardhan Puja 2019: Beautiful Rangoli Patterns and Easy Tricks to Decorate Your House During Diwali Padwa.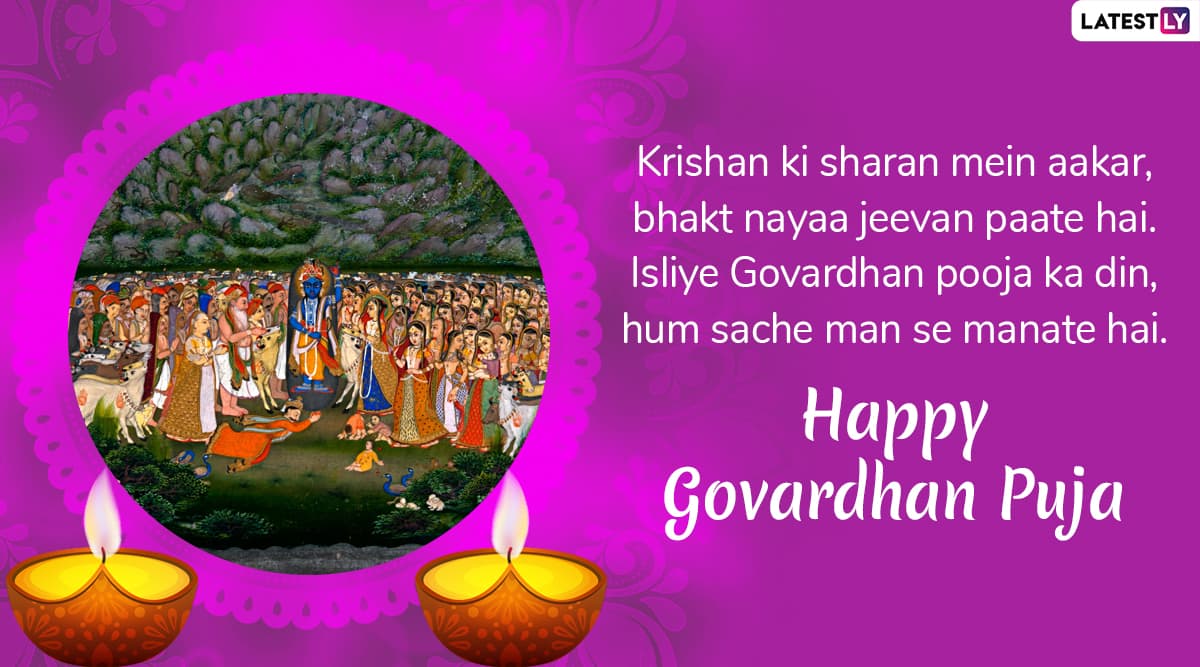 Krishan ki sharan mein aakar, bhakt nayaa jeevan paate hai. Isliye Govardhan pooja ka din, hum sache man se manate hai.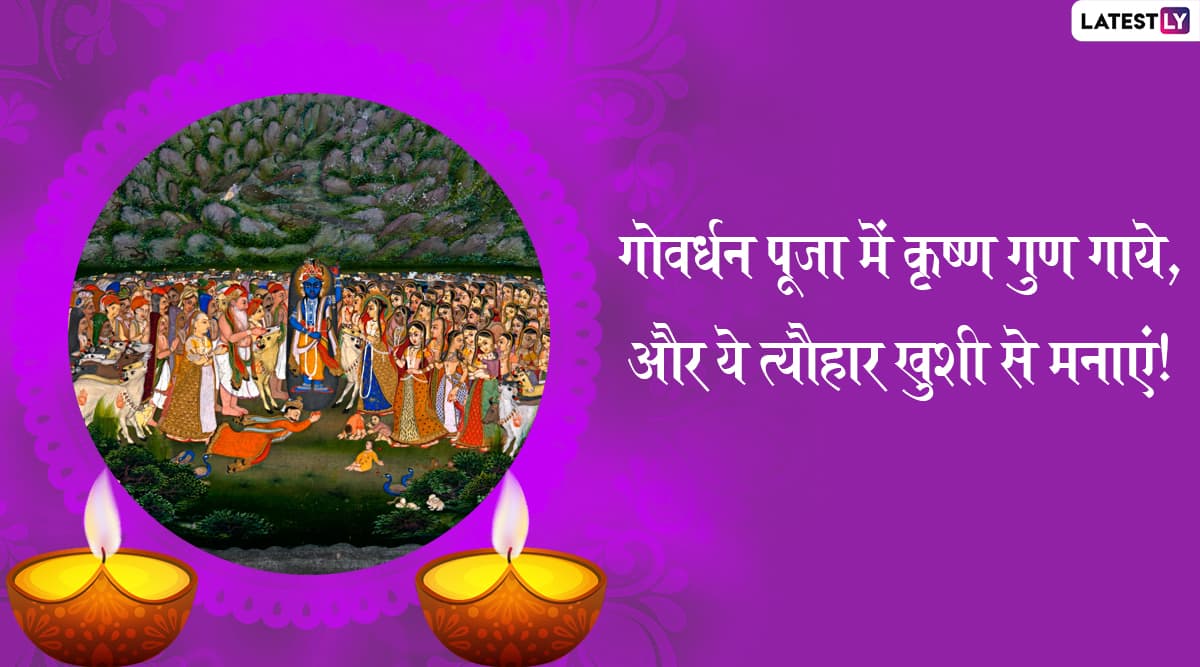 गोवर्धन पूजा में कृष्ण गुण गाये, और ये त्यौहार खुशी से मनाएं!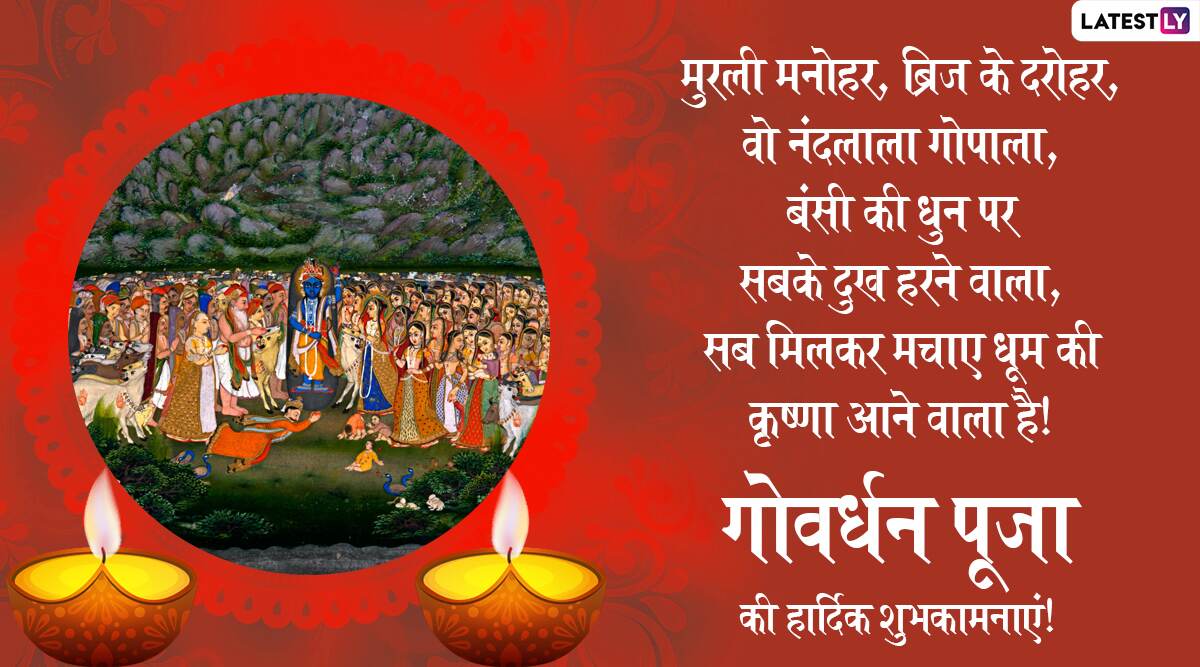 मुरली मनोहर, ब्रिज के दरोहर, वो नंदलाला गोपाला, बंसी की धुन पर सबके दुख हरने वाला, सब मिलकर मचाए धूम की कृष्णा आने वाला है! गोवर्धन पूजा की हार्दिक शुभकामनाएं!!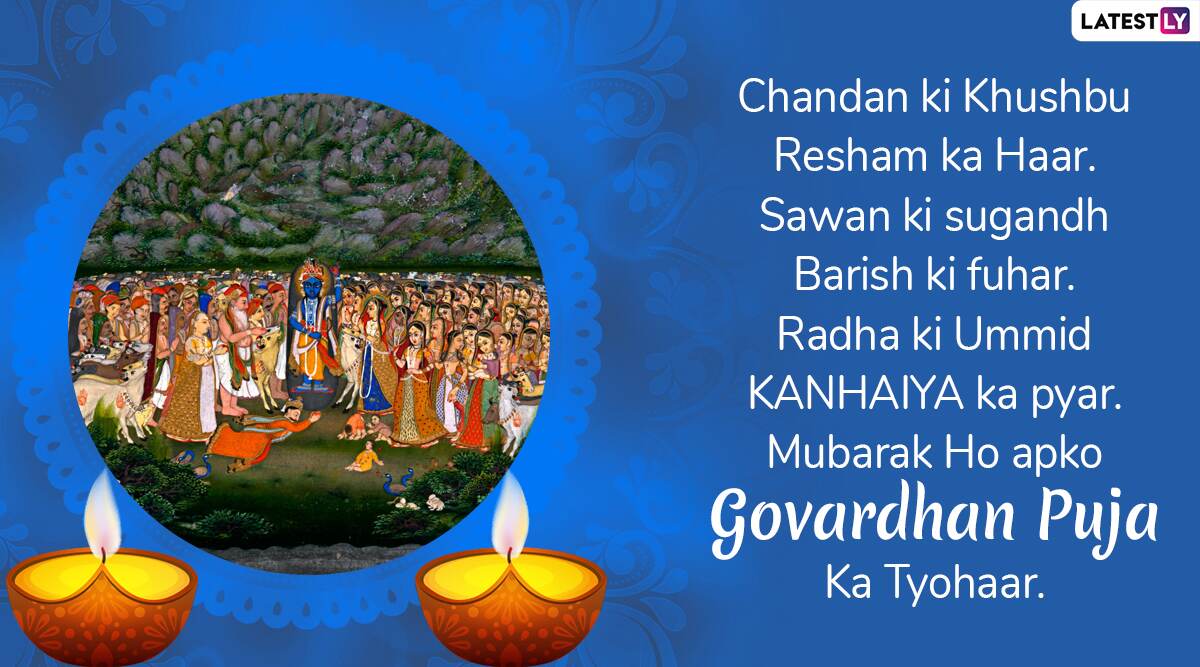 Chandan ki Khushbu Resham ka Haar. Sawan ki sugandh Barish ki fuhar. Radha ki Ummid KANHAIYA ka pyar. Mubarak Ho apko Govardhan Puja Ka Tyohaar.
Govardhan Puja GIF Image: 
Govardhan Puja 2019 WhatsApp Stickers
Just like any other festivals, WhatsApp has also dedicated a few super cool stickers for devotees to celebrate Govardhan Puja. Smartphone users can visit the Play Store app or simply click here to download WhatsApp stickers.
We hope that the above Govardhan Puja 2019 messages and wishes in Hindi will be useful to you. Share them with your family members while you celebrate the auspicious occasion dedicated to Lord Krishna.