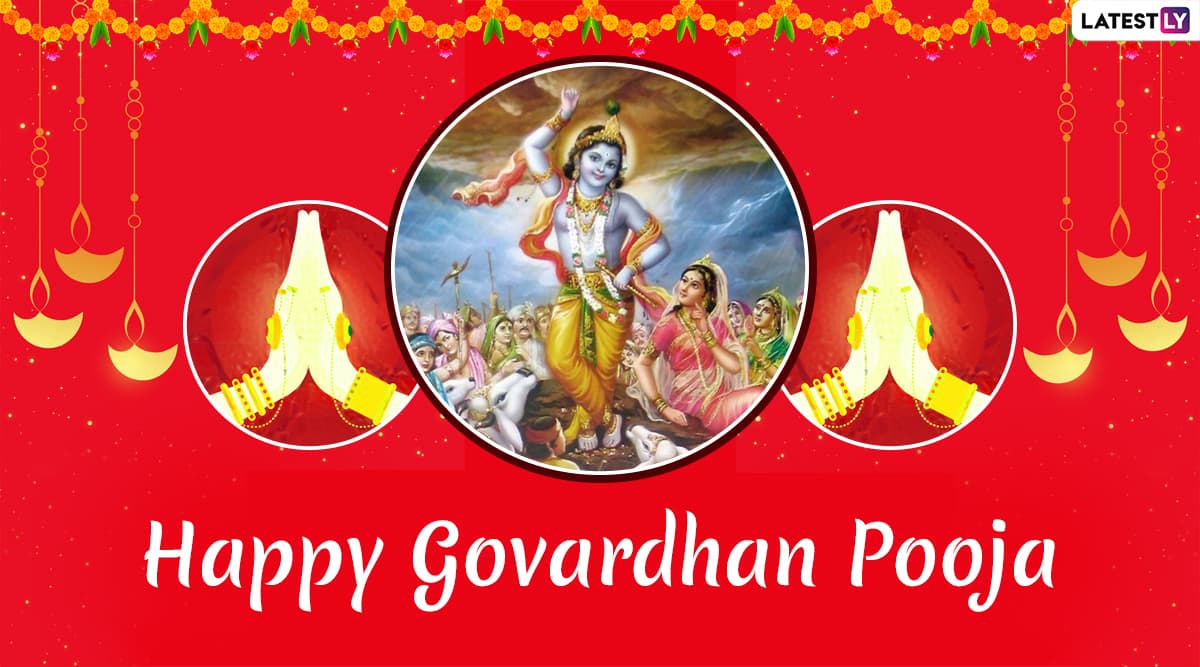 Diwali 2019 is here and the celebrations of a festive season have already begun. The five-day festive period sees people celebrating a lot of festivals during this period. One such festival that is observed during this jubilatory time is Govardhan Pooja, which is observed on the next day of Lakshmi Pooja (Badi Diwali). People wish luck, health, and prosperity to their loved ones on this festival. Annakut Puja is observed to commemorate Lord Krishna's victory over Lord Indra. People send Govardhan Puja 2019 celebratory messages in Hindi on WhatsApp, Facebook, Hike, and alike social messaging apps. It is a nice gesture to reconnect with your family members and relatives over these wishful messages. As Govardhan Puja 2019 approaches we have compiled a list of WhatsApp Stickers, Facebook Greetings, GIF Images, Instagram Photos in remembrance of the bravery Lord Krishna showed against Lord Indra during his childhood. Diwali 2019 Calendar: Dates and Tithi for Dhanteras, Naraka Chaturdashi, Lakshmi Puja, Govardhan Puja and Bhai Dooj During 5-Day Hindu Festival.
and videos in praise of Lord Krishna to their friends, family, relatives, clients wishing them luck, health, and wealth. People also send festive WhatsApp Stickers to convey their feelings and wishes. If you are looking for new and latest Govardhan Pujan greetings and wishes, then your search should end here. Here, we bring you the newest and most popular Govardhan Pooja 2019 WhatsApp messages, Facebook statuses, Instagram photos, and Snapchat stories, which you can send your loved on this auspicious day.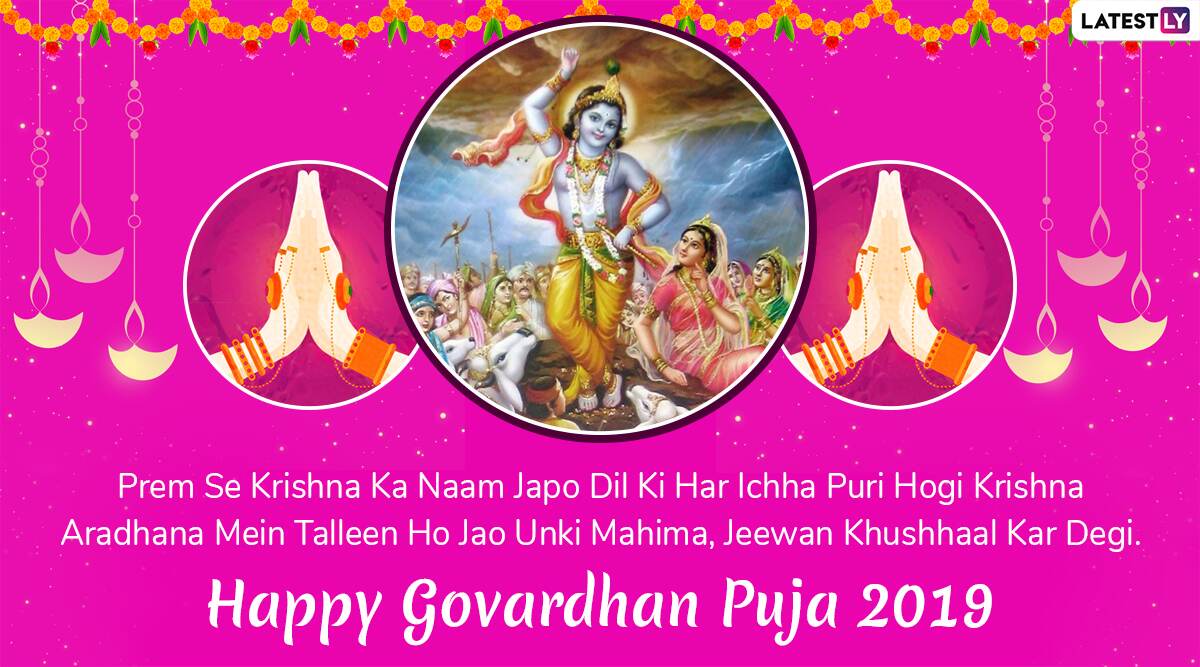 Govardhan Puja WhatsApp Message: Prem Se Krishna Ka Naam Japo, Dil Ki Har Ichha Puri Hogi, Krishna Aradhana Mein Talleen Ho Jao, Unki Mahima, Jeewan Khushhaal Kar Degi. Happy Govardhan Puja 2019.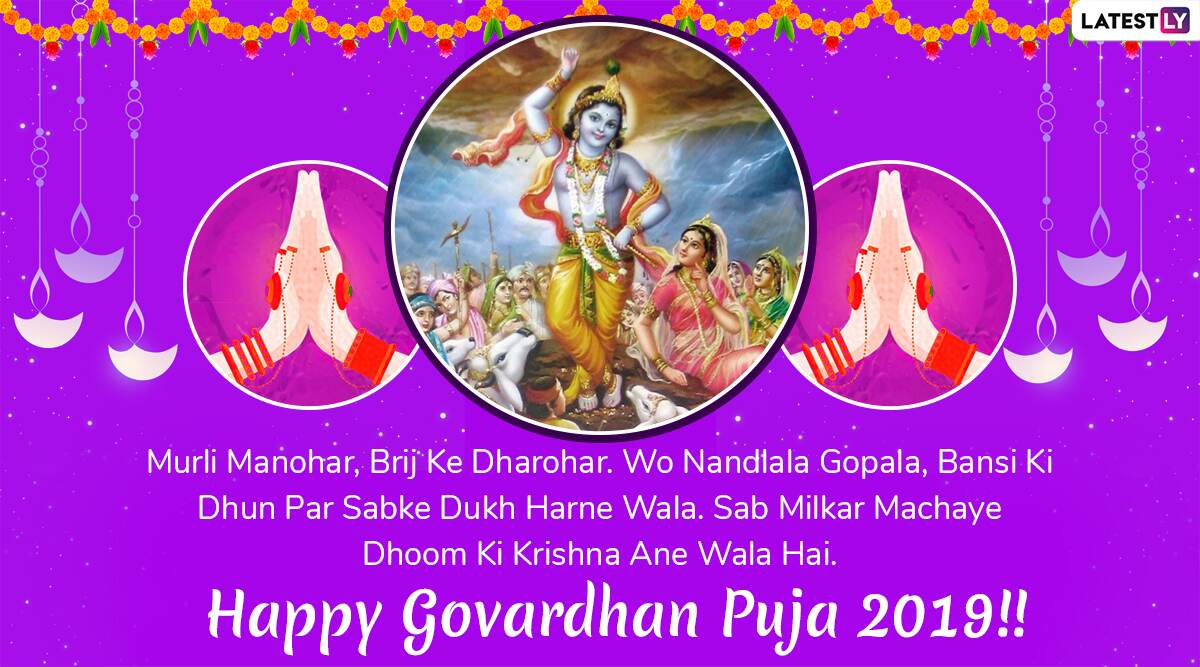 Govardhan Puja Facebook Greetings: Murli Manohar, Brij Ke Dharohar. Wo Nandlala Gopala, Bansi Ki Dhun Par Sabke Dukh Harne Wala. Sab Milkar Machaye Dhoom Ki Krishna Ane Wala Hai. Happy Govardhan Puja 2019!!
Happy Govardhan Puja GIF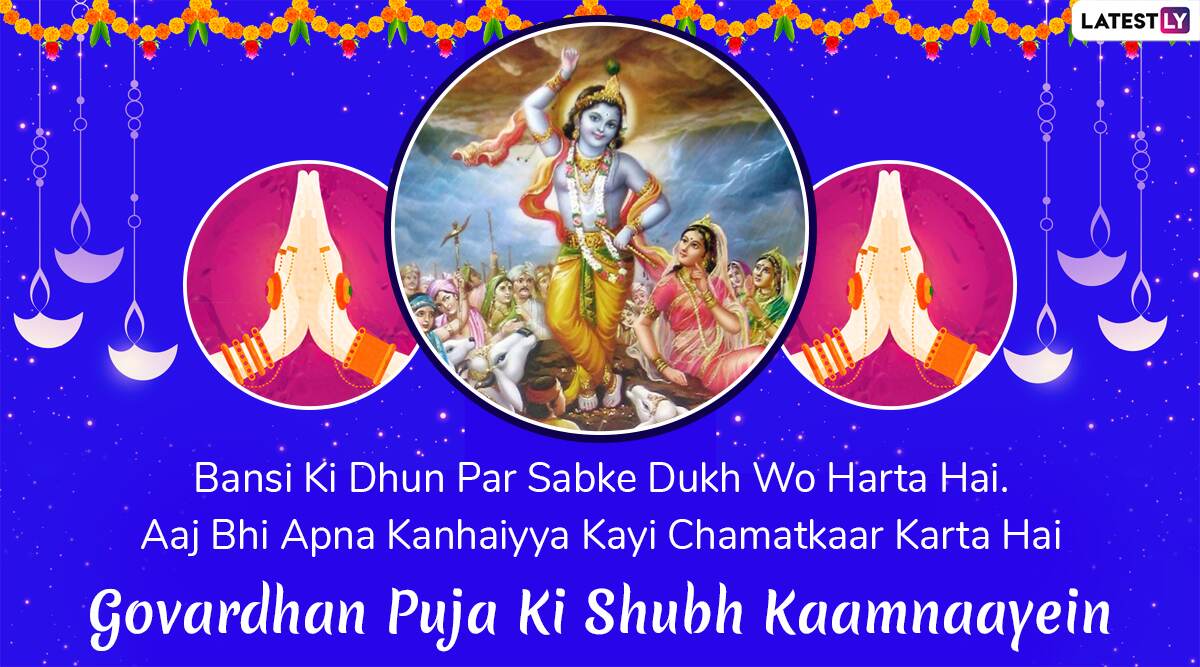 Govardhan Pooja WhatsApp Message: Bansi Ki Dhun Par Sabke Dukh Wo Harta Hai. Aaj Bhi Apna Kanhaiyya Kayi Chamatkaar Karta Hai Govardhan Puja Ki Shubh Kaamnaayein.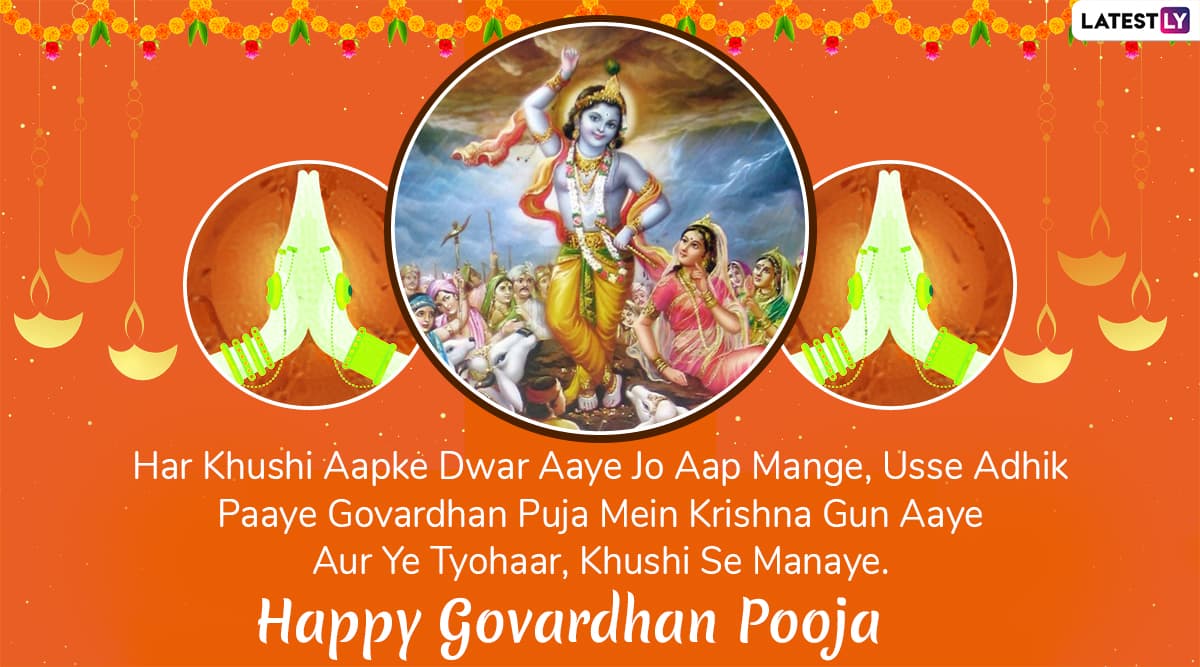 Govardhan Pooja Facebook Wishes: Har Khushi Aapke Dwar Aaye Jo Aap Mange, Usse Adhik Paaye Govardhan Puja Mein Krishna Gun Aaye Aur Ye Tyohaar, Khushi Se Manaye. Happy Govardhan Pooja.
Govardhan Pooja GIF!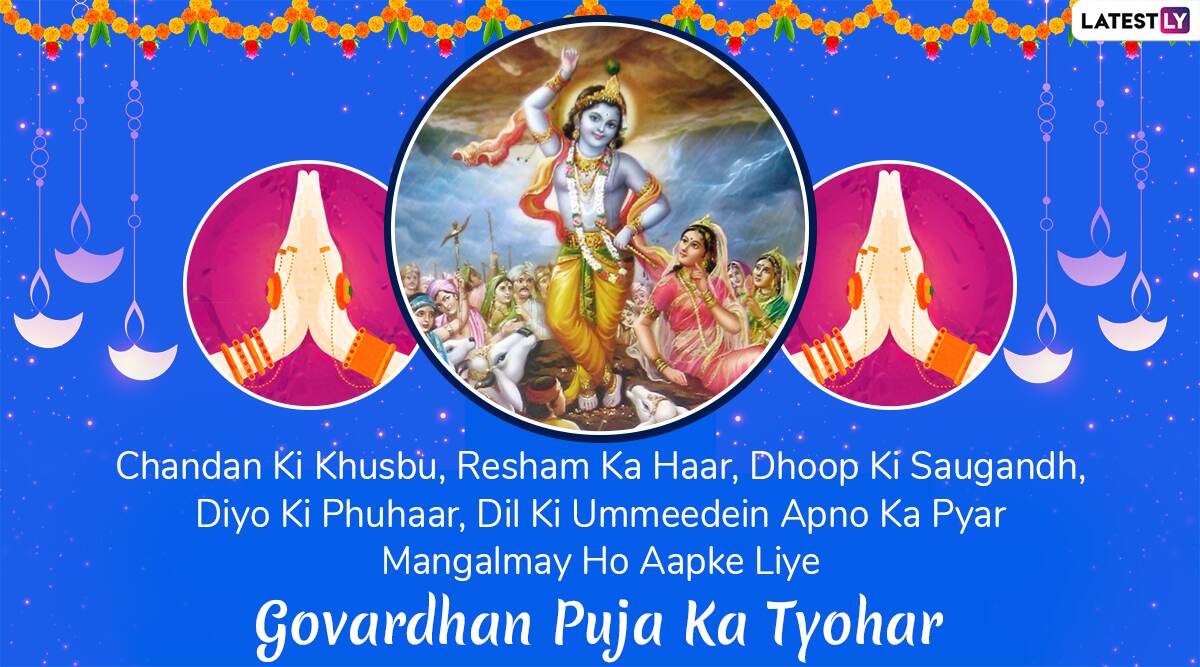 Govardhan Puja Facebook Wishes: Chandan Ki Khusbu, Resham Ka Haar, Dhoop Ki Saugandh, Diyo Ki Phuhaar, Dil Ki Ummeedein, Apno Ka Pyar Mangalmay Ho Aapke Liye, Govardhan Puja Ka Tyohar.
How to Download Govardhan Puja 2019 WhatsApp Stickers
People also send festive WhatsApp Stickers to convey their feelings and wishes. You can download free Govardhan Puja WhatsApp Stickers from PlayStore and send it to wish on the observance.
There's a very short, little, cute story behind the origin of Govardhan Puja. People celebrate it with much fervour across the country, following the day of Badi Diwali. People make mountains and idols of Lord Krishna from cow dung, decorate their houses with flowers and leaves, install earthen lamps and fancy lightings, and also prepare traditional sweets. There's much more that goes into the celebration of Govardhan Puja. If you want to know the story, significance, pooja timings, shubh mahurat, and rituals associated with it, you can click here. We at LatestLY wish you and your family a very 'Happy Govardhan Pooja 2019!'