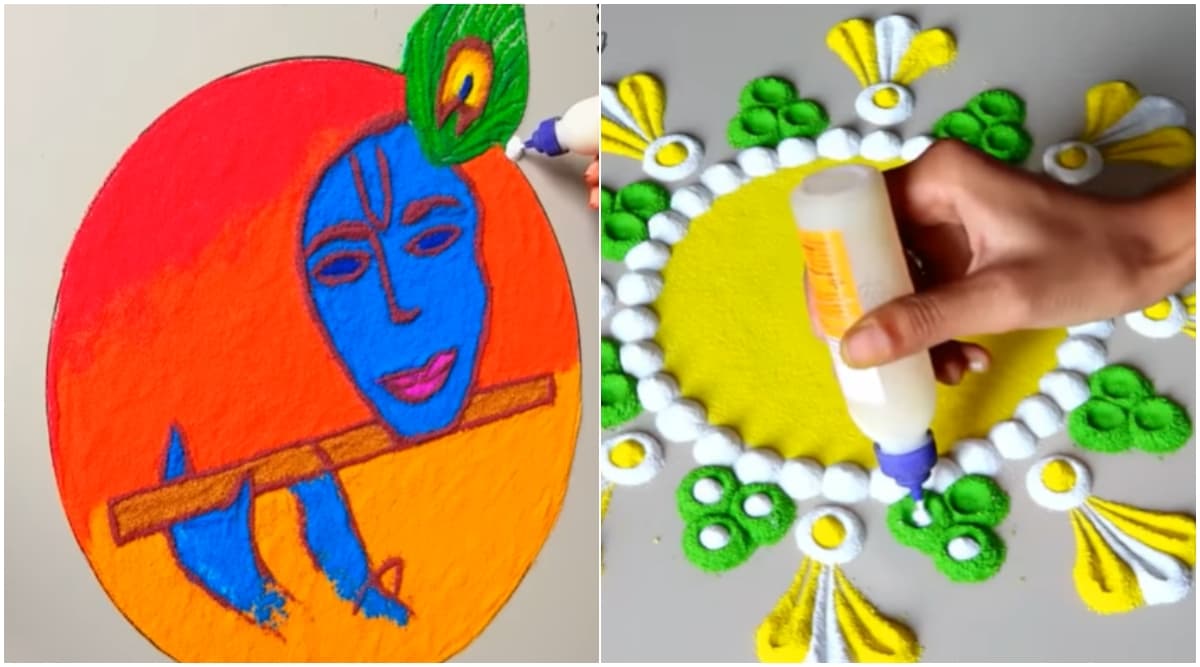 The festival of Diwali has begun and we are sure all of you are excited with all the celebratory atmosphere around you. October 28 marks the celebration of Govardhan Puja during Diwali this year. Among the Diwali celebrations, it is the festive day of Padwa. And one of the elements of all festive celebrations is the rangoli designs that are made outside the houses. Making Rangoli can also get tedious if you are not used to making it often. But worry not, we give you some of the easiest Rangoli designs and some tips to make a Rangoli under 5 minutes. These easy Rangoli designs are simple ones but will surely earn you praises. We give you some easy-to-do rangoli design videos and tricks for this Govardhan Puja. Simple Rangoli Designs for Diwali 2019 With Marigold Flowers: Latest Rangoli Patterns and Pookalam Ideas to Celebrate Deepavali (Watch Video Tutorials).
Marked a day after Lakshmi Poojan, on Goverdhan Puja, devotees worship Lord Krishna. Making a rangoli at the doorstep is considered to be a sign of bringing good luck. It is an old tradition which has been carried on over the years. And over time there are so many varieties of Rangolis that are made, with flowers, pulses and petals which are made in different parts of the country. It is also known with different names like muggu, chowkpurana, jhoti, pokkalam, gahuli etc. For the festive season of Diwali 2019, we give you simplest rangoli designs that can be made under 5 minutes. Easy Rangoli Designs for Colorful Diwali 2019: Quick and Simple Rangoli Patterns With Colours and New Pookalam Designs With Marigold Flowers for Deepawali (Watch DIY Videos).
Rangoli Designs for Govardhan Puja:
Easy-to-do Rangoli Patterns for Diwali:
With the help of a sieve, you can just use two colours and make a beautiful rangoli design. You can also get in the readymade rangoli design sieves and just put them over a plain bright colour.
Lord Krishna Rangoli For Govardhan Puja:
Since Govardhan Puja respects Lord Krishna, you can make his impression in the form of Rangoli. It is very apt for the festivities, although this one may take a bit of your time.
We hope the above videos help you to make a nice decoration outside your homes on this auspicious day. Using the basic of stuff one can make a beautiful rangoli within minutes. We wish you a very Happy Govardhan Puja and Happy Padwa.