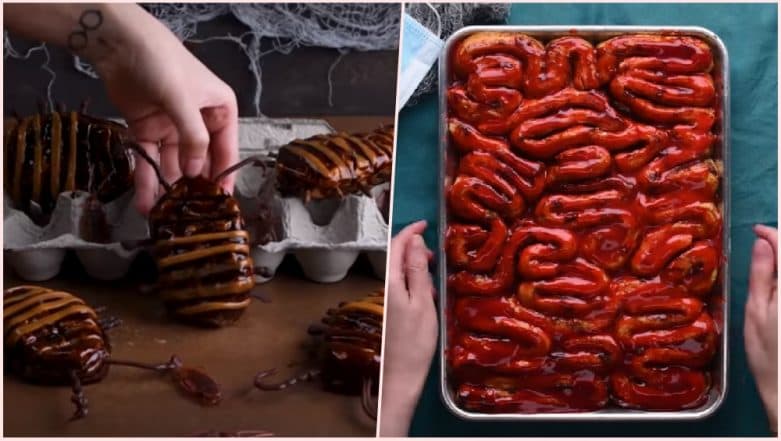 It is the end of October. People across are ready to celebrate the spookiest time of the year, Halloween 2018! It is officially the time to decorate your house with spiders and black cats, dress up in strange costumes and showcase your eerie creatives, altogether. Since all things are set to go creepy, crawly and spooky on October 31, festive freaks never shy away showing off the most disturbingly-looking tasty dishes at the Halloween party. As the festival is almost upon us, here we have compiled a few delicious recipe videos that you can serve your guest keeping up the scary moment by making them look spook-tacular! Trick or Treat? Know the History Behind the Spookiest Trend of Halloween. 
Halloween is a serious business for people. Apart from the creepiest decorations, people put in much effort finding the right costumes and appropriate recipes to make the festival a memorable one. The festival is definitely not always sugary sweetness. Sometimes it is savoury, severed and occasionally creepy, but always scarily good. These Halloween recipe and party food ideas are a total scream. Halloween Fortnite Costume Ideas: Here's How You Can Turn Into a Fortnite Player for Halloween (DIY Video Included). 
Watch Video of Blood and Guts Soup with Eyeballs and Bones Recipe 
It is a compilation of two different recipes to be served as one most spookily for Halloween 2018. The video shows the detail process of preparation. Since a ton of tomatoes has been used here for the blood and guts soup, the food vlogger also recommends replacing or add some more vegetables and serve the crowd on Halloween night. 11 Spooky Hollywood Movies That You Can Binge-Watch During Halloween!
Watch Video for Halloween Desserts
The video above, is again a compilation of several scary-looking desserts to serve your guests on the Halloween party. With the recipes ranging from healthy dinners to sugary sweet delights, there are a plethora of creative options. They are incredibly delicious and will not take away that scary feeling away.
Watch Video for Halloween Treats
The fine art of 'trick or treat' is a long-known tradition. Underaged kids getting into their costumes and slogging around the neighbourhood ringing doorbells is the major observation during Halloween 2018. And you definitely need the unique recipe of different treats that are hauntingly delicious for the children. Cat Costume and Makeup Ideas for Halloween 2018! Purr…Fect Last-Minute DIY Kitty Looks. 
Watch Video for Last-Minute Halloween Treats
As much as we love the festival, it also cannot be denied that the preparations are tiring. There is a lot to do, starting from costumes to decorations to food; you need to keep up that scary feel constant. The video above is a compilation of some delicious treats which are fast to prepare. Along with the detailed recipe and ghostly decorations, get into the spooky spirit with these easy homemade Halloween themed party foods.
These appalled-looking appetisers and desserts are perfect for the evening that your little monsters and guests are sure to love. They will not be able to un-see these ghastly dishes. Happy Halloween!