Passover, or Pesach is one of the most sacred observances of the Jews. It is a seven-day spring festival which commences on the 15th of Hebrew month of Nisan. Passover 2019 will begin on the evening of April 19 and end on April 27. Jews observe Passover with various rituals which include a traditional Passover feast known as the seder. On the first two nights of Passover, families and friends come together for the feast. They wish each other saying 'Happy Passover' in English. People also send Passover messages and wishes to greet them.
You can wish someone 'Happy Passover' in Hebrew by saying 'Happy Pesach' or 'chag Pesach kasher vesame'ach' which means 'Kosher and Joyous Passover'. Nowadays, people send Pesach WhatsApp messages, Pesach GIF image greetings, SMS and Quotes to wish the Jewish festival.
Passover commemorates the story of Israelites' liberation by God from slavery in ancient Egypt. They were led by Moses into their Promised Land which is comprised in the Exodus chapter of The Bible. According to the holy scripture, God helped people of Israel escape from slavery in Egypt after ten plagues were inflicted upon them. The Pharaoh released them only after the tenth plague which killed the first-born of ancient Egyptians. Passover 2019: From Traditional Brisket to Matzo Ball Soup, Best Kosher Recipes to Celebrate Pesach.
To be saved from the tenth plague, Israelites were instructed to mark the doorposts of their houses with the blood of a slaughtered spring lamb. On seeing this sign, the spirit of the Lord would 'pass over' the first-born of that house.  The English name of the holiday thus comes from two words pass and over. Passover is hence also the celebration of freedom and the remembrance of God's work.
Wish 'Happy Passover' with these messages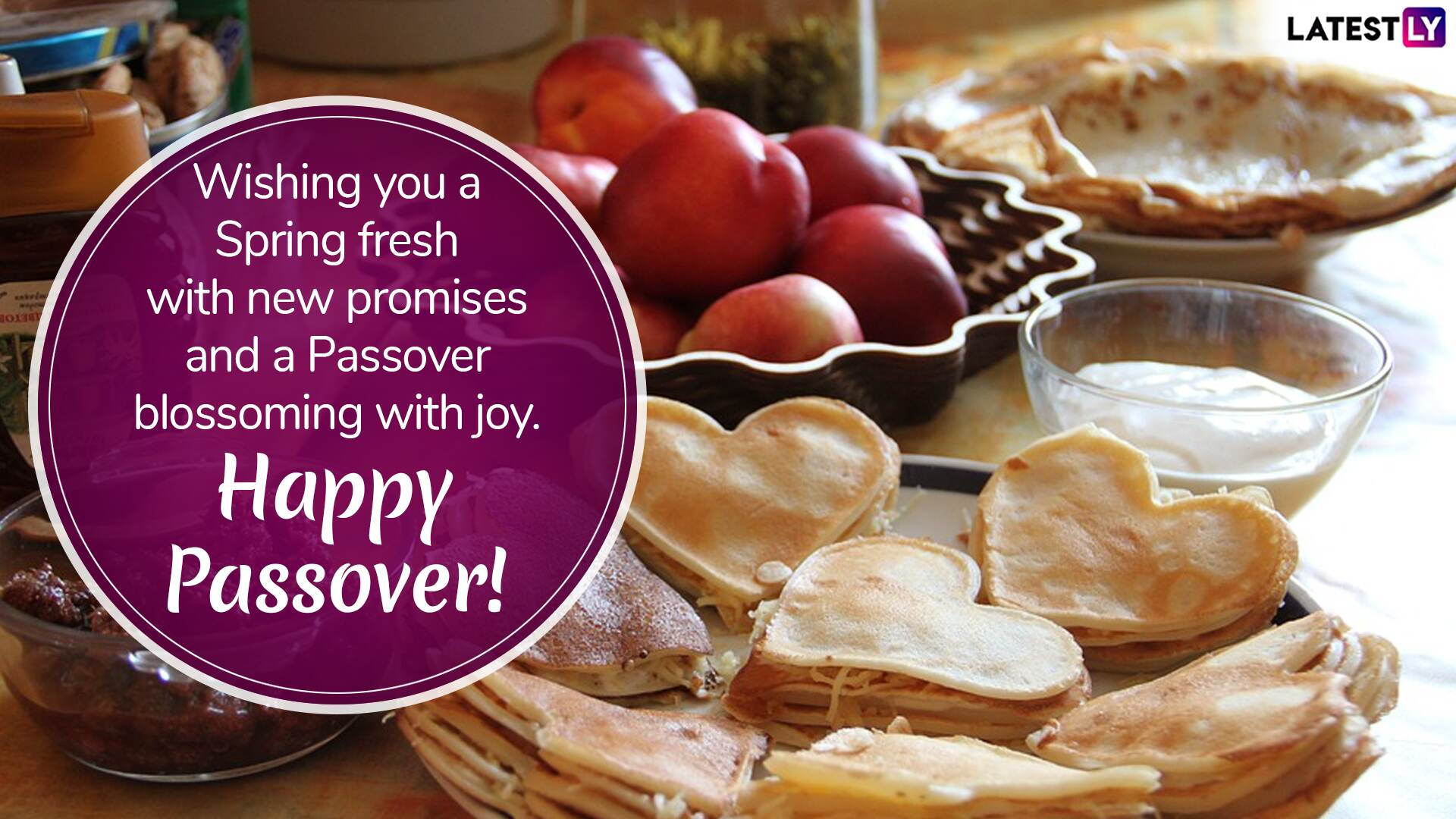 WhatsApp Message reads: Wishing you a Spring fresh with new promises and a Passover blossoming with joy. Happy Passover!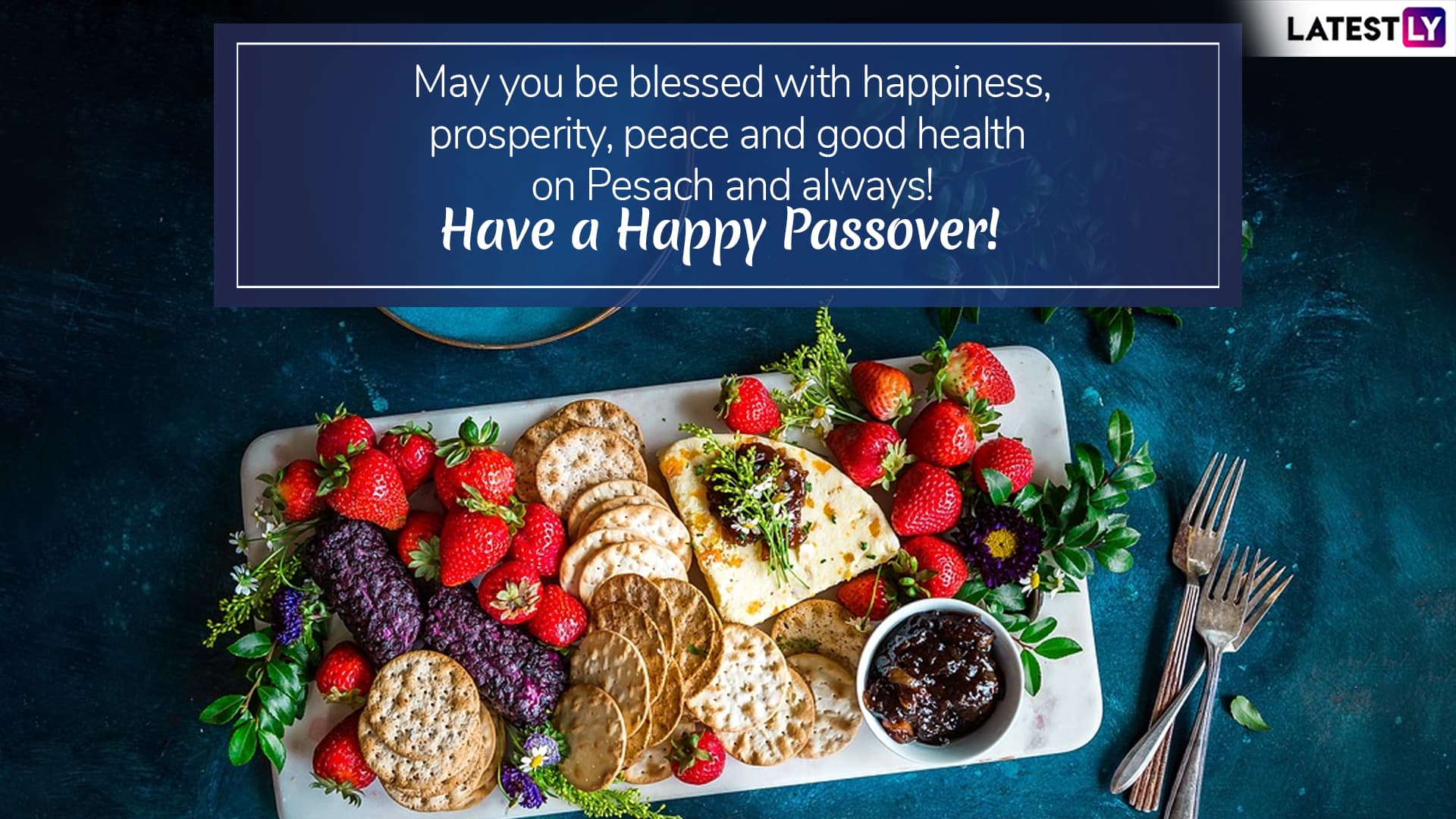 WhatsApp Message reads: May you be blessed with happiness, prosperity, peace and good health on Pesach and always! Have a Happy Passover!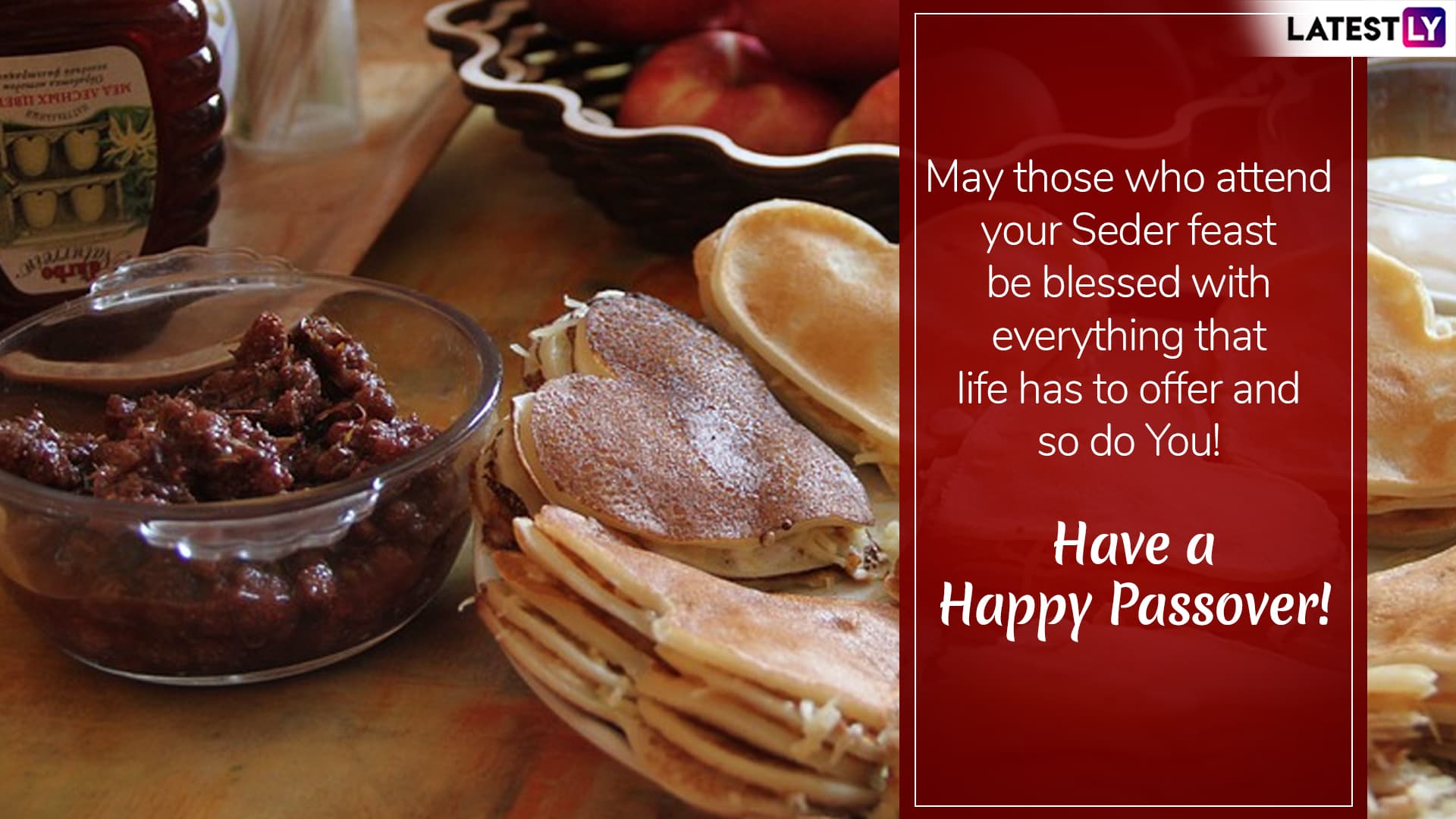 WhatsApp Message reads: May those who attend your Seder feast be blessed with everything that life has to offer and so do You! Have a Happy Passover!
Passover GIF!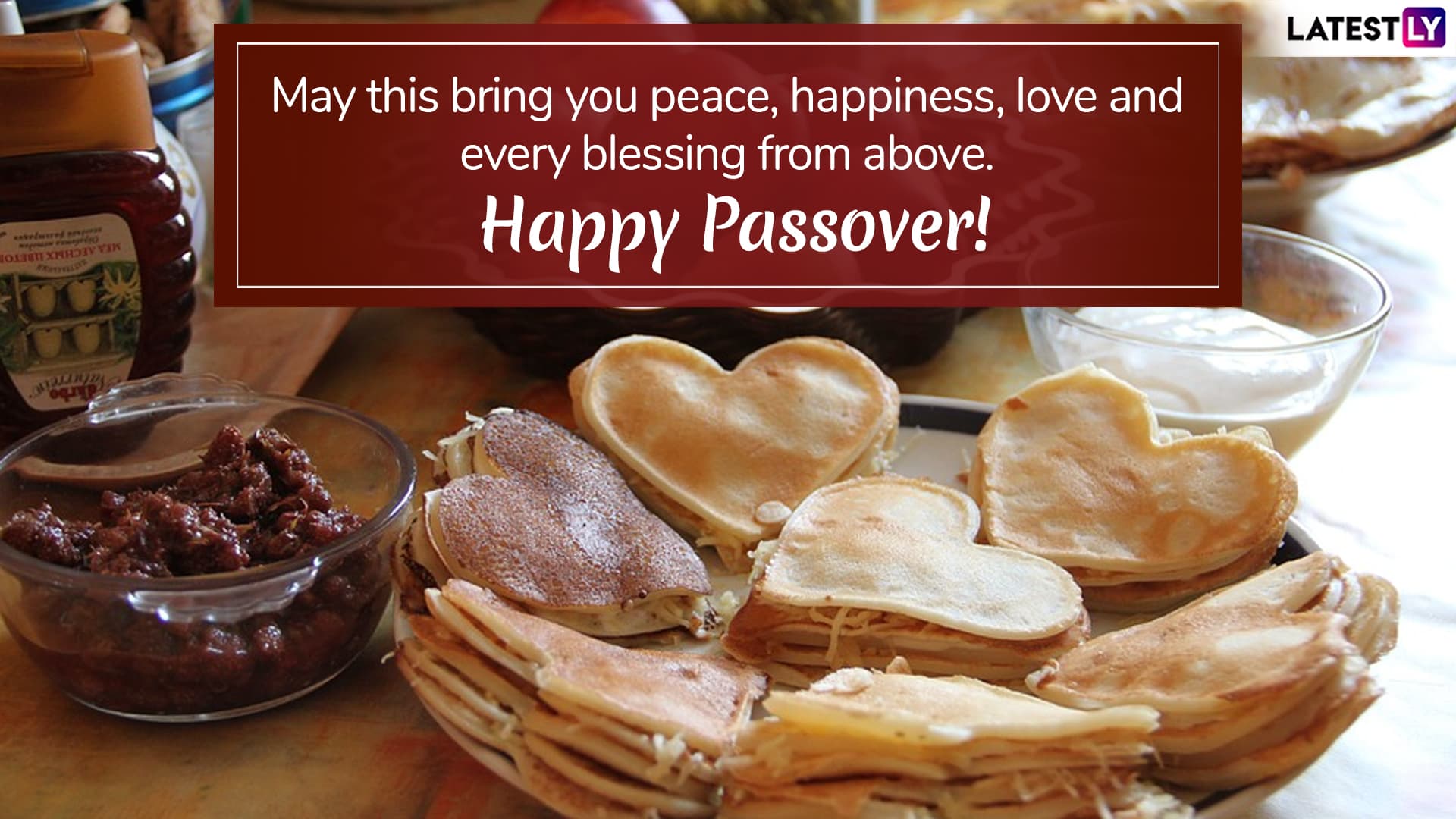 WhatsApp Message reads: May this bring you peace, happiness, love and every blessing from above. Happy Passover!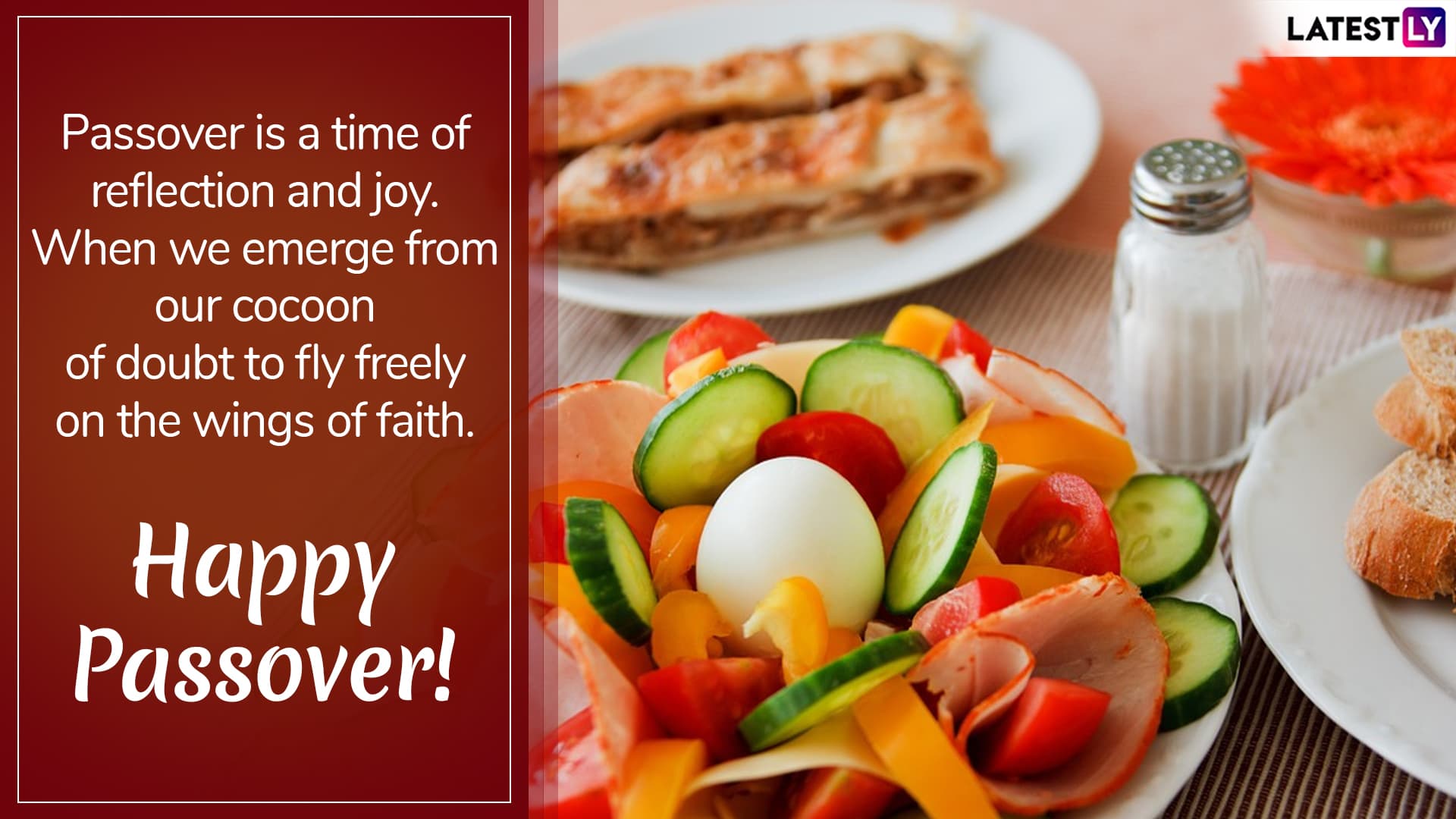 WhatsApp Message reads: Passover is a time of reflection and joy. When we emerge from our cocoon of the doubt to fly freely on the wings of faith.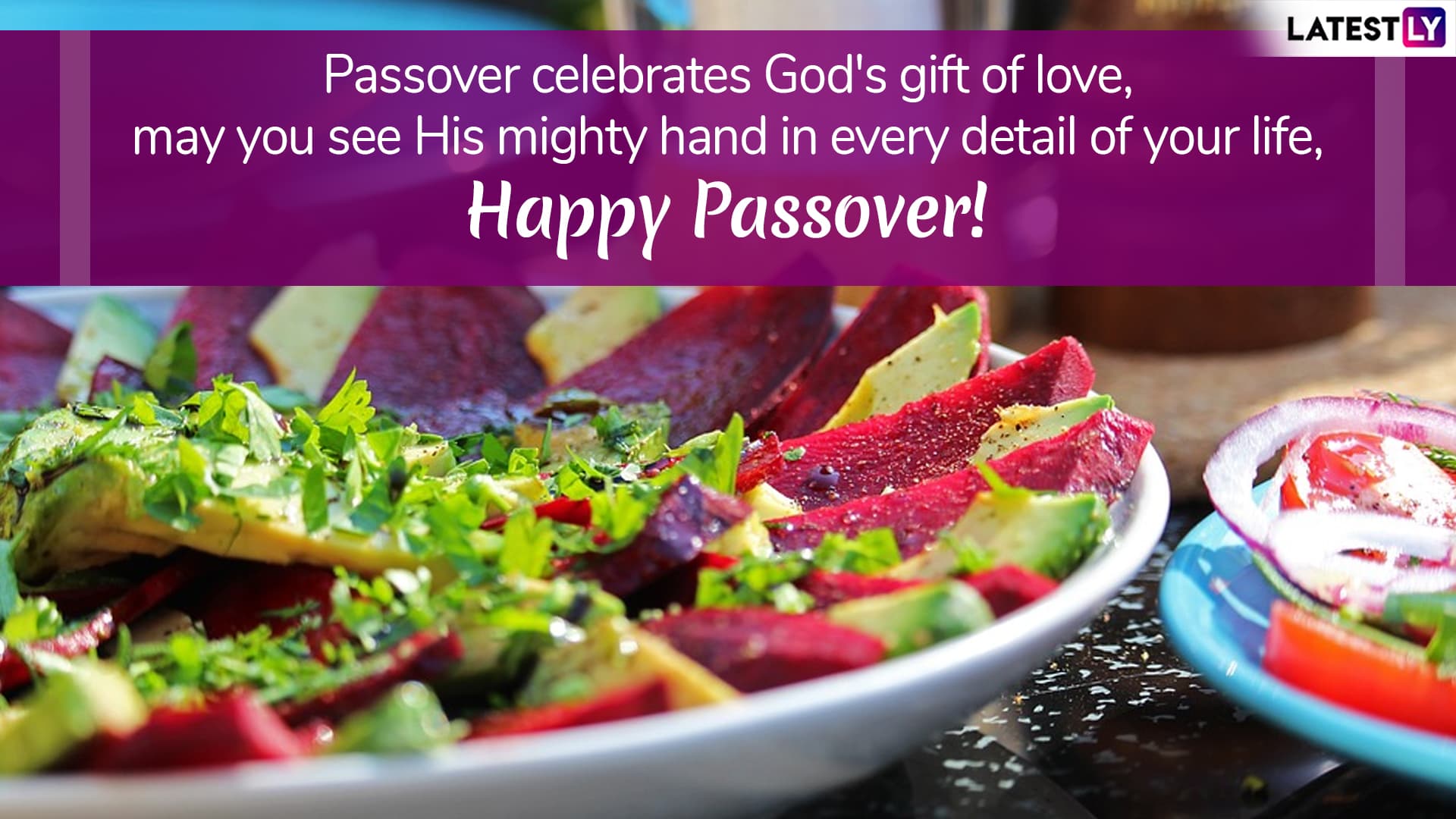 WhatsApp Message reads: Passover celebrates God's gift of love, may you see His mighty hand in every detail of your life, Happy Passover!
WhatsApp Message reads: Shalom! With smiles across the miles to say I'm thinking of you! Happy Passover!
According to biblical chronology, this event would have taken place during 1300 BCE. One of the important traditions of the festival is the removal of all leavened food products from their houses before the festival begins. They do not eat bread and instead consume a type of flatbread called matzo.
When the Pharaoh freed the Israelites, it is said that they left in such a hurry that they could not wait for bread dough to rise (leaven). In commemoration, for the duration of Passover, no leavened bread is eaten, for which reason Passover is called the feast of unleavened bread in the Torah.[10] Thus matzo (flat unleavened bread) is eaten during Passover and it is a tradition of the holiday.