Holi 2019 has arrived. Yes, it's the morning of Dhulandi (Holi is known by several other names such as Dhuleti, Rangwali Holi, Phagwah) on March 21 and everyone is pretty excited about playing Holi with their family and friends. But before that there are many who like to wish his/her near and dear ones on this colourful occasion. Sending greetings, wishes and blessings online is a new-age custom everyone adheres to. So, here's a collection of Holi messages in Hindi along with Dhulandi Shayari, colourful Holi WhatsApp Stickers, GIF image greetings, which you can share on WhatsApp, Telegram, SMS, as well as post on social media platforms such as Facebook, Pinterest, Instagram and Twitter. Holi Images & Dhulandi HD Wallpapers for Free Download Online: Wish Happy Holi 2019 With WhatsApp Stickers & Beautiful GIF Greeting Messages.
Holi is a spring festival that has several mythological origin stories. Some of the famous ones being the tale of Prahalad, a devotee of Lord Vishnu and Holika, the evil demon. Vishnu killed Holika to save Prahalad and from that day people conduct Holika Dahan (burning of devil Holika on a pyre). According to other legends, Lord Krishna applied colour on his beloved Radha out of jealousy for her fair skin while he was dark-skinned. This story is the reason why Holi is also called the Festival of Colours and the Festival of Love. Happy Holi 2019 WhatsApp Stickers and Images: Dhulandi Greetings, Facebook Photos and Wishes to Celebrate Joyous Holi.
Coming back to messages and greetings in Hindi, wishing in the local language is always more exciting. Especially, the colourful Shayari adds to the charm and brings a smile on the face of the readers. We had earlier shared a list of Holi messages in English as well as Marathi, but seeing the interest of people in Hindi, we now bring you a collection of Holi messages in Hindi. It includes Holi messages in Hindi, Holi messages in Hindi images, Holi messages in Hindi for Facebook, Holi messages in Hindi for WhatsApp, and more.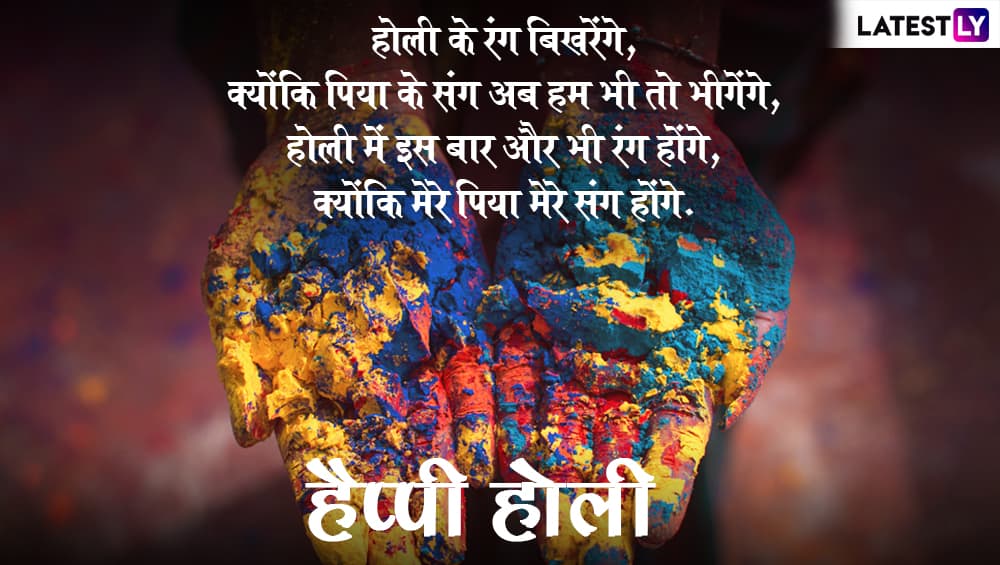 WhatsApp Message Reads:  होली के रंग बिखरेंगे,  क्योंकि पिया के संग अब हम भी तो भीगेंगे, होली में इस बार और भी रंग होंगे, क्योंकि मेरे पिया मेरे संग होंगे.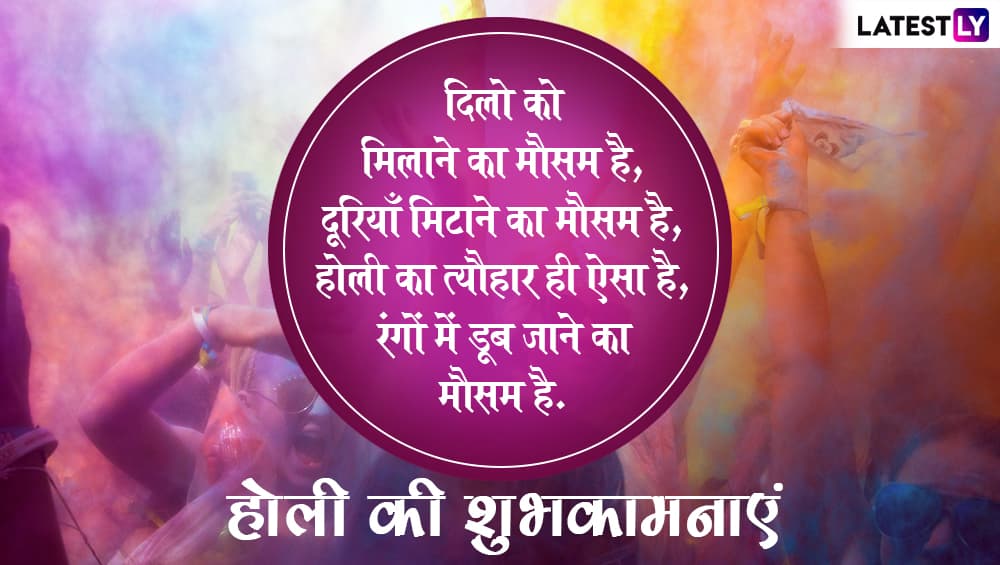 WhatsApp Message Reads:  दिलो को मिलाने का मौसम है, दूरियाँ मिटाने का मौसम है, होली का त्यौहार ही ऐसा है, रंगों में डूब जाने का मौसम है.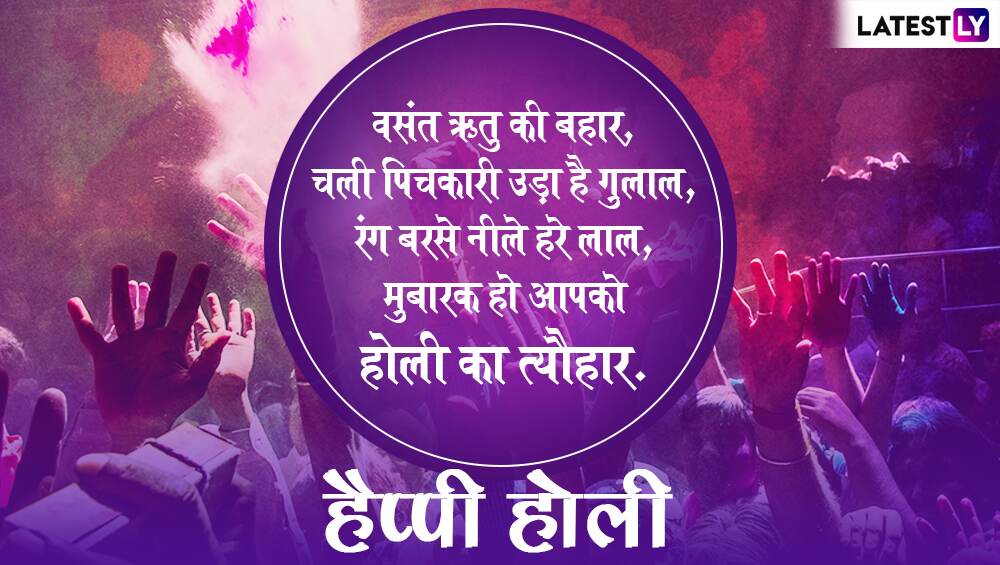 WhatsApp Message Reads:  वसंत ऋतु की बहार, चली पिचकारी उड़ा है गुलाल, रंग बरसे नीले हरे लाल,  मुबारक हो आपको होली का त्यौहार.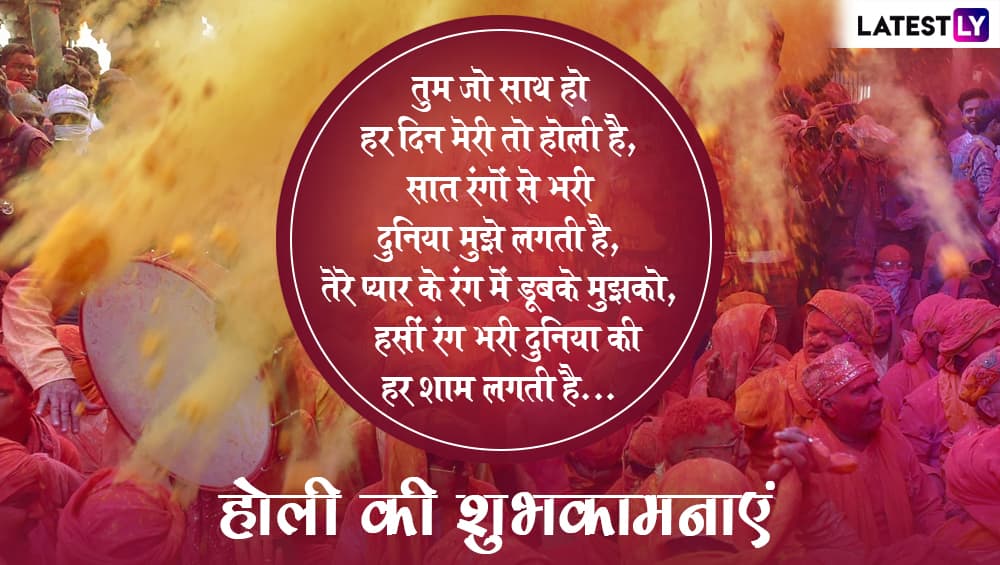 WhatsApp Message Reads: तुम जो साथ हो हर दिन मेरी तो होली है, सात रंगों से भरी दुनिया मुझे लगती है, तेरे प्यार के रंग में डूबके मुझको, हसीं रंग भरी दुनिया की हर शाम लगती है…
WhatsApp Message Reads:  प्यार के रंग से भरो पिचकारी, स्नेह के रंग से रंग दो दुनिया सारी, ये रंग ना जाने जात ना कोई बोली, मुबारक हो आपको होली.
Download Holi 2019 WhatsApp Stickers
We have provided you with a list of original WhatsApp Stickers to share on Holi. It contains some of the famous catchphrases and dialogues associated with Holi such as 'Bura Na Mano Holi Hai', 'Kab Hai Holi', 'Balam Pichkari,' and so on. But if you looking for additional animated stickers, you can always download them from Play Store – for free. Here's the link, You can download it HERE.
Celebrate The Festival of Colours With Happy Holi 2019 Wishes
So, that was all on Holi messages and greetings in Hindi. After you are done playing aka wishing everyone online, go out and play Holi for real. But do make sure to keep yourself safe as well as be responsible towards others. We hope this Holi, may God blesses you with the colours of success, prosperity, happiness, and knowledge. Have a Happy and Colourful Holi.
(The above story first appeared on LatestLY on Mar 21, 2019 07:32 AM IST. For more news and updates on politics, world, sports, entertainment and lifestyle, log on to our website latestly.com).