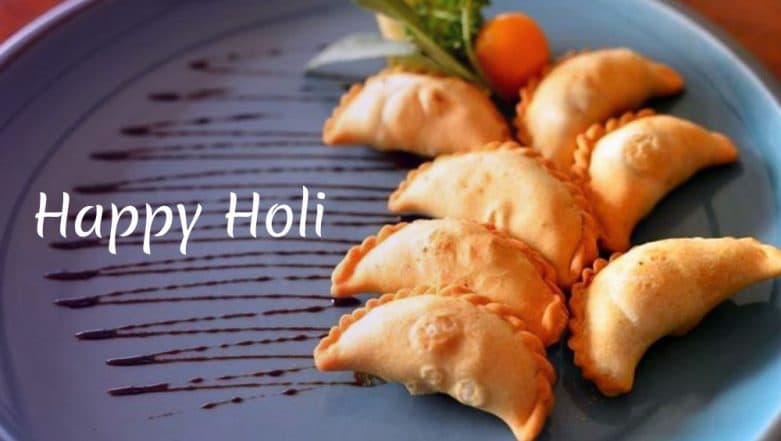 We all feel like Gabbar soon after February ends, asking everybody, Kab Hai Holi? And it is not because of anything else but the awesome food we get to eat during the festival of colours. Isn't it foodies? This year Holi aka Rang Panchami will be celebrated on 21st of March after Holika Dahan that will take place on the 20th of March. Apart from smearing each other's faces with colours and get-togethers, people also prepare and share delicious food with each other. Some of the traditional favourites remain- Ghujiyas, Malpuas, Gajar Kanji, Dahi Bhalla etc. Ghujia is a sweet snack with a crispy outer layer and soft filling made out of khoya (Reduced to dry milk) and suji (Semolina.) Holi Thandai Recipes: How to Make Bhang Drinks at Home and Enjoy the Spirit of the Festival of Colours
Here's an easy recipe of classic Ghujia(Sooji Mawa Gujiya) that you can make at home:
Ingredients:
Plain Flour (मैदा ) - 2 cups ( 250 gms)
Ghee (घी ) - 1/4 cup ( 60 gms)
Mawa (मावा ) - 1/2 cup ( 125 gms)
Semolina (सूजी ) - 1/3 cup ( 60 gms)
Boora (बूरा ) - 3/4 cup ( 150 gms)
Almonds (बादाम) - 10 to 12 (finely chopped )
Cashew nuts (काजू ) - 10 to 12 (finely chopped)
Grated Dry coconut (सूखा नारियल ) - 1/3 cup
Raisins (किशमिश ) - 1 tbsp
Green Cardamoms (इलाइची ) - 6 to 7
Black pepper (काली मीर्च ) - 10 to 11 (coarsely grounded)
Nutmeg (जायफल ) - 1/2
Ghee (घी ) - For frying
Steps to make Sooji Mawa Gujiya :
1. Take Plain flour in a mixing bowl, make a hollow pit in it, add ghee to it, mix well with hands. Add lukewarm water in small portions and knead a stiff dough. Cover and keep it aside for 20 to 25 minutes to set.
2. For stuffing, heat pan, add 2 tbsp ghee to it as ghee melts add semolina to it, Stir and roast it, until golden brown. Keep the flame medium.
3. Take the mix in a bowl, take out semolina, pour over the sugar. Roast dry fruits, such as cashews, almonds for a few minutes. Keep in the same bowl as sugar.
4. Slightly roast grated coconut, in a hot pan for half a minute. Keep in the same bowl.
5. Crumble and add mawa to the pan, stir and roast, till it changes colour. Keep the flame medium.
6. Add raisins to the bowl, take cardamoms coarsely grind them and add, grind black pepper as well, add and grate nutmeg over it. Mix all ingredients well.
7. Meanwhile, the dough is ready, knead it a bit. Divide dough into 2 parts, make a log, break lumps.
8. Lift dough lump, press and make a round dough ball, like a peda/ slightly flattened. Roll it out thin from the edges with 3 to 4 inch in diameter.
9. Take the gujiya mould, keep the poori over the mould so that, the lower part of it comes above.
10. Put stuffing in the poori, grease edges of poori with water. Close the mould. Press well on the edges. Remove extra dough.
11. Open the mould, take out gujiya keep in a plate. Likewise roll out, stuff and prepare all gujiyas. Keep in a plate.
12. Heat ghee to fry the gujiyas, keep it medium hot. Put one gujiya to fry and check, when frying reduce the flame.
13. Put as many gujiyas as they fit in the wok. Once roasted from beneath, flip them. Stir and fry until golden brown from both sides, Keep flame medium low.
14. Lift the gujiya in the ladle. Take out from the wok, keep in the plate, Fry all Gujiyas likewise.
Here's the video:
Have a happy and safe Holi to everyone! Make this Holi all about good food and natural colours.