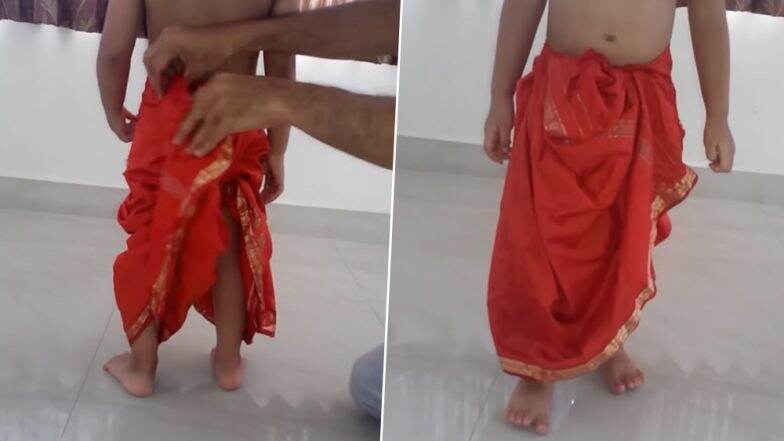 Dhoti is a simple Indian attire that often finds its way during festivals. While it is the most common clothing for men in the country, wearing one can be a really tedious task for first-timers. Over the years, different ways of wearing dhotis have come up. And with Krishna Janmashtami around the corner, schools conduct fancy dress competitions where young students are encouraged to dress up as Lord Krishna. Parents dress up their children as Krishna by draping dhoti. And as the festival approaches, we have listed down the way in which you can dress your child. Krishna Janmashtami 2019 Festival Date: Significance, Gokulashtami Puja Tithi and Celebrations Associated With Lord Krishna's Birthday.
Over the years, the traditional dhoti has evolved making way for more comfortable and cool styles. And for men dreading to sport one during the upcoming festive season, we suggest you go for it. You wouldn't regret taking the risk and will surely grab compliments. As Krishna Janmashtami and Ganesh Chaturthi approaches, we have written down Step-by-Step guide on draping a dhoti all by yourself. And believe us you, if it is quite easy. Janmashtami 2019 Decoration Ideas: Brighten Up Your Home on Gokulashtami to Celebrate Lord Krishna's Birth.
Step-by-Step Guide on Draping Your Child in a Dhoti
Step 1: Hold the dhoti horizontally on the backside. Ensure that coloured sides are facing outward and on the top.
Step 2: Measure how much is needed on either side of the body and wrap if from the back to the front. Bring it ahead so that there is an equal measure of fabric on both sides.
Step 3: After bringing both the ends to the front, tie a knot near the navel. Make a series of folds on the right side and tuck it into the waistband. Repeat the same on the left side.
Step 4: In the end, take the folded material through the legs without twisting it. Loosen or tighten it in a way it is comfortable for the child. Lastly, tuck the extras from the behind. And your child is ready!
Here's How You Can Drape a Dhoti on Your Child:
A Style Guide For Men Planning to Rock Dhoti on Janmashtami:
In recent times, dhotis have become an attention grabber and emerged as a hot trend. With models walking down the runway rocking dhotis, it has also become a fashion statement. And that has given rise to an increase in the types of dhotis available in the market. From varying prints, colours, design and style, you name and they have it.