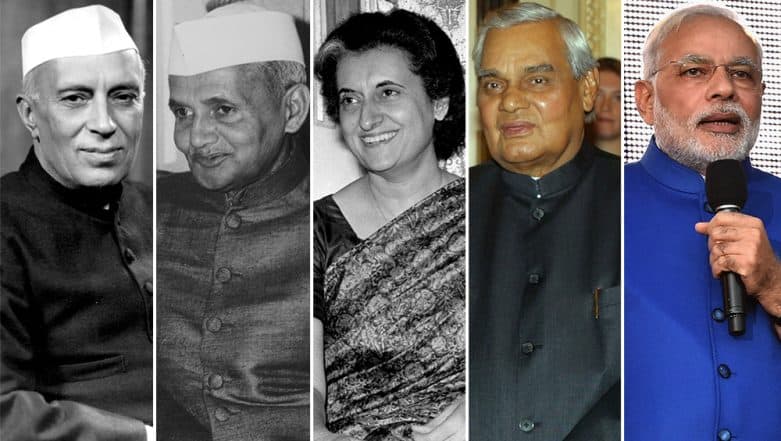 New Delhi, August 10: India celebrates its Independence Day on August 15 every year. The day is celebrated with great enthusiasm and fervour all over the nation. Among the most anticipated and important events that take place on August 15, none is more eagerly awaited than the Prime Minister's speech on the Independence Day, delivered from the historic Red Fort. In this Independence Day article, we revisit some of the memorable speeches made by Indian Prime Ministers, from India's first PM Pandit Jawaharlal Nehru to Indira Gandhi, from Bharat Ratna Atal Bihari Vajpayee to present Prime Minister Narendra Modi. Independence Day 2019 Speech in English: Download Nationalist Sayings PDF and Patriotic Addresses for School Students to Deliver on 15th August (Watch Videos).
A majority of India's Prime Ministers have also been great orators. However, the Prime Minister's Independence Day address is much more than just rhetorical flourish. It gives an insight into the government's priorities and also the concerns in the mind of the Prime Minister. Independence Day 2019 Bay Decoration Ideas For Office: Rangoli to Balloons, 5 Ways to Decorate Your Workplace on 15th August.
Given Below Are Five Speeches by the Prime Ministers of India
1. Pandit Jawaharlal Nehru, 1947
As India's first Prime Minister, Pandit Jawaharlal Nehru readily accepted the task of being the architect of independent India. Chacha Nehru, as he was called by children, was among the tallest leaders of the independence movement and played a key role along with Sardar Vallabhbhai Patel, DR BR Ambedkar, Maulana Abul Kalam Azad and others in steadying the ship of a new nation born after years of struggle, turmoil and sacrifice of thousands of Indians. This speech, known as 'Tryst With Destiny Speech', was made to the Indian Constituent Assembly, on the eve of India's independence, towards midnight on 14 August 1947.
2 Lal Bahadur Shastri, 1964
India's second Prime Minister, Lal Bahadur Shastri, became the Prime Minister of India at a difficult stage in the nation's history. India was facing food shortage and was not self-reliant in terms of crops and food production. He not only tried his best to change that situation, but also led India in the 1965 India-Pakistan war. His slogan of "Jai Jawan, Jai Kisan" continues to inspire Indians to date. This was his first address to the nation after becoming PM.
3. Indira Gandhi, 1983
Indira Gandhi is remembered as one of India's strongest Prime Ministers, thanks to her role in the creation of Bangladesh as a separate state. This speech was delivered the year India won the cricket world cup for the first time. Indira Gandhi, in this 1983 address, does not shy away from speaking on difficult issues and said that, "I wish the very word and phenomena of caste gets erased from Indian society."
4. Atal Bihari Vajpayee, 2003
Atal Bihari Vajpayee, former Indian Prime Minister, was an orator par excellence and led the first non-Congress government which completed a full term in India. Atal ji, as he was known, was also a poet and often incorporated his poems in his speeches. His 2003 speech and his earlier speeches from the Red fort often warned Pakistan against harbouring terrorism on its soil and paid emphasis on national security as well as the issue of Jammu and Kashmir.
5. Narendra Modi, 2014
Prime Minister Narendra Modi, came to power in the Centre after a historic mandate in the year 2014,  and then delivered his first speech from the Red Fort. He spoke on issues such as female infanticide, cleanliness and the importance of good parenting for boys so that they respect women. The speech was widely discussed and analysed.
Apart from the above speeches, there have been several memorable speeches delivered on Independence Day by former Prime Ministers PV Narasimha Rao, Rajiv Gandhi, IK Gujral and Manmohan Singh as well. However, these speeches represent something about the leaders who delivered them and also express the pressing needs of the times, in course of India's history.