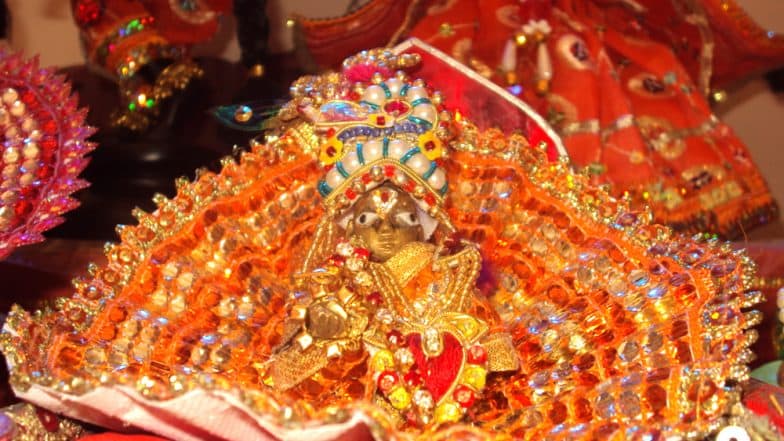 People in India are now preparing themselves to host one of the most solemn festivities, Krishna Janmashtami. Celebrated among the Hindus, Gokulashtami is the day when Lord Krishna, the eighth avatar of Vishnu, was born. This year, Krishna Janmashtami falls on August 24, and the joy among the devotees is sky-high. Each household, devote of Kanha has the famous idol, "Laddu Gopal." And the tradition to perform puja to Laddu Gopal is significant, following the Hindu rituals. On the occasion of Krishna Janmashtami, here are the traditional ways that you need to keep in mind while performing Puja, if you are bringing Ladoo Gopal Ji in your home. Krishna Janmashtami 2019 Festival Date: Significance, Gokulashtami Puja Tithi and Celebrations Associated With Lord Krishna's Birthday. 
Krishna Janmashtami is observed on the eighth day of Ashtami of the Krishna Paksha in Shravana month of the Hindu calendar and Krishna Paksha in Bhadrapad of the lunisolar calendar. Dance, drama, enactments of the life of Lord Krishna, singing devotional songs, etc. are a part of Janmashtami celebrations. Getting a Laddu Gopal at home during this time is regarded very auspicious. However, one should follow the rituals and puja vidhi and worship Laddu Gopal daily.
Laddu Gopal' Bed
Bal Gopal likes to be pampered by his followers. Make baby Kanha's bed adorable, decorating with colouring tiny clothes and pillows where your Laddu Gopal can take rest.
Bathing & Clothing Laddu Gopal
It is important to bathe and dress Bal Gopal daily before worshipping. Gangajal, Tulsi leaf, sandalwood paste, panchamitra, cotton, mirror, jewellery, crown and tiny clothes for the deity, are the items you would need to bathe Laddu Gopal. Every mukut or crown must have a morpankh (Peacock feather) attached. Complement Bal Gopal with his favourite Bansuri (flute).
Prasad
Laddu Gopal is fond of milk, and you must offer him on a regular base. Along with it, serve him fruits, groundnuts, coconut pieces and mishri. Do not forget to add fresh Makhan (White butter) for Kanha. According to the Hindu legend, Bal Gopal is known as Makhan Chor, as Kanha would always steal it, as women would store it in a giant vessel.
In most cases, the idol of Laddu Gopal comes in metal. It is said that keeping a deity of Lord Krishna in his childhood form is akin to have a real baby at home. You need to pamper and take care of him like a child. The above puja rituals are advised to follow to those who are planning to bring Laddu Gopal to their home during the Krishna Janmashtami.