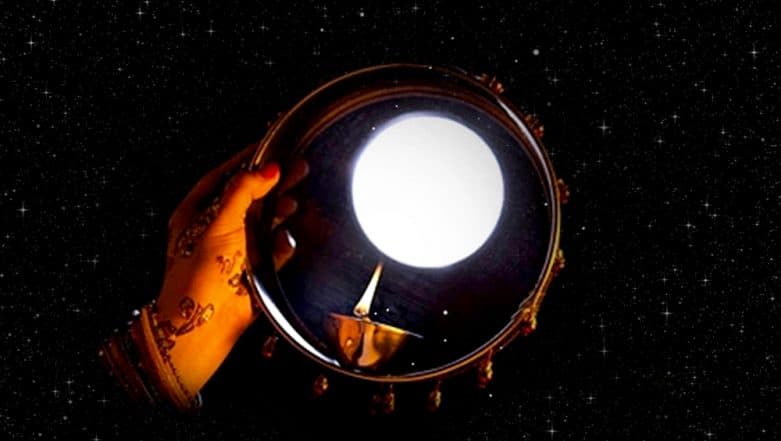 London, October 27: It is that time of the year again, when married women in Indian and nations abroad gear up for Karwa Chauth. This year, Karwa Chauth will be celebrated on October 27 in the United Kingdom (UK). As per tradition, the Karwa Chauth festival is one of the most important festivals for Indian women as it symbolises a wife's devotion toward her husband. The wife observes a day-long fast for the husband's well-being and long life. The auspicious festival is symbolic in nature, a celebration of the institution of marriage and dedication towards each other.
This year, Karwa Chauth will be celebrated on October 27 in India. The one-day festival, which is celebrated with great zeal and fervour, falls on the fourth day after the full moon (Purnima), which is Krishna Paksha Chaturthi. As per the Hindu lunar calendar, Karwa Chauth falls in the month of Kartik, which is October. Karva Chauth 2018 Solah Shringaar Items: 16 Suhagi Items That Are Essential for a Married Woman on This Festival.
Take a look at the moon rise time in London:
In London, the moon will be sighted at 19:45 PM (7:45 PM) on October 27.
Karva Chauth is the most celebrated of all rituals for married couples. The name 'Karwa Chauth' is derived from two words, 'Karwa' and 'Chauth' where means earthen pot and 'Chauth' means 'fourth' in Hindi. In India, the auspicious festival is celebrated especially in the Northern regions. Karwa Chauth 2018 Moonrise Timings in the United States of America Today.
Only after sighting the moon, married women break their fast by performing puja. On this auspicious day, married women observe a nirjala fast (fast without food or water), praying for the longevity of their husbands. Here's wishing Happy Karwa Chauth 2018 to everyone!