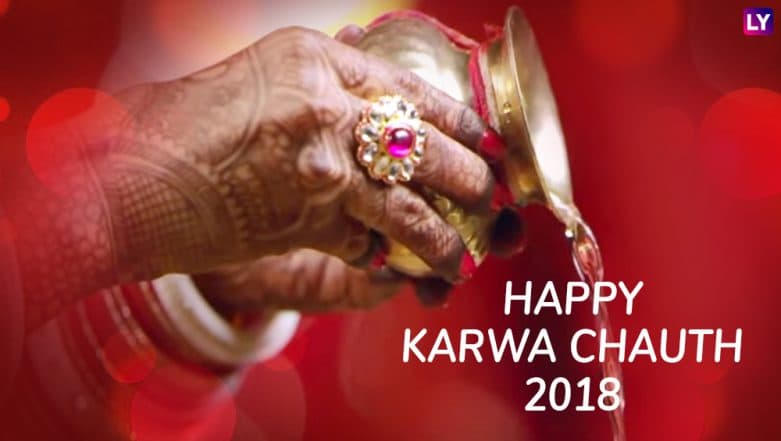 In just a few hours, the moon will rise and women can break their Karva Chauth fast on Saturday. India is celebrating the Karwa Chauth festival on October 27, 2018, and it is a big celebration especially in the northern parts of the country. Married Hindu women observe nirjala fast for an entire day for the well-being of their husbands. Apart from following the traditional rituals, ladies also wish their husbands. Yes, just like other festivals and special occasions, wishing via messaging app or on social media is a common sight during Karwa Chauth. So, for all the ladies who will be celebrating the festival, we bring a collection of special Karwa Chauth greetings in Hindi, Karwa Chauth images with greetings, which they can send to their husbands. Unmarried girls who are also observing the fast for their boyfriends or fiancés can send these Karwa Chauth images, photos, quotes, and wishes. You can download these Karwa Chauth images, pictures and greetings online for free. Karwa Chauth 2018 Funny Jokes and Memes: Share These Hilarious Karva Chauth Images and Messages With Your Married Friends.
Despite Karwa Chauth traditionally celebrated in Northern Indian states of Rajasthan, Uttar Pradesh, Himachal Pradesh, Haryana, Punjab, Delhi, the festival has picked up momentum in other parts of the country thanks to the popular culture. Films and television shows are obsessed with this Hindu festival, which is about the celebration of one true love. Karwa Chauth is an age-old festival in which wives observe this rigorous fast for the long life of their husbands. There are several origin stories related to Karwa Chauth but all revolving around the wellbeing and safety of a woman's husband. Karwa Chauth 2018 Makeup Ideas: Latest Trends, Tips & Video Tutorials to Follow to Shine Like the Moon on This Festival.
We have mentioned everything about Karva Chauth Vrat 2018 as in how to start the fast correctly including seven significant steps to follow. It is very important to follow these steps while doing Karva Chauth puja. We now bring to you a list of Karwa Chauth wishes for husbands, Happy Karwa Chauth wishes, Karwa Chauth images with greetings for husband and wife, Karwa Chauth images for Facebook, Karwa Chauth images with quotes in Hindi. All these pictures, wishes and greetings are available for free downloads.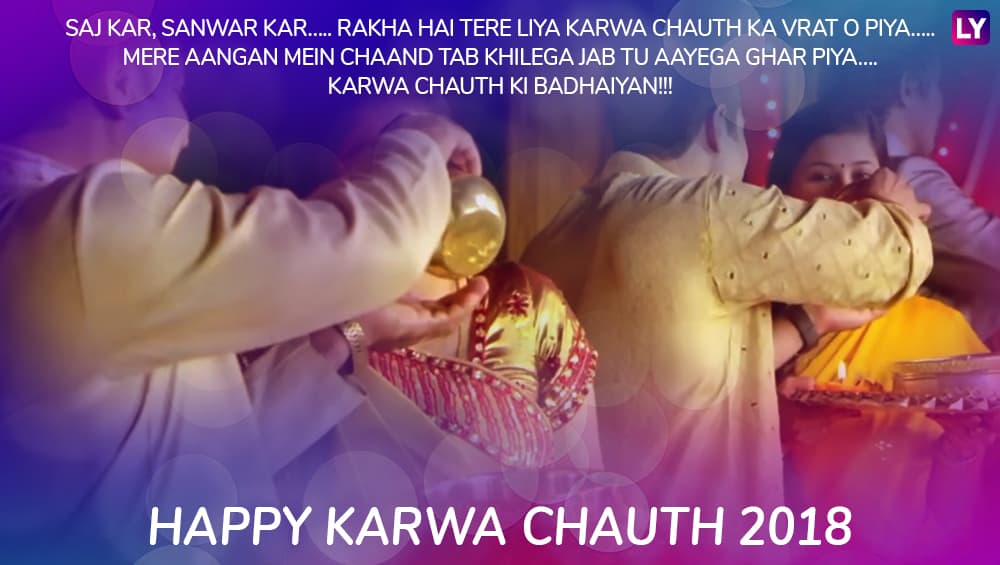 Best WhatsApp Message Reads:  Saj Kar, Sanwar Kar….. Rakha Hai Tere Liya Karwa Chauth Ka Vrat O Piya….. Mere Aangan Mein Chaand Tab Khilega Jab Tu Aayega Ghar Piya…. Karwa Chauth Ki Badhaiyan!!! Happy Karwa Chauth 2018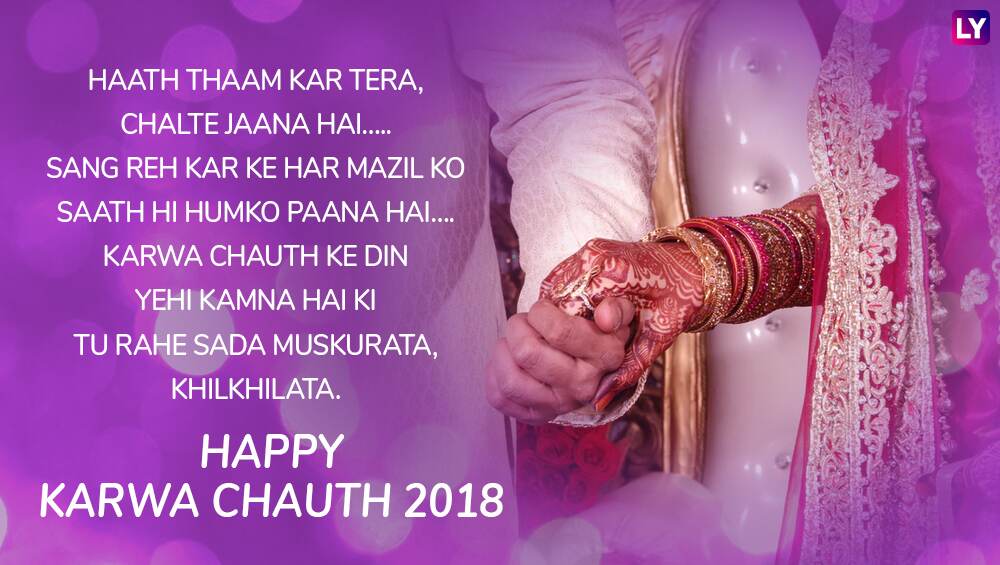 Best WhatsApp Message Reads:  Haath Thaam Kar Tera, Chalte Jaana Hai….. Sang Reh Kar Ke Har Mazil Ko Saath Hi Humko Paana Hai…. Karwa Chauth Ke Din Yehi Kamna Hai Ki Tu Rahe Sada Muskurata, Khilkhilata. Happy Karwa Chauth 2018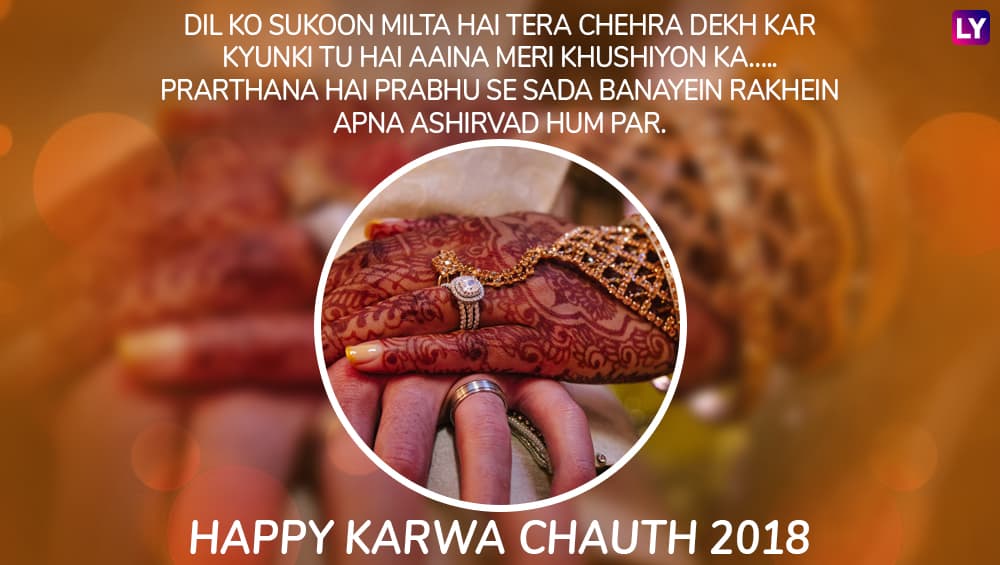 Best WhatsApp Message Reads:  Dil Ko Sukoon Milta Hai Tera Chehra Dekh Kar Kyunki Tu Hai Aaina Meri Khushiyon Ka….. Prarthana Hai Prabhu Se Sada Banayein Rakhein Apna Ashirvad Hum Par. Happy Karwa Chauth 2018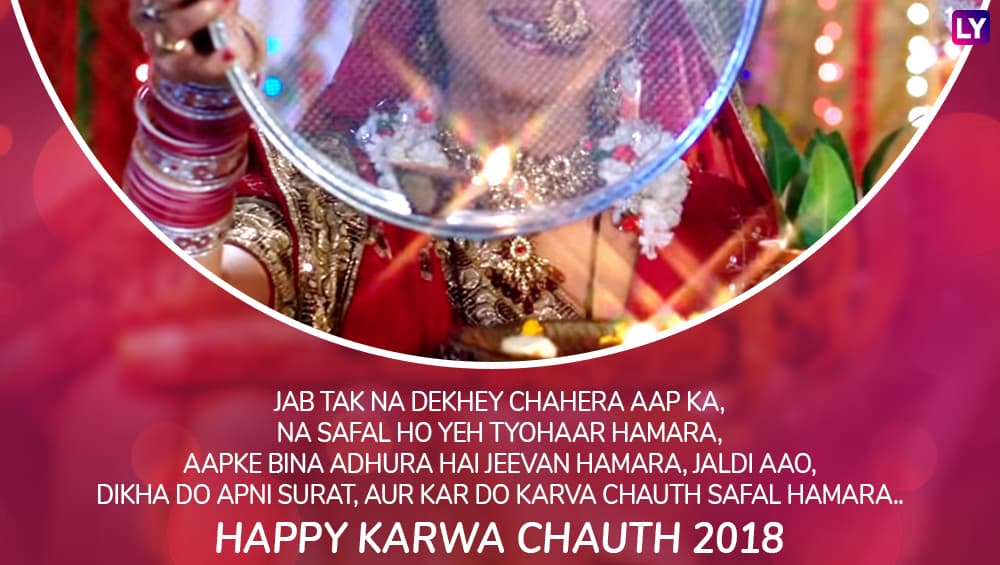 Best WhatsApp Message Reads:  Jab Tak Na Dekhey Chahera Aap Ka, Na Safal Ho Yeh Tyohaar Hamara, Aapke Bina Adhura Hai Jeevan Hamara, Jaldi Aao, Dikha Do Apni Surat, Aur Kar Do Karva Chauth Safal Hamara..Happy Karwa Chauth 2018
Best WhatsApp Message Reads:  Apni Sangini Banakar Kar Diya Pura Tune Mujhe…. Rang Diya Hai Apne Pyaar Ke Rang Mein Tune Mujhe…. Teri Lambi Umar Ki Kamna Karti Hu Har Ghadi…. Karwa Chauth Le Kar Aaye Khushiyan Dher Saari. Happy Karwa Chauth 2018
So how were these mushy and loved-up Karwa Chauth messages? We are sure your husband would be in for a pleasant surprise receiving these lovely greetings on a special day. As for all the women who are observing this taxing fast, big hats off. We wish you all the best to perform the fast properly. And once the fast is over, make sure to break your fast the right way. We wish you all a very Happy Karwa Chauth 2018.