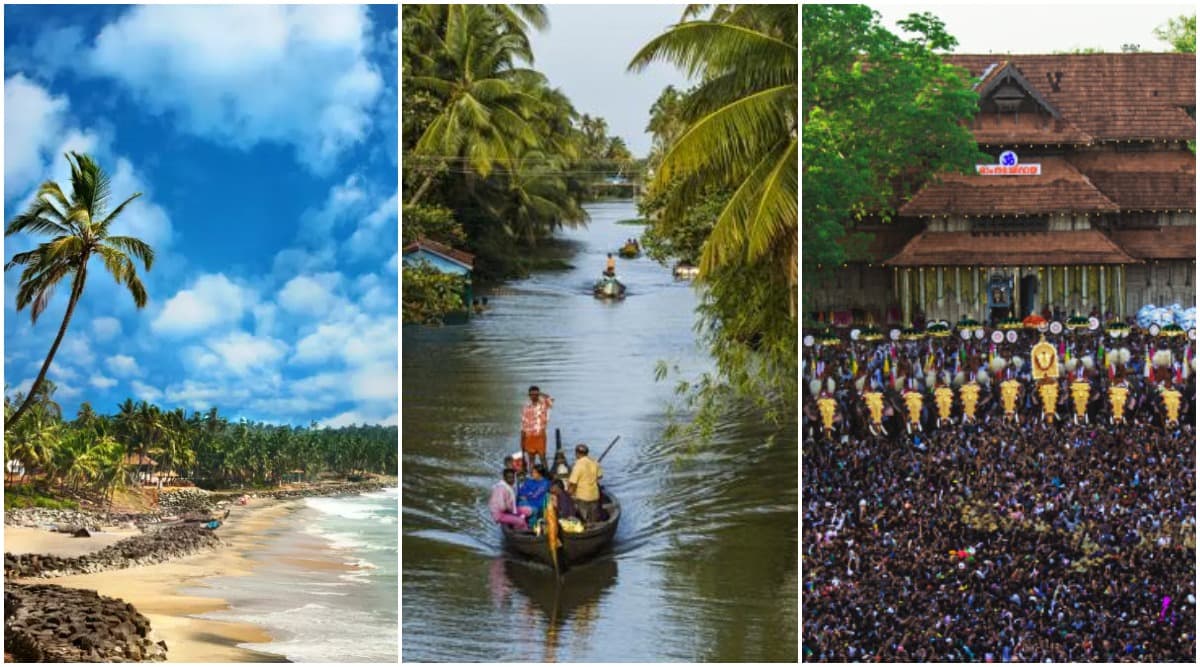 Kerala the state was created on November 1, 1956, nine years after India gained independence from the British in 1947. Since then, November 1 has been celebrated as 'Kerala Piravi' day. Before it was created as a state, Kerala comprised of three princely states in Travancore, Malabar and Cochin. Now it consists of 14 districts and more than 33 lakhs inhabitants as per the 2011 Census findings. Kerala Piravi 2019 Date: Know History and Significance of the Formation of 'God's Own Country'.
Kerala is often referred to as God's Own Country, which is a surreal epithet considering its biggest festival, Onam is celebrated to welcome King Mahabali, the kind-hearted Demon King. The state is known for its lush paddy fields, beautiful backwaters, its many beaches and various other tourist activities. It also boasts the highest literacy among all the other states of the country. and the religious harmony in which the people live there has been hailed as recently as actor John Abraham in a recent media interaction. What can you say about the place, where you can find a temple, a mosque and a church in close proximity! John Abraham's Epic Response to Journalist's Question on Why Kerala Has Not Been 'Modi'fied Will Make His Mallu Fans Happy (Watch Video).
On the occasion of Kerala Piravi, let's listen to seven beautiful songs that captures the beauty of the state in all its glory.
Keralam Keralam
This absolutely mellifluous song from the 1977 film Mini Mol describes best the essence of what the diversity of the state represents.
"Keralam Keralam" is composed by G Devarajan with lyrics by Sreekumaran Thampi. The legendary KJ Yesudas has sung the song.
Maamalakalkkappurathu
From one evergreen song to another. This lovely track from the 1963 Prem Nazir-starrer, Ninamaninja Kalpadukal, is a gem. The song is about a soldier reminiscing about the paddy fields to the lakes to his little house in his native place, where his beloved is waiting for him to return.
"Maamalakalkkappurathu" is composed by MS Bhaskar with lyrics by P Bhaskaran. PB Sreenivas has sung this track.
Shyama Sundara Kera
This song is of the nostalgic value for this writer; not just for him but for anyone who has grown up watching television in the '90s. The time when Asianet was the first private Malayalam television channel. "Shyama Sundara Kera" was the theme song of the channel, and if you are a Keralite who has been living outside the state for long, it will make you crave to return to your native place.
"Shyama Sundara" is composed by none other than music maestro AR Rahman, with lyrics by P Bhaskaran. Sujatha has sung the track. Asianet, in 2017, came out with a new version of the song, but that couldn't connect with the viewers as much this beautiful track did.
Sahyasanu Shruthi Cherthuvacha
Never mind that you don't remember the Kalabhavan Mani-starrer, Karumadikuttan much, but the movie had some really good songs. Especially this sweetly composed ode to Kerala that plays during the opening credits of the film and picturised on actor Mala Aravindan.
"Sahyasanu Shruthi Cherthuvacha" is composed by Mohan Sithara with lyrics by Yusufali Kechery. The voice of Yesudas makes this song all the more memorable.
Ente Keralam
Usha Uthup may be a Tamilian born and brought up in Mumbai. But her love for Kerala is quite special, as the singer has been a part of many stage shows and programmes in channels in Kerala. She has also sung some popular songs in Malayalam, but the track that Malayalis most cherish of hers is the below, where she sings of how religiously united the state is, and how Onam, Bakrid and Piranaalu are all festivals for her. What's more, she also sings about how that even if she is born elsewhere, the state considers her as its adopted daughter.
Usha Uthup herself has composed the track with Chittoor Gopi penning the lyrics.
Keranirakaladum
Jalolsavam is a very average family drama starring some popular names in the cast like Kunchako Boban, Naya Nair, Nedumudi Venu and Jagathy Sreekumar. While the movie is pretty forgettable, it has a couple of melodious tracks like this one, that raves about the greenery of the state, along with its pristine backwaters.
"Keranirakaladum" is composed by Alphonse Joseph with lyrics by BR Prasad. Veteran singer P Jayachandran has crooned this lovely track.
Thumbayum Thulasiyum
Megham is considered one of the underrated comedies of director Priyadarshan. The movie wasn't a big hit, but was a more-than-decent entertainer, with fine performances from Mammootty, KPAC Lalitha and Sreenivasan. Dileep, Priya Gill, Pooja Batra form the rest of the main cast. The movie's soundtrack is also good, especially "Villakku Vekkum" and "Thumbayum Thulasiyum".
"Thumbayum Thulasiyum" is sung by KS Chitra. The soundtrack of the film is composed by Ouseppachan, with lyrics by Girish Puthenchery.