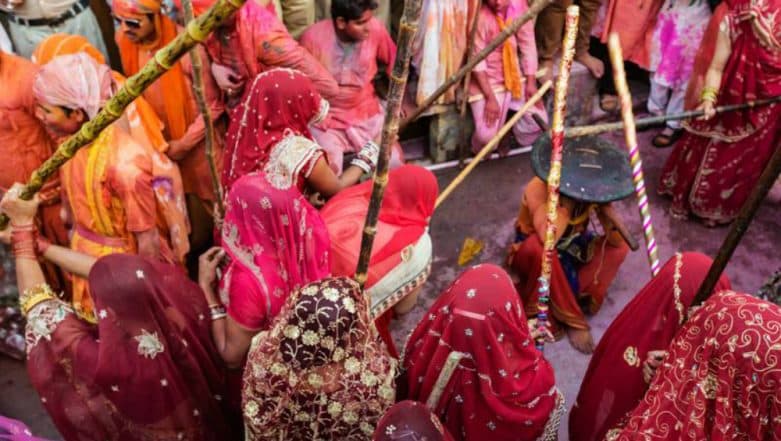 People across the nation are ready to celebrate the festival of colours. As the festival is around the corner, the neighbouring towns of Mathura have begun with their celebration. These towns are well known for the distinctive manner in which they celebrate Holi and all the enthusiasm that goes with it. Barsana and Nandgaon have already smeared themselves in the colours of Lathmar Holi. Lathmar literally translates to celebrating the festival with colours and sticks. The towns are located near Mathura in Uttar Pradesh and are associated with a Hindu legend related to Lord Krishna and Radha.
Dates of Lathmar Holi
As per the Hindu calendar, Lathmar Holi is celebrated on the ninth day of the month of Phalgun. The celebration has started from February 24 and will continue till March 2, 2018.
What is Lathmar Holi?
The historical significance is traced back to Lord Krishna who was the native of Nandgaon and he used to visit Radha who belonged to Barsana. Legend states, Krishna teased Radha and her friends, who in turn responded by taking offence and they chase him out of Barsana. Keeping in sync with the story, the men from Nandgaon every year visit the town of Barsana every year, only to be greeted by lathis (sticks). The men are unable to strike back. All they can do is splash colours on them. Few unfortunate men are captured by the enthusiastic women who are forced to clad themselves in women's clothing. Applying cosmetics and dancing in front of the spectators is massively enjoyed. Everyone has their fair share of laughter since it is done in the right spirit. The next day is the turn of men of Barsana who drench the women in colours. They gather and sing songs that are based on the conversations between Radha and Krishna.
The festival takes place at the sprawling site of the Radha Rani Temple in Barsana which is said to be the only temple in the country dedicated to Radha. Like every time, this year too thousands of festive lovers will gather to enjoy the Lathmar Holi, sing Holi songs and immerse themselves in colour.