It is January 13, and it is time to celebrate Lohri 2019. And without wasting a second more, let us tell you what we have in store for you. We have got a massive collection of Lohri WhatsApp stickers, wishes, quotes, greetings, text messages, SMS and photos with names in Punjabi. Yes ji, it is time to send your family and friends 'Lohri Ki Lakh Lakh Badhai' greetings. Lohri is a popular Punjabi wintertime festival that marks the arrival of longer days after winter solstice. Being a community festival, Lohri witnesses everyone joining in the celebrations together. So, you very well know the importance of exchanging online greetings, be it on messaging app, WhatsApp or social media platforms, Facebook or Instagram or sending text messages via SMS. Happy Lohri 2019 Wishes: WhatsApp Stickers, Hike Messages, GIF Image Greetings, SMS, Facebook Quotes to Wish on Punjabi Harvest Festival.
Here's a list of Lohri Wishes in Punjabi, Lohri Greetings HD, Lohri Wishes in Punjabi 2019, Lohri Greetings Hindi, Lohri Wishes in Punjabi Download, Lohri GIF Video, Lohri Message for WhatsApp, Lohri Wishes in Punjabi Text, Lohri Wishes in Punjabi Quotes, Lohri Greetings With Name, Lohri Message Photos, Lohri Greetings for WhatsApp, Lohri Greetings SMS, Lohri Message for Friend, Lohri Message Images, Lohri GIF Images Download, Lohri Greetings Images, Lohri Wishes in Punjabi GIF, and more. Lohri Images & HD Wallpapers for Free Download Online: Wish Happy Lohri 2019 With Beautiful GIF Greetings & WhatsApp Sticker Messages.
Before you scroll down to download all these amazing and beautiful images and wishes of Lohri 2019, let us remember the deities associated with the Punjabi festival. One prays to the Sun God in this ancient harvest festival that marks as winter crop season celebration. According to other legends, the bonfires people gather around to take parikrama has a folk reverence for fire (Agni) or the goddess of Lohri. There are popular folklore links to the celebrations of Lohri, one being the tale of Dulla Bhatti who saves two girls, Sundri and Mundri. Lohri is truly a beautiful, rich and fun festival that everyone must know about. Happy Lohri 2019: Why is it Celebrated? Significance, Legend of Dulla Bhatti and History Behind Punjabi Festival Celebrations.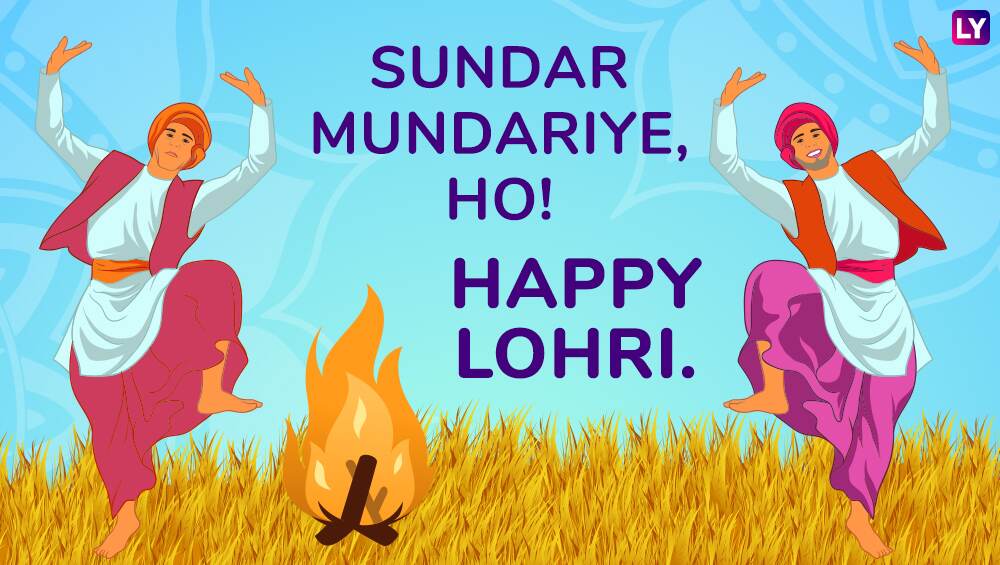 WhatsApp Message Reads: Sundar Mundariye, Ho! Happy Lohri.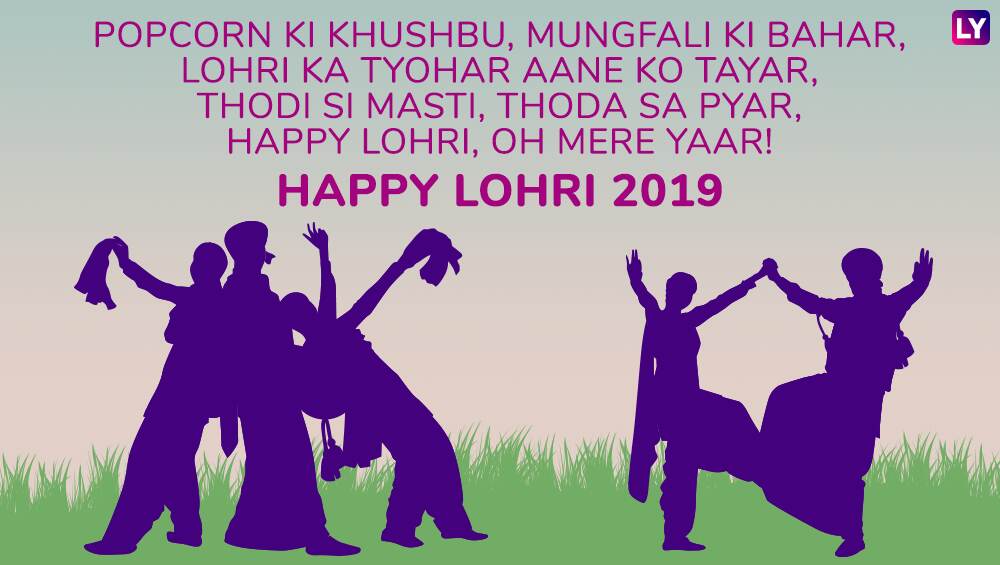 WhatsApp Message Reads: Popcorn Ki Khushbu, Mungfali Ki Bahar, Lohri Ka Tyohar Aane Ko Tayar, Thodi Si Masti, Thoda Sa Pyar, Happy Lohri, Oh Mere Yaar!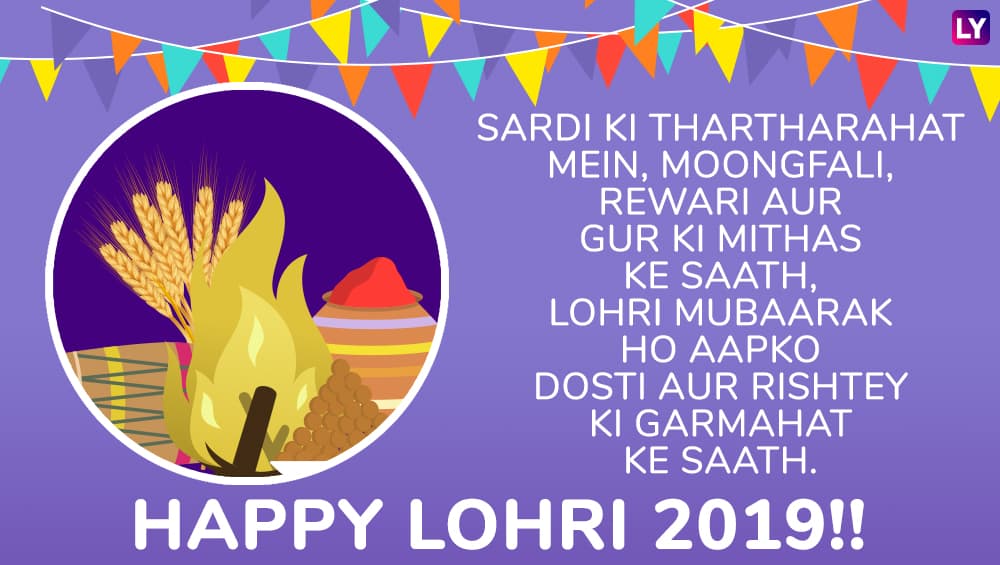 WhatsApp Message Reads: Sardi Ki Thartharahat Mein, Moongfali, Rewari Aur Gur Ki Mithas Ke Saath, Lohri Mubaarak Ho Aapko Dosti Aur Rishtey Ki Garmahat Ke Saath.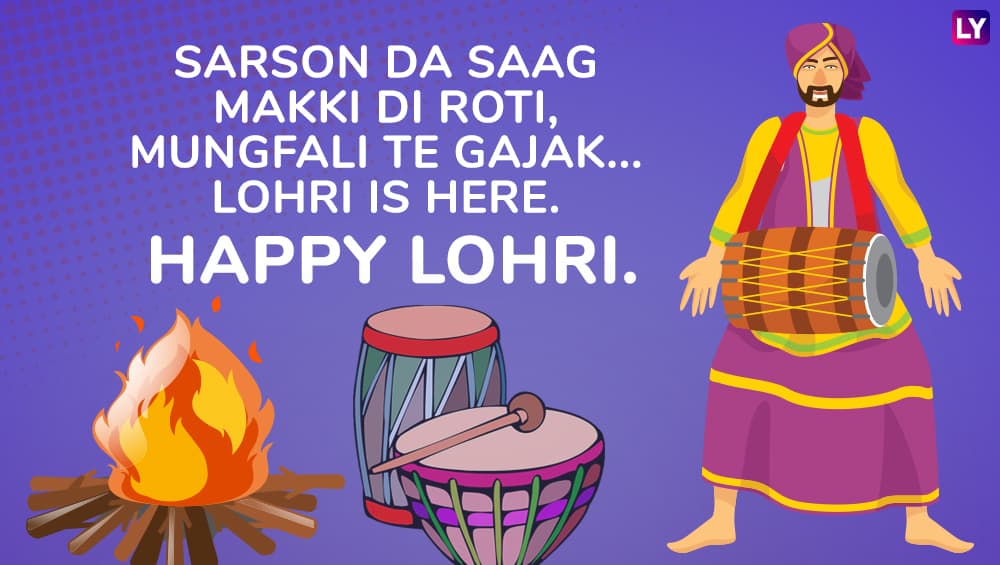 WhatsApp Message Reads: Sarson da Saag-Makki di Roti, Mungfali te Gajak... Lohri is here. Happy Lohri!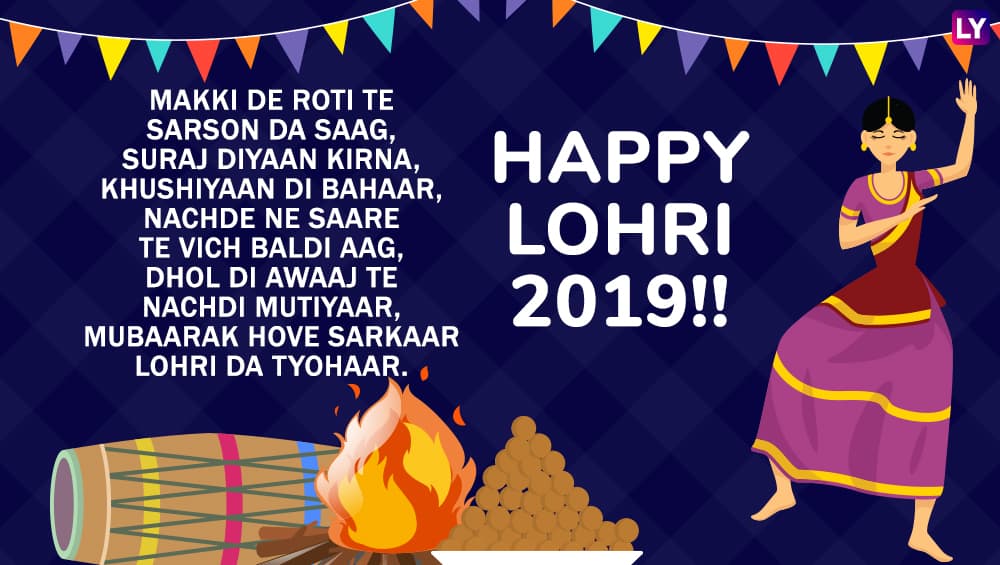 WhatsApp Message Reads: Makki De Roti Te Sarson da Saag, Suraj Diyaan Kirna, Khushiyaan Di Bahaar, Nachde Ne Saare Te Vich Baldi Aag, Dhol Di Awaaj Te Nachdi Mutiyaar, Mubaarak Hove Sarkaar Lohri da Tyohaar. Happy Lohri 2019!!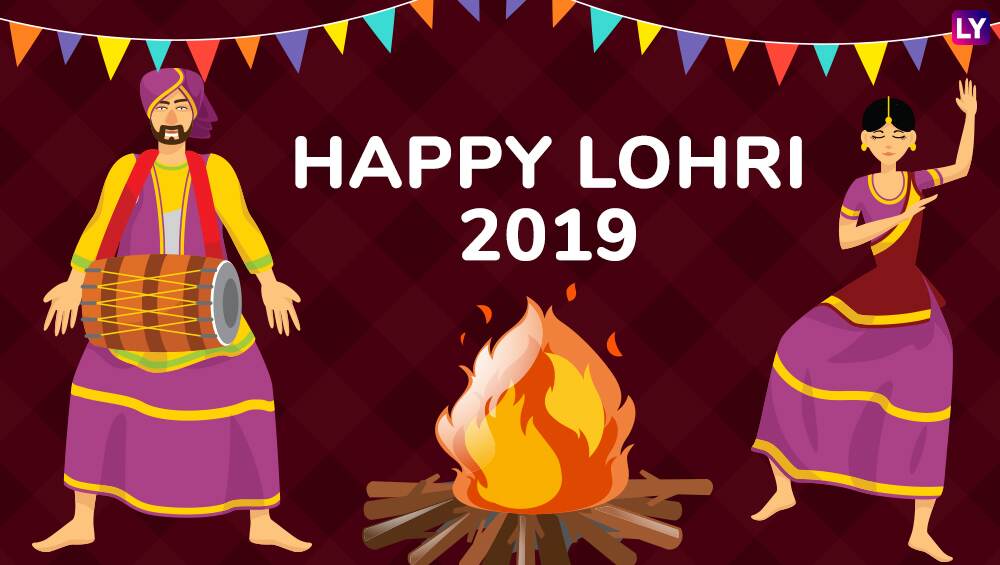 WhatsApp Message Reads: Happy Lohri 2019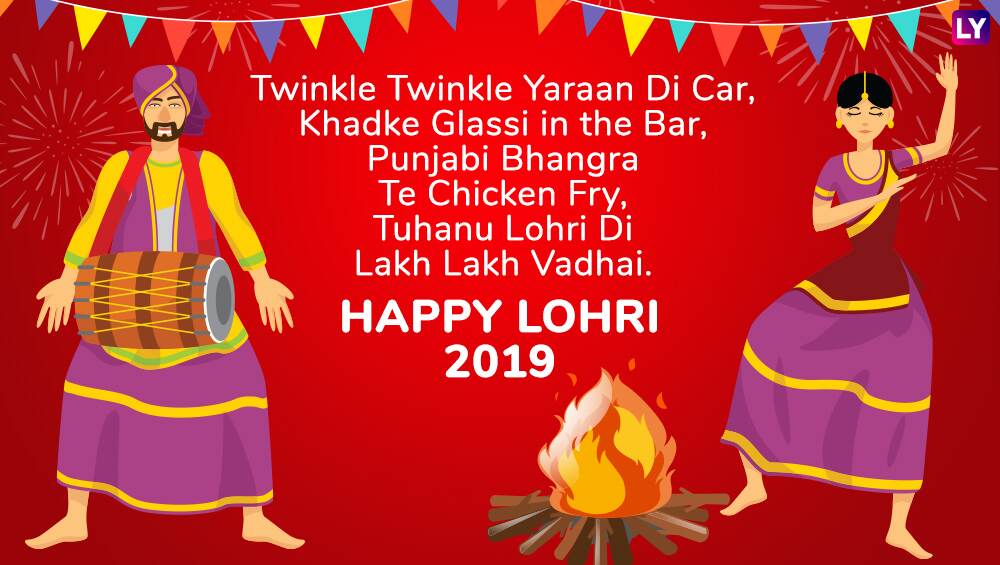 WhatsApp Message Reads: Twinkle Twinkle Yaraan Di Car, Khadke Glassi in the Bar, Punjabi Bhangra Te Chicken Fry, Tuhanu Lohri Di Lakh Lakh Vadhai.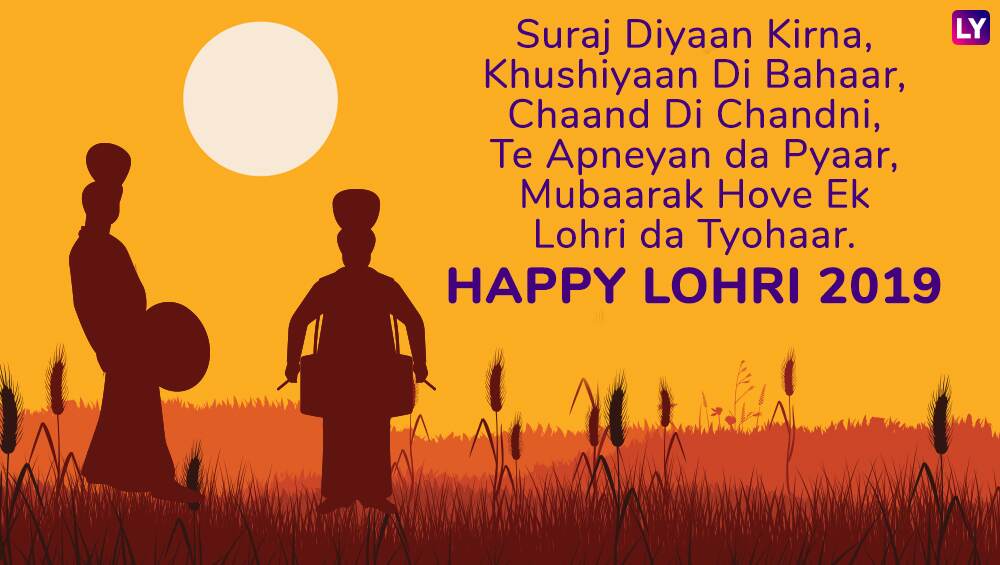 WhatsApp Message Reads: Suraj Diyaan Kirna, Khushiyaan Di Bahaar, Chaand Di Chandni, Te Apneyan da Pyaar, Mubaarak Hove Ek Lohri da Tyohaar.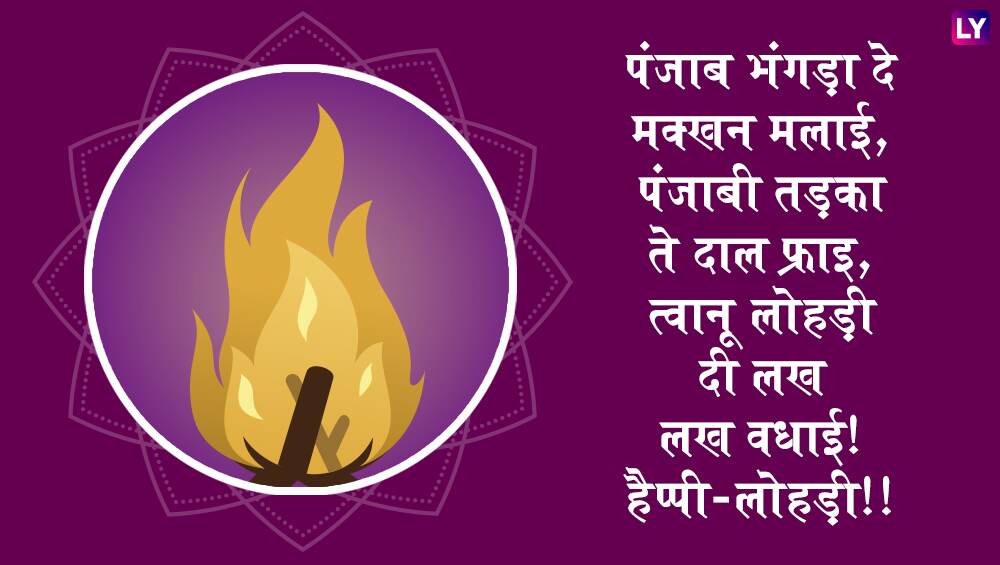 WhatsApp Message Reads: पंजाब भंगड़ा दे ~मक्‍खन मलाई, पंजाबी तड़का ते ~दाल फ्राइ, त्‍वानू ~लोहड़ी दी लख लख वधाई! हैप्‍पी-लोहड़ी!!
We wish all our readers of LatestLY, a very Happy Lohri 2019. The year is very special as on the same date, we also have Guru Gobind Singh Jayanti, the 352nd birth anniversary of the Tenth Sikh Guru. January 13 is most special in every way.